Special Feature: Honda Amaze - At ease in Amritsar
A Sunday in Amritsar spent in style and comfort, courtesy the Honda Amaze!
Published On Oct 13, 2021 05:58:00 PM
20,135 Views
Follow us on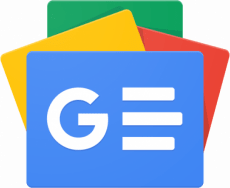 The new Honda Amaze gets automatic LED projector headlamps with integrated LED Daytime Running Lamps and LED front fog lamps.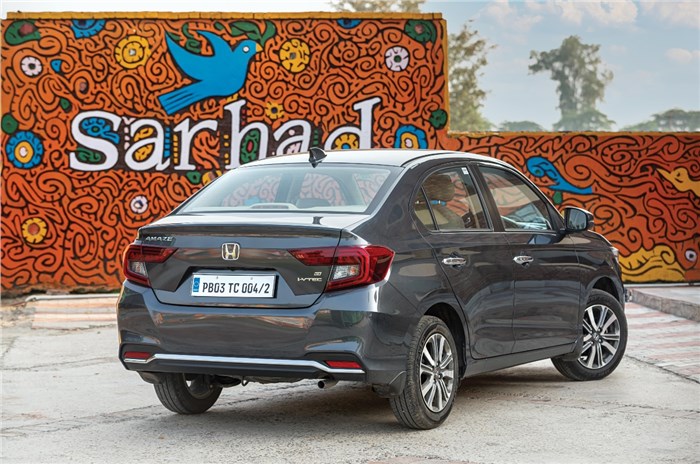 New C-shaped LED tail-lights round off the Amaze's good looks.
A heartwarming place to live in, Amritsar is a city of immense historical significance. The extent of turmoil – and valour – it has witnessed over centuries is what lends it a rich emotional character and a sense that it will triumph against all odds. The people who call it home are woven of a similar fabric and that explains why Amritsar not only subscribes generously to peace, it even has a museum dedicated to the subject – more on that later. The 2021 Honda Amaze we are driving certainly complements the theme of peace and tranquillity. One of Honda's star performers, the all-new Amaze now gets LED projector units with LED Daytime Running Lamps and sumptuous diamond-cut alloy wheels. New C-shaped LED elements at the rear and a revised rear bumper enhance the 'premium' look of the sedan.
The Honda Amaze cuts a fine figure in Amritsar.
Amritsar is the home of the Sri Harmandir Sahib, also known as the Golden Temple, a marvellous sanctum of heightened goodness that also seems to envelope the bustling city that has emerged around it. It's a must-visit, irrespective of your religious inclinations, and is where Amritsar's residents diligently go every week, at the very least. Our day begins here, on a note of calm, before we proceed towards other Sunday rituals that form a part of every true-blue Amritsar inhabitant's itinerary. Food. Lots of food. Around 30km west of the glorious Golden Temple lies the Indo-Pak border, or the Attari-Wagah border, formerly a gateway along the fabled Grand Trunk Road that served as a trade route. The Amaze cruises effortlessly down this impeccable, almost arrow-straight road, adding a layer of calm to the drive with refinement and responsiveness that you'd typically expect from a car a class above. The new Amaze's 90hp, 1.2-litre i-VTEC engine is a smooth customer that is both tractable and refined.
We especially loved revving the i-VTEC engine to its redline on open stretches of road; a special mention must also be made of the slick-shifting 5-speed manual gearbox. (The Amaze also gets a CVT automatic gearbox).
A landmark of Amritsari-Lahori cuisine, Sarhad is a family-run establishment on the fringes of the iconic Attari border, built with a message to promote friendship between India and Pakistan. To this effect, Sarhad is also home to a Museum of Peace, an outdoor walk-through display of sorts, featuring an impeccable collection of facts and photographs from the pre-partition era. With the Amaze parked, its elegant chrome grille glistening in the morning sun, we walked in, taking in the magnificence of this beautifully curated place, only to find not-so-great news awaiting us.
Dusk falls over the Golden Temple.
It so happened that the suspension of the border ceremonies, due to the pandemic since March 2020, had collaterally resulted in Sarhad also having to suspend operations. A gracious gesture from DS Jaspal – its founder-owner and former civil servant – meant we were able to stroll around the museum, as well as admire the murals that form the artwork on the exterior, in addition to a pair of trucks parked on the patio that had been vibrantly painted by Pakistani truck artist Haider Ali. This visual treat surely compensates for missing out on its reverential spread of food and we are soon on our way back towards the city, leaving with an overwhelming sense of peace and optimism that stays with us through the day.
The new Amaze's cabin is built around practicality but exudes a premium feel. Visibility is great all around, controls are easily accessible and the dual-tone black and beige interior colour scheme is a great place to spend time in. The seats, both at the front and rear, offer fantastic support and the cabin abounds in storage spaces. Also on the menu is automatic climate control, steering-mounted controls, digital MID, and the slick and intuitive 7-0-inch touchscreen infotainment system, compatible with both Android Auto and Apple CarPlay, is a joy to use.
The Amaze's 90hp, 1.2-litre i-VTEC petrol engine takes refinement to another level.
The drive back is expectedly serene, and with cruise control engaged, all we do is enjoy the comfort of the Amaze's well-appointed interiors and comfortable seats. Also, since we had set our mind on a heavy Amritsari breakfast, next on our day's agenda was to steer the Amaze into Amritsar's really narrow lanes – because that's where you can find the best, most irresistible food. Thankfully, the Amaze's compact dimensions and general ease of driving make navigating through this maze an entirely stress-free affair.
Having had our fill – honestly, quite a bit more than that – we were suitably charged up to explore this fantastic city. This was only interrupted by a fair few stops for photographs – after all, who can resist the temptation of capturing a car this stylish against a city this inherently beautiful? With our social media cravings satiated, we then set off through a series of Amritsar's many gates and into the city's prosperous and cheerfully busy markets. The Amaze makes parking in a cramped spot surprisingly easy, thanks to its effortless steering, great all-round visibility and the rear-view camera. In no time, we're making our way on foot through kaleidoscopic walkways, being offered Pashmina shawls and other handicrafts at tempting prices, all of which we give into. You'd do well to bring your walking shoes along, because the markets here are almost endless!
Maharaja Ranjit Singh's statue near the Golden Temple.
A tall glass of creamy lassi provides terrific respite from all the walking we've been doing, and we soon return to the inviting comfort of the Amaze, our shopping bags comfortably accommodated in its ample boot, with room for about twice as many bags! Fortunately, there is more to do in Amritsar than just shopping, and our next visit is to the Gobindgarh Fort.
As we soak in the glorious historical reminders, it invokes a sense of pride in us towards Amritsar, a truly magnanimous city, given the challenging times it has always managed to put behind it.
You can never tire of Amritsari Punjabi Chole.
It's a hot day out here in Amritsar, with the odd shower providing momentary respite, but with the air-conditioning turned up, music plugged in and the Amaze gliding along comfortably – its plush ride quality adding to the sense of premiumness – all is well with our world! That, you could say, is what makes the Amaze so brilliant – the fact that it lets you pursue the things that truly matter, even everyday ones, with a level of comfort you could never have enough of. It's also very smart and efficient, which means we spend an entire day behind the wheel without once having to bother looking at the fuel indicator! But wait – if you thought our day was over –you thought wrong! Did you really believe we were going to let all that excess luggage space go to waste? Or that we weren't going to help ourselves to one more round of some delicious Amritsari food?
Five things to love in the 2021 Honda Amaze
1. Refined and tractable 90hp i-VTEC engine
2. Spacious and comfortable seats, both at the front and rear
3. Crisp-shifting CVT automatic gearbox
4. 420-litre boot space
5. Sumptuous diamond-cut alloys
Copyright (c) Autocar India. All rights reserved.