When it comes to status, size matters, especially in India, where bigger is always better. How big is your bank balance? How big is your flat? And we already know about our obsession with big cars. However, if you like to be chauffeur driven, besides the size of the car, what also matters is how big it is on comfort, especially in the back seat, which is where you'll be spending most of your time.
Mind you, that you need to spend a large amount of money to feel like a sahib when being driven around, is a false notion. To prove it, we scouted around for cars under Rs 12 lakh that will ferry you between board meetings and family outings in comfort.
To identify the cars with the best back seats in this price bracket, we have considered the following factors – legroom, headroom, seat width, cushioning along with back, backrest angle and thigh support. Here's a segment-wise look at our favourite picks.
Compact hatchbacks Rs 3.5-5 lakh
A spacious rear seat isn't the first image that comes to mind when you mention small two-box cars. However, some of the cars in this segment pack in quite an accommodating bench at the back. Among these, three are most noteworthy – the Tata Tiago, the Maruti WagonR and the Maruti Celerio.
While the Tiago has a premium, big-car-like ambience, its rear headroom and legroom is not much to talk about. Although comfortable, some may find the seatback a touch too reclined, and the small rear windows also make short passengers feel a bit cooped up.
Maruti Celerio
Between the WagonR and the Celerio, the former's tall-boy stance gives it an edge in terms of headroom, but its upright seating isn't the best for long journeys. The Celerio on the other hand has a more relaxed seating position, and it impresses with the amount of legroom and headroom it packs at the rear, making it the better of the two Marutis.
Mid-size hatchbacks Rs 4.5-6.5 lakh
The Maruti Swift was the first 'big' hatchback to arrive in India, and since then, the segment has seen many incumbents. However, in terms of back seats only a few stand out, namely the Tata Bolt and the more recent Ford Figo. Like most Tata cars, the Bolt's cabin is spacious. It's wide enough to seat three and legroom here can rival that of many mid-size sedans. However, the rear seats feel too firm, which takes away from the overall comfort.
Ford Figo
The Ford may seem short on space, but once you are sat in it, you'll notice it has plenty of cleverly created legroom. Like the Zest, the Figo's wide rear bench can comfortably accommodate three passengers. The seats are a bit too soft though, but overall, when compared to its rivals, the Ford is the best here.
Premium hatchbacks Rs 5.5-8.5 lakh
This is as big as hatchbacks get in the sub-ten-lakh class. The two that really stand out are the Honda Jazz and the Maruti Baleno. Legroom in the Baleno is impressive and the rear seat is wide enough to accommodate three passengers. Headroom, however, isn't a highlight, the seat base is a bit short and the all-black cabin also takes away from the sense of space.
The Jazz on the other hand edges ahead in terms of both back-seat space and comfort. Legroom is ample, the cabin is wide and there's good amount of headroom too. Also, the Jazz's high seating position offers a good view out. In all, this is the premium hatchback to go for if you plan on letting someone else take the wheel.
Honda Jazz
Sub-four-metre sedans Rs 5.5-7.5 lakh
Mid-size hatchbacks with stubby boots strapped on, that's what cars in this segment come across as. That said, they offer the illusion of owning a three-box car, which makes them so popular. Back seats may not be the USP for most here, but a few like the Honda Amaze and Tata Zest will keep owners happier than even some cars from a class above.
Tata Zest
Both cars can seat three abreast behind and are comfortable places to be in. Here, it's the Amaze's big glass area that adds to the sense of space. However, if it's outright comfort in the back seat you're after, it's hard to beat the Zest. That's because not only is it spacious, it also rides exceptionally well, insulating you from the road undulations and noises.
Entry-level sedans Rs 6.5-9 lakh
Remember the 'CAAAR' ad Nissan used to promote the Sunny? It's one of those commercials that comes quite close to reality, for the Sunny is big on rear seat space. And that's a result of its Honda City-rivalling wheelbase of 2,600mm. What also works in its favour is the relatively flat floor, which makes it easier to accommodate the middle passenger. It takes on cars like the Toyota Etios and Chevrolet Sail, of which only the former comes close in terms of space. But if stretching out is what you like to do, the Nissan Sunny, or its rebadged cousin from Renault, the Scala, is the car you should be putting your money on.
Nissan Sunny
Mid-size sedan Rs 8-12 lakh
If you have Rs 10-12 lakh to spend on a car, this segment which includes the Honda City, Hyundai Verna, Maruti Ciaz, Volkswagen Vento and the Skoda Rapid, is what you should be looking at. Here, the battle for the best back seat has a very clear winner – the City. It's got plenty of legroom, can accommodate three at the rear, and the seat offers great thigh and back support. In fact, the City is so good, it can give more expensive cars like the Skoda Octavia and VW Jetta a run for their money.
Honda City
MPVs Rs 7-10 lakh
Multi-purpose vehicles are perfect for hauling a lot of luggage and offer the convenience of transporting a lot of people comfortably too. Of those that duck under Rs 12 lakh, two are most noteworthy – the Maruti Ertiga and the Renault Lodgy (85hp variants). The Ertiga has comfy seats, and a sliding middle row means that you can optimise space as per your requirements. However, if there are passengers in the third row, the middle row falls short on knee room. The cabin isn't very wide either.
Renault Lodgy
Although the Lodgy doesn't have sliding middle seats, it offers decent space, the seats are well-cushioned and supportive, and you get a good view out as you're seated quite high. Its trump cards, however, are refinement and ride. You can hardly hear the diesel engine or road noises inside, and the ride is flat at speed, all of which make it the better of the two.
Small SUVs Rs 7-10 lakh
Thanks to our love for SUVs, carmakers are relentlessly cranking out new ones. Of these, the small SUV segment has seen the most number of launches in the last one year, and in terms of back seat comfort, Maruti's Vitara Brezza and S-cross are strong contenders.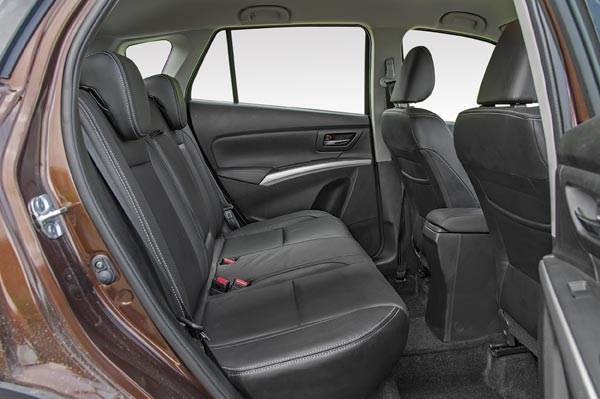 Maruti S-Cross
Both cars offer plenty in the way of legroom, headroom, and cabin width, and seating three at the back isn't an issue. The relatively high seats allow for a good view out, and noises from the diesel engine and the road are well suppressed in both. However, the S-cross' plusher leather seats (on the top-end Alpha variant) and far greater legroom help it nose ahead. Back support is excellent, you can recline the rear seat and the amount of thigh support on offer is better too. So, the S-cross is clearly one of the better cars to be driven around in.
Maruti S-Cross 1.6 DDiS 320 review
Maruti S-Cross 1.3 DDiS 200 review
Used car alternatives under Rs 10 lakh
Toyota Innova (model year 2010-12)
It was Toyota's breadwinner for the ten years that it was on sale in India, and for a good reason. The rear seats are phenomenal, especially if you can get hold of a car with captain seats in the middle row. What makes the Innova comfortable is that it can steamroll over undulations without letting any disturbance into the cabin. You can easily get hold of one with 30-50,000km on the odo for under Rs 8 lakh. 
Toyota Innova
Skoda Superb (model year 2011-12)
The Superb has earned a reputation for delivering a Rs 40 lakh luxury car experience at half the price, and has been a popular pick with entry-level luxury car buyers. A used one that's just four years old will cost you anywhere between Rs 6-8 lakh. For a smoother, more refined drive, look out for the petrol-powered models.
Skoda Superb
There's no dearth of affordable cars that have comfortable rear seats. It's worth noting that higher variants sometimes offer goodies like leather seats, which further enhance comfort. They are hence, worth their premium.