Heaven freezes over: Riding to the Himalayas on Royal Enfields
Some people are mad enough to ride into the Himalayas during winter. We don ten layers of clothes to observe and partake with these nutcases.
Published On May 12, 2018 09:00:00 AM
54,655 Views
Follow us on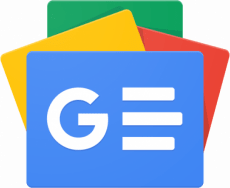 Spiti Valley has this ability to tell you exactly how ant-sized you are in this universe.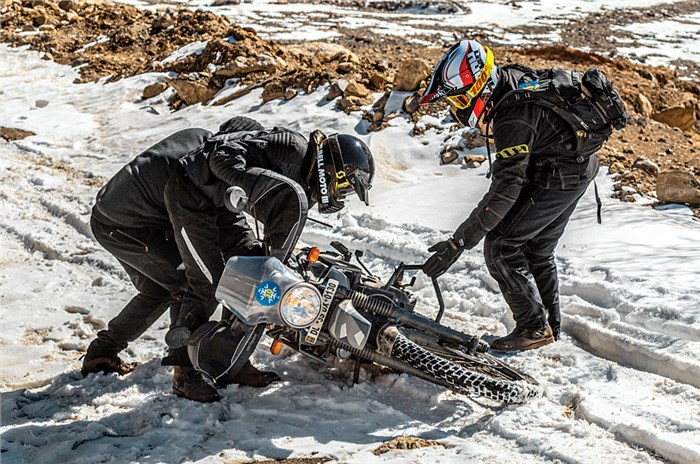 Deadlifts are something you might be doing quite often on ice.
Snow chains. Easy to fit and saves lives.
I've been stuck on a motorcycle on a high-altitude pass before. I've been in -40deg Celsius at the Arctic circle a few years ago, and I've even woken up on a sack of flour in a dingy dhaba in the middle of a snowstorm and cried because it was so cold. So I like to think that I am pretty qualified for this crazy ride that Royal Enfield has planned.
This time, there is one crucial difference. All my previous such adventures have been for a day at the worst and an hour at best. This time, they say it will be nine sustained days of teeth chatter and no, my amma won't be able to come save me when I've had enough.
I quickly pack Rs 7,000 worth (in excess baggage) of warm clothes and riding gear and buy enough thermals to own a controlling stake in Decathlon. This is not the usual cold-weather adventure, it can go very wrong. Also sending chills down my spine is when Royal Enfield delays the start of the trip by a couple of days because they want us to be in Kaza for the heaviest snowfall of the season. Hang on a minute! Don't normal people try to avoid bad weather? I quickly make another trip to Decathlon and arrive at the starting point with my best frosty smile pasted on.
The start point is in Shimla and I'm told there will be seven slightly modified Royal Enfield Himalayan Sleets waiting for us. We will then attempt to ride to Kaza in Spiti Valley, Himachal Pradesh, via the only route that is open/maybe open at this time of the year. The e-mail from Royal Enfield promises minus polar bear temperatures, lots of black ice on the road and a small side note that tells us that a hot bath at the end of a cold ride will be impossible once we cross over into Spiti Valley. Am I nervous? You bet I am. I know from past experience that snow and ice are the most difficult surfaces to ride a motorcycle on. You need to be fit because every inch of progress on zero-traction surfaces like these is like clawing back victory from the icy fingers of winter. The problem with snow and ice is that they have this ability to make you go from full CS Santosh control to sliding on your donkey ass in exactly 0.1 milliseconds. Oh well, like Vijay Parmar (India's Thierry Sabine for those not in the know) said, I asked for this.
GLOBAL WARMING
So far, that e-mail has failed to live up to its veiled threat. The sun is out but it is cold and for once, I seem to be wearing the right warm riding gear. That changes slightly when we get to the high point on the road. The first sign I get is when my toes start freezing. Painfully. The frosty bite of winter is seeping in through my boots and woollen socks and robbing my toes of feel.
I am also a very clever fellow obviously, because, in my bid to take a few photographs at the helipad at Nako, I've exposed my fingers to the knife-edged wind that is blowing through the place. I now have frozen toes and fingers. I look back now and thank god I didn't feel the need to answer nature's call at that point.
I quickly stuff my hands into the rain mitts that have been fitted on the Sleets and turn on the heated grips to 80 percent heat. It takes a while for the grips to warm up and in that while, every clutch pull and every two-finger front brake application is agony. A few kilometres up, there is ice on the road at Malling Nallah – the crossover into Spiti. We finally seem to be leaving the everyday comforts we take for granted behind.
I'm told we can forget about heated hotel rooms and running water. From now on, the water I brush my teeth with is so icy it scalds, and every time I smile at the face of adversity, my dry lips crack painfully. No amount of slathered Burt's Bees helps (Vaseline does a better job, though), and anyone using anything other than a BSNL network can forget about their daily social media updates. I am surprised that the usual signs of AMS – the slower thought process, slight nausea, the mild headaches – aren't hitting me. Vijay Parmar tells me that because it is so cold right now, the air up here is denser. We are, in effect, breathing like a K&N cold air filter. How cool is that!
That night at a homestay in Tabo, we huddle around a bukhari sipping on soup and rum. I learn certain rules of a mountain home chief, of which is that if you leave the room for whatever reason, you close the door behind you and when you come back, you bring two logs of wood from the pile outside to keep the fire going. I step out and stare in wonder at the diamond carpet high above me before my rapidly depleting body heat forces me under three blankets, a down jacket and uneasy sleep. There is still no sign of snow.
WE WILL GO AND FIND IT THEN
Apparently, when it snows, it isn't as cold as when it is not snowing. Either that or you are working so hard to get the bike through deep snow that you forget how cold it is. I think it is the latter because I've been struggling to ride up a slope covered in one-and-a-half feet of snow. We stopped before attempting the climb to that little village in Pin Valley National Park and fitted snow chains, but even that is not helping. The bike is bogging down and I'm having to walk it up the slope – engine on, first gear, clutch out, revs up. At 12,000ft, this little exercise that I execute so easily in Idukki's mud is making me curse the cigarette I had with my chai earlier that morning. And then, the snowy patch hardens into a sheet of ice that runs across our temporary ski slope – it is a stream that froze and drops over the edge into a short but promisingly painful trip to the river below. I freeze but that's the wrong thing to do. Ice is like an oil slick with a sprinkling of banana peel on it, so you want to ride the bike like you are walking on a slippery bathroom floor – no sudden movements or panicking allowed. In fact, you shouldn't even think because in the time it takes to think, you will land your ass on a cold hard surface. Because it is a short stretch of ice, you ride up to it as slowly as you can, pull the clutch in and let the bike simply roll over the treacherously slick surface. The deep snow at the other side seems like a Velcro patch after that. I can feel my heart beating furiously, my mouth is dry and I find myself breathing like a locomotive. I take a few sips from my hydration pack, find a place where the side-stand won't sink into the ground and watch in guilty glee as the others behind me struggle up the same slope in a mix of heavy breathing and flying snow.
Pin Valley is beautiful at this time of year. We haven't seen a soul all morning; I haven't seen snow this white ever and the razor-sharp peaks of the Himalayas etched against that cobalt blue sky makes me briefly think that all this talk about global warming is nonsense. But it isn't. The slopes on the south side are devoid of snow because well, it hasn't snowed. Phuentshok, our host for the night in Tabo tells us it hasn't snowed here since November and that this place should be under a ton of snow by now. It is a scary thought.
THE POND
What I love about the Himalayan is that it is so easy to manage off-road. It has good ground clearance like every dual-sport bike should have, but the seat isn't high off the ground like every other dual-sport bike's is. This means I can get my feet on the ground comfortably and that means I am way more confident on it than I am on my Triumph Tiger back home. On the dirt/gravel sections, as we head to Kaza later that evening, I find myself doing speeds I wouldn't dare do on a bigger motorcycle. That the Himalayan has very modest power means I have that poor engine on its throttle stop most of the time. I won't lie though. I did wish many times that it had a bit more power, but then again, I will tell you that the bike is fun because it is unintimidating.
Now, because we are supposed to be buried in snow today and because it still hasn't snowed, we decide to head higher up from the 12,000ft valley floor towards Kibber. We find a small pond that's frozen over. I decide I am very clever again and fit the snow chains on my bike without gloves on. Cold air, cold metal, no feeling in the fingers. I ride nervously out onto the broad basin of the pond and promptly have the bike wash out from under me. Me falling breaks the ice (figuratively, not literally) and I am soon surrounded by six other bikes all hooning around the relatively broad basin of white. We drag raced on it, went sliding across the ice on our collective asses multiple times, tried our hands at flat tracking – it was an incredible high. It is cold but we've forgotten how cold it is and everyone's face mirrors the same feeling – up there in the cold at 14,000ft with no one but us watching, freedom kicked in. Moments like this make me glad to be alive.
WHITEOUT
Through the ride, I've learned that there are different kinds of snow that you ride on. There's deep snow which is an absolute workout to ride through, there's ice covered by a thin layer of snow that is treacherous to ride on and there's the third kind – the kind we get on the last day of the ride out from Kalpa.
Ironically, we've had to leave Spiti Valley to get proper snowfall and overnight at Kalpa, a ton of the stuff has come down and turned the landscape fairy-tale white. The third kind of snow is now what we have to ride on and, to my delight, I discover that it is the most enjoyable sort. The road down to Reckong Peo is tarmac and on it is a few inches of snow. It is here that the snow chains work their best because they find enough traction on those few inches and there's grip underneath. The residents of Kalpa stay in their warm houses as we ride down that road surrounded by tall pine trees and crisp, clean air. I learn to use the power and slide the rear wheel around hairpins; I learn that this kind of snow lets you take liberties, and I am genuinely sad that from here to Shimla and beyond is now a long road back to normal life.
That night, as we sit around a table and share war stories, I realise what a kickass ride this has been. The struggle through the snow, the heart-in-the-mouth moments over ice, the biting cold, the billion stars on a pitch-black night and the incredibly close relationships you build with total strangers when you sit around a warm fire in the middle of nowhere is what made this trip for me. The chaps from Royal Enfield tell me that this ride was a 'testing the waters' kind of ride and they plan to include it in next year's ride calendar, which in turn means we were guinea pigs. If this is what being a guinea pig feels like, sign me up for the next one, please.
BIKE PREP
A few minor modifications were all that was necessary to get these Himalayan Sleets ready for the snow ride. The engine oil was changed to fully synthetic 5W-40 grade to battle the expected below-freezing temperatures, and the drive chain had to be cleaned and lubricated almost every day because regular chain lubes don't last long in these temperatures. Also, the foot peg rubbers were removed so our boots would grip them better. Then, of course, there were the Mizuno snow chains without which traversing the snow and ice stretches would have been very difficult.
For our comfort, Royal Enfield fitted the bikes with rain mitts as well as heated grips from a company called Oxford. That's it. That was all that was needed.
RIDER PREP
You are going to ride through extreme temperatures, and if you get your riding gear wrong, it will ruin your ride. Here's what I used to stay warm:
SOL SS-1 ADV helmet
Scott Recoil XI goggles
Alpinestars Touring winter balaclava
Royal Enfield Darcha all-weather jacket with rain and warm liners
Triumph Navigator gloves
Royal Enfield Darcha pants with rain liner
Two layers of Decathlon thermal inner wear
Decathlon woollen socks
Sidi On Road Gore-Tex boots (worked brilliantly off-road)
Decathlon 2-litre hydration pack
Also, remember to try on all your gear to make sure they fit well before the ride. Discovering your boots don't have space for the extra thickness of the woollen socks, a night before the ride, can be a bummer.
OUSEPH CHACKO
Copyright (c) Autocar India. All rights reserved.