Dragonheart: Building Ford EcoSport's new 1.5 Dragon petrol engine
Published On Oct 05, 2017 12:59:00 PM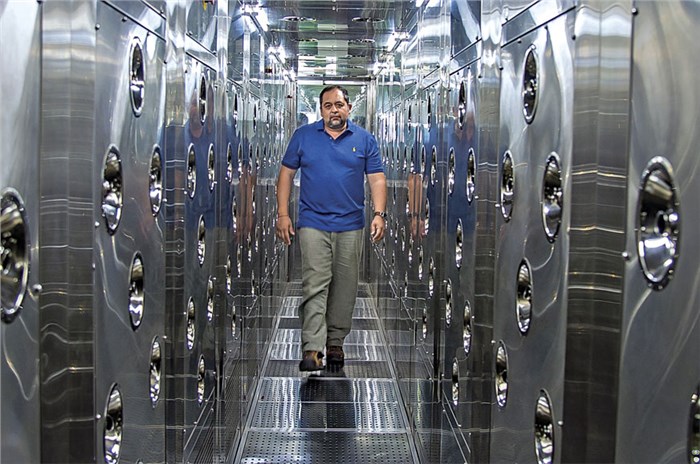 The new Ford Dragon 123hp, 1.5 petrol engine will be seen under the hood of the refreshed EcoSport. We've gotten up close and personal by building one at the Sanand plant.
The first surprise is the 'clean room' like atmosphere. This is a factory, and so it's natural to expect some grease and grime. But, as is the norm today, the entry to this modern engine shop is via a 'dust-tunnel', the type normally associated with a paint shop. Walking along the long chrome tunnel, with hundreds of vents blowing high pressure air at me from all directions, is quite disorienting. And then, when I finally exit the maelstrom, I hear something that creeps me out completely – shrill blood-curdling screams and screeches. Is someone rehearsing for a role in a Ramsay Brothers' horror movie? Of course they aren't; these are angry birds: birds of prey. And the screeching is so frenzied, I instinctively look up as we step onto the factory floor, half expecting to be dive-bombed by an eagle. The guys from Ford start chuckling. "We play the sounds of screeching owls to get rid of the pigeons," says one.
HIGH TECH, LOW COST
But let's forget about clean rooms and owls; I've come to meet the Dragon, and so, after a quick safety briefing, we go straight to the line. Now Ford's new engine will take over from the current 1.5 petrol, so it has to be potent as well as affordable. And, truth be told, there are a lot of cost-saving measures worked into this engine. There's no turbo, no direct injection and a few other high-tech bits have been deleted too. But I get something of a shock when I come face to face with the aluminium block. The quality of the machining and detailing are right up there with some of the best engines I've seen in this class. And then I walk over and pick up the crankshaft and the 'cracked' or 'broached' pistons, and am even more surprised.
This engine is a distant relation of the EcoBoost, and since it's a three-pot, I lift the block, just to see how heavy it is. It is 500cc larger and so is a bit bigger, but yeah, you could take this 12 or 13kg lump of aluminum as hand luggage, just as a Ford engineer did in the US with the EcoBoost block.
Ford engine assembly in Sanand is done partly by robot and partly by hand, and as is the norm, there are digital and electronic checks and measures at every stage. So, getting stuck in, gloves on, is relatively stress-free. The engine I'm assembling is first placed on its side and I click the main bearing caps in place. It's more difficult than it looks, as you have to align everything perfectly, and press hard to get that tell-tale 'click'. But each part fits just right and it would; remember Ford pioneered interchangeability of parts and mass production.
Soon after the block is picked up by a robot, the cylinder bores are lubricated, and we catch ◊ ∆ up with the bottom half of the engine further down the line, where I have to manually slot the pistons in. Like many modern engines, the Dragon has a crank offset by 10mm to help reduce piston slap and friction. And when we stand this unusually tall engine up I can sort of tell. And what's fascinating to see is that this engine also has extra reinforcement in the shape of a 'ladder frame' that helps reduce noise vibration and harshness. And that's what goes on next.
Then the engine is flipped upside down again and the balancer shaft is installed. Ford managed to tune out the vibrations in the smaller capacity EcoBoost without a balancer, but this larger 1.5 needs one. Each power stroke is more potent and disruptive, and since this engine isn't turbocharged and uses lower pressure port injection instead of direct injection, the components are much lighter. And then I put in the surprisingly tiny variable displacement oil pump that also improves efficiency, and theoil pan.
BACK TO THE TOP
Bottom end done, we move to work on the gasket and head. Like some other modern engines, Honda in particular, this one has an integrated exhaust manifold. This means no joints, no fasteners, and one job less for me. Then the twin camshafts go in, all 12 bolts driven in at the same time by a machine; but I have the difficult job of aligning the two cams. This requires a fair amount of dexterity as I have to align the twin arrows on the cam gear wheels, while holding the cam steady with a spanner. I'm only sure I've nailed it when an 'OK' pops up on the screen; which, let me tell you, is a big relief. Dual variable cams aren't something Ford pioneered, but no mention of them can be made without remembering Ford's legendary Formula 1 engine, the DFV or Double Four Valve. This V8 ran its first F1 race exactly 50 years ago, and powered an incredible 155 F1 cars to victory before its eventual retirement.
SPARK, PLUG AND BELT
Then comes the most difficult part – linking all the moving parts together. Still, this belt is easier to thread around the various teeth than most chain-drive systems. And though Ford's minders help, it slots in after only a bit of push and pull. "What's important to remember is that both cams can be phased by the ECU, and this means the engine can be optimsed for both low-and high-speed operations," says the man from Ford. But I'm more concerned by the quality of my assembly.
After this I bolt on the integrated front cover that protects the belt and allow it to run through an oil bath for greater smoothness and efficiency. How often do you need to change belts? Ford says two lakh kilometres. Wow.
Today's engines also have a lot more plastic. And so, after slotting in the fuel rail, cam cover and plastic inlet, I push in the coil and plug combos. And then it's time to click
all the connectors and make sure everything fits just right.
As the engine is taken into the test bench, I'm a wreck; I'm sure I've messed up somewhere. Were the plugs wired correctly? Did I forget to tighten something? What happened to piston number four? Wait; this is a three-cylinder engine.
Ford did have three engineers watching me and checking everything I did; but they don't want to take any chances. Can you blame them? Then, a miracle – the engine fires, and I even gets an 'OK' on the screen.
The Dragon or Ti-VCT, as Ford officially calls it, will eventually be exported to 50 markets around the world from Sanand. Deliveries have already started and the engine is proving to be quite popular as it is a massive 10 percent more efficient than the one it replaces. And what should also give Ford an edge in India is the fact that 80 percent of the parts for this engine are locally sourced. But what's it like to drive? With 123hp, it should be fairly quick. And though it doesn't have the torque of the EcoBoost, it should be more responsive. I can't wait to drive it when Ford launches the new EcoSport around Diwali.
Ford 1.5L Ti-VCT petrol engine technical specifications
Technical spcifications
No. of cylinders
Inline, 3-cyl
Displacement
1497cc
Max power
123 at 6500rpm
Max torque
150Nm at 4500rpm
Also read:
2017FordEcoSportfacelift India launch next month
2017FordEcoSportwalkaround video
What do you think about this Feature