Dare to Dakar: 2019 Dakar Rally report
We get a glimpse into one of the world's toughest human endeavours.
Published On Mar 03, 2019 08:00:00 AM
9,661 Views
Follow us on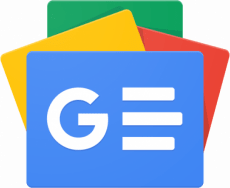 Bikes are fully stripped down and rebuilt after the marathon stages.
Nasser Al-Attiyah drove an almost faultless rally to give Toyota its first-ever Dakar win.
There are a few iconic motorsport videos that make a deeply powerful impact when you first watch them. Some of the toppers in my list include riding on-board with Ayrton Senna at Monaco, Ari Vatanen's 'Climb Dance' up Pike's Peak, Guy Martin vs Michael Dunlop at the Isle of Man TT and more recently, the Porsche 919 Hybrid Evo decimating the Nürburgring lap record. But the most astonishing of the lot was the grainy footage from the 1988 Dakar rally featuring Jan de Rooy passing Ari Vatanen in the Sahara desert at over 200kph.
Vatanen, a rally legend, was in the Peugeot 405 Turbo – the car that eventually won that year's rally – while de Rooy was in a truck. Yes, a truck. But this was one of the most extreme race trucks ever built, a Frankensteinian creation of de Rooy's own genius (or madness) called the DAF Turbo Twin X1. The X1 used two 11.6-litre twin-turbo diesel engines, one powering each axle and making a total of over 1,200hp, enough for a top speed of well over 200kph. On sand. Yeah, Dakar is something else!
THE INITIATION
This year, I got to soak in some of the insanity as we followed the Sherco TVS team for three days of the 10-day, 5,000km rally in Peru. This is not a race report, primarily because I wasn't there to witness the entire rally, but also because you'll find everything related to the results online. Instead, I want to share with you the experience and emotions of being at one of the greatest sporting spectacles on the planet.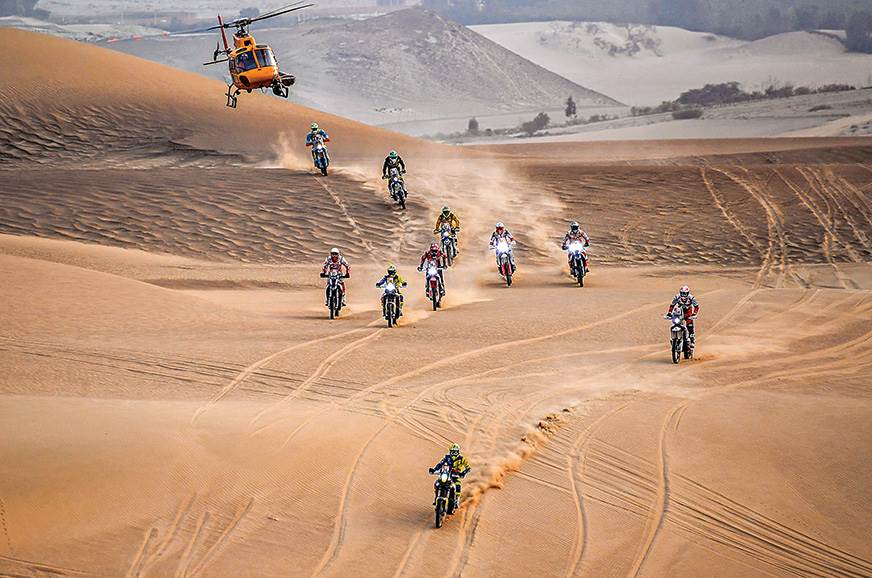 Mass starts on select stages lead to intensely close racing.
Everything about the Dakar is staggeringly difficult, starting with just getting there. It took 40-odd hours of travel before we even stepped foot on a competitive stage, by which time the rally had already completed three days. Standing there on the morning of Stage 4, excitedly waiting for the first vehicle of the day to pass, we finally saw a tiny dust stream churning up far in the Peruvian desert horizon. About 10 minutes later, factory Yamaha rider Xavier de Soultrait went past in a quick, but measured manner. We later discovered this is quite normal for the rider who 'opens the stage' because there are no tracks in the ground to follow. Usually, the rider who opens the stage rarely ends up winning it, but watching that lone Yamaha emerge from the emptiness and disappear just as quickly was such a thrill. However, I had no clue what was in store next.

The participants have to mark their roadbooks the evening before every stage.
The second-place rider that day, Pablo Quintanilla, followed about half-a-minute later and his approach was one of the wildest things I've ever seen. Soultrait obediently followed what his road book told him and took a neat 90-degree turn at the T-junction on the dirt track the riders were sticking to. Quintanilla, meanwhile, was playing by his own rules. He glanced at the complicated navigation tower on his Husqvarna, figured the direction he needed to go in and veered away from the dirt track, jumping up onto a large football-field-sized platform of dirt and boulders that we were standing on. Essentially turning the 90-degree route into a 45-degree shortcut, Quintanilla was doing everything he could to make up time, and that was awesome; except that a couple of fellow journalists and I were standing right where he was headed.

The Kamaz rally trucks are massive, fearsome things.

An adult mechanic for comparison against the huge trucks!
THE FACE OF FEAR
I now intimately know how those poor deer feel when they meet a set of headlights. Paralysed, my eyes locked onto the Husqvarna flying at me at terrifying speed, its giant suspension fork chomping through boulders like they were Skittles. Just as I was about to drop everything and sprint away in blind hope, the Husky abruptly changed direction, jumped clean off the mud field and landed sideways on the gravel road about three feet below. Suspension deeply compressed, Quintanilla was hard on the gas, the 450cc single hammering against the limiter as the bike pulled a long drift before straightening out. Powering away, he glanced back with what I could swear was a cheeky grin inside that black and yellow helmet. Or maybe he was just shaking his head at the idiots in his way.
Through the rest of the day, we watched in awe the top-20 elite riders flying past with unbelievable speed, accuracy and confidence. Great pride swept across as we saw each of the four Sherco TVS bikes and three Hero MotoCorp bikes rip by, especially so as we cheered on our own Indian riders, Aravind KP and CS Santosh. The route for Stage 4 that we were witnessing was shared by all classes of vehicles, so we had the treat of watching the quads, side-by-sides and cars fly by. Some of the top cars like the Peugeots look wild, but their diesel engines sound was nowhere close to being as good as the glorious V8s in the Toyota and Ford pick-ups that can be heard from miles away.
MONSTER TRUCKS
As awesome as the bikes are to watch, nothing can prepare you for the brutality of the trucks. Today's race trucks have been restricted, after de Rooy's teammate had a massive crash in 1988, killing one of the occupants and causing the team to pull out when de Rooy was leading the overall standings. But even now these things are crazy quick and produce upwards of 1,000hp – the Dakar trucks are my new visual definition for the word 'juggernaut' and the way they accelerate, brake and simply clamber over pretty much anything in their way beggars belief. The faster trucks often run right up there with the top 10 cars on a stage, and when you see them steamroll the desert into submission, you'll understand why.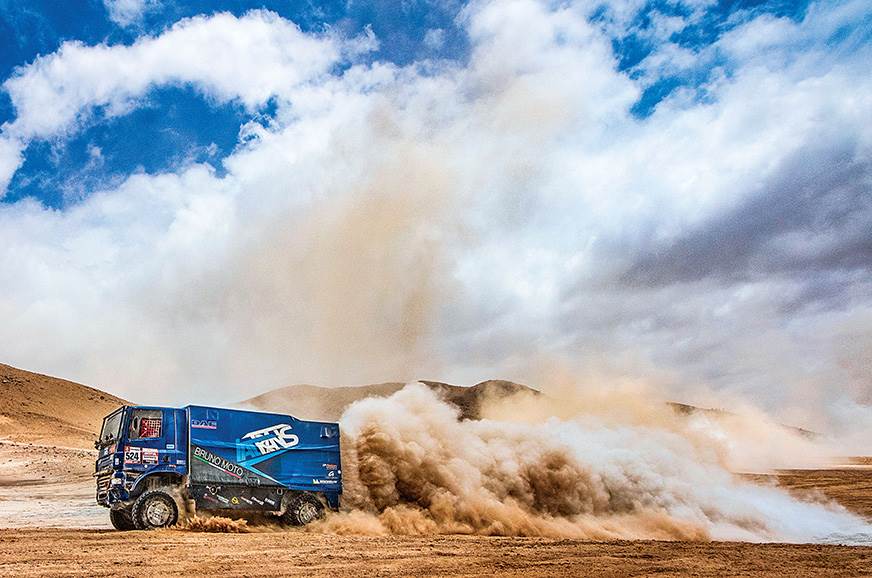 Seemingly unstoppable, the rally trucks are incredible to watch, and the faster ones are nearly as quick as the cars.
The trucks have also built a reputation for themselves, as Sherco TVS' star Indian rider Aravind KP later told us. Many of the competitors in the car category used to race on two wheels so they exercise caution and respect while overtaking any of the bikes in their way. But KP jokes that when the warning system on his bike chimes to alert that a faster vehicle is approaching from the rear, he moves right out of the way if it's a giant Kamaz – no messing around here!

Dust gets absolutely everywhere when your rally machine has no windscreen.
MEN VS MOUNTAINS
Day one was a special experience, but the next day was on another level. This time, we were positioned at the base of some gigantic sand dunes and were told that we'd get to see the cars, side-by-sides and trucks drive past. The bikes and quads, however, would have to ride up the dunes, traverse a long loop on the other end and then ride back down the same dunes towards us, after which they could carry on to the end of the stage. Having arrived there about half an hour before the first bikes appeared, I had plenty of time to look up in confident disbelief. The dunes ahead looked about 10 to 15 stories tall, possibly higher still, and there was no way in hell, I told myself, that any vehicle could climb them.
Sure enough, the lead riders eventually arrived, this time in a pack, thanks to the group start of 10 bikes at a time for the start of Stage 5, instead of the individual bike flag off that happens on most days. And then the craziest thing happened – they veered right and aimed straight for the top of the dunes! About 15 seconds of screaming exhaust note later, the bikes began to crest the top and disappear onto the other side. For the next four hours, I watched in complete incredulousness as, one by one, the bikes dropped over the edge and then re-emerged from an even taller neighbouring dune about 10 minutes later.

Four race trucks are better than one.
The top riders made it look almost easy, but as the hours went by, we got another glimpse of the Dakar – its brutal, gut-wrenching side. The point on the stage we were standing at was just 20km short of the end of the competitive special stage. By this point, the bikers had already covered about 200km in transport stages and 320km of special stage racing in extreme terrain. The later riders were absolutely knackered and many couldn't understand that their navigation was telling them to run a loop around the dunes. We took it upon ourselves to wave these riders in the right direction for the next couple of hours, and in some cases, just to encourage them onto the finish. More than a few riders pulled over next to us, exhausted, dehydrated and almost delirious. One was in tears, on the verge of giving up and only agreed to go on after much encouragement and convincing from our end. We helped in any way we could, offering food and fluids to these struggling warriors.

Spot the clutch lever - it's all about carrying spares for easily broken parts as cleverly as possible.
THE GREATEST MEMORY
Another rider pulled up without his goggles that he must have lost somewhere in the desert. He couldn't see a thing in all the dust and his face wore a heartbreaking expression that was a mix of extreme fatigue and near helplessness. Almost instinctively, I pulled the sunglasses off my face, gave them to him and cheered him on to the stage finish. Helping in any way you can feels like a privilege at the Dakar. The next day, I met Ben Young – I discovered his name later– in the bivouac and was thrilled to see he'd made it through the stage (and eventually the entire rally too, finishing in 51st position). Ben even returned my sunglasses to me and I can now claim to own something that has been through a Dakar marathon stage. How cool is that!

Ben Young lost his goggles and couldn't see a thing so I gave him my sunglasses. We even met the next day!
The end of Stage 5 marked the halfway point of the Dakar and the four Sherco TVS riders had done well so far. Dakar rookie Lorenzo Santolino was doing a fantastic job and finished Stage 5 in fourth place and was 11th in the general standings. Adrien Metge was 16th overall and his brother Michael 26th, after having struggled with fuel issues that dropped him back. Best of all, Aravind KP brought the bike back safely too, despite some hard falls, and was holding 53rd position. With the first-half complete, all the teams earned a hugely deserved day of rest.
THOU SHALT REST
Our final day in Peru was spent exploring the bivouac on the mid-rally rest day. The bivouac is a massive moving campsite where teams service vehicles overnight between the stages. This was like wandering through candy land – you barely know what to look at as the teams repair and prepare these exotic, purpose-built machines for the next day of racing. Some teams are tiny, two- or three-man outfits, while others like Kamaz come with a small army of four race, an equal number of support trucks and what looks like over 50 crew members.

The bivouac bristles with activity into the late hours of the night.
The participants are all under various states of repair too, especially the riders, and by the midway point, almost everyone is nursing some injury or the other. These are the kind of injuries that'll have you or me call for weeks of sick leave and cry for mommy, but the competitors just shrug it off and carry on with a smile and the usual, 'This is Dakar, this is how it goes'.

Physiotherapists are vital at the Dakar.

Many participants sleep right next to their machines.
WOUNDED SOLDIERS
Beyond the insane machinery on display, the bivouac is also a place where you'll hear amazing stories of human resilience that is at the very core of what makes the Dakar so great. Stories of riders who have had a bad crash, hurt a leg and then won't take that boot off for days until the end of the rally. That's because they know something in there is broken and worry that if the foot swells up too much the boot won't go back on. Or stories of how sometimes the drivers' rib-cages can mildly collapse under the stress of the tight racing harness and the unending hammering over hard terrain. There are physiotherapists on hand to help literally pull the bottom section of ribs back out, or in most cases, provide a relieving massage at the end of a day.

Pain is intrinsic to the Dakar.
Scarily swollen wrists and pronounced limps are a common sight here. Hell, Toby Price, the rally's eventual winner, pushed through the whole event after undergoing surgery to repair a fractured scaphoid bone sustained in a training crash just weeks before the Dakar began. Last year's winner, Matthias Walkner, injured his leg badly in Stage 5, but persevered to finish in second overall, after which he was diagnosed with a fractured ankle. Pablo Quintanilla was in it to win it on the last day, starting the final stage less than 2 minutes behind Toby Price in the overall standings, but he had a heavy, heavy crash in the dunes – a scary video of which you'll find online. He fractured his ankle in the crash but, incredibly, got back on the bike and finished the rally in fourth place overall. I'm can't think of where else you'll see similar levels of sheer heroism.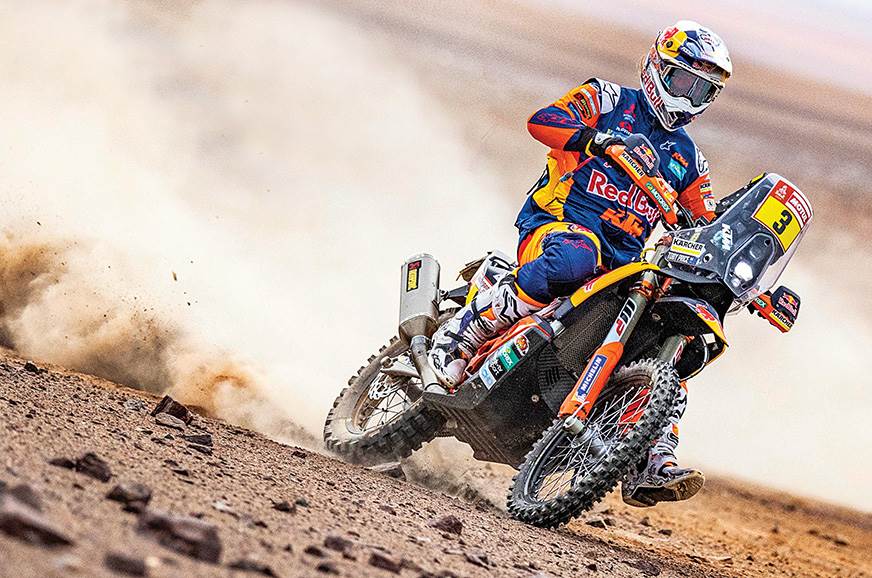 Aussie madman Toby Price won the rally with a freshly operated fractured wrist.
These are just a handful of the more publicised instances. Every participant here is a hero and has soldiered through monumental difficulties to get to the finish. I deeply admire them all, but the bikers and quad riders are on another level. These guys are out there on their own, they navigate by themselves and the level of competition in the two-wheel category is incredibly fierce and much closer than any other class.

A massive dent in Aravind KP's wheel rim.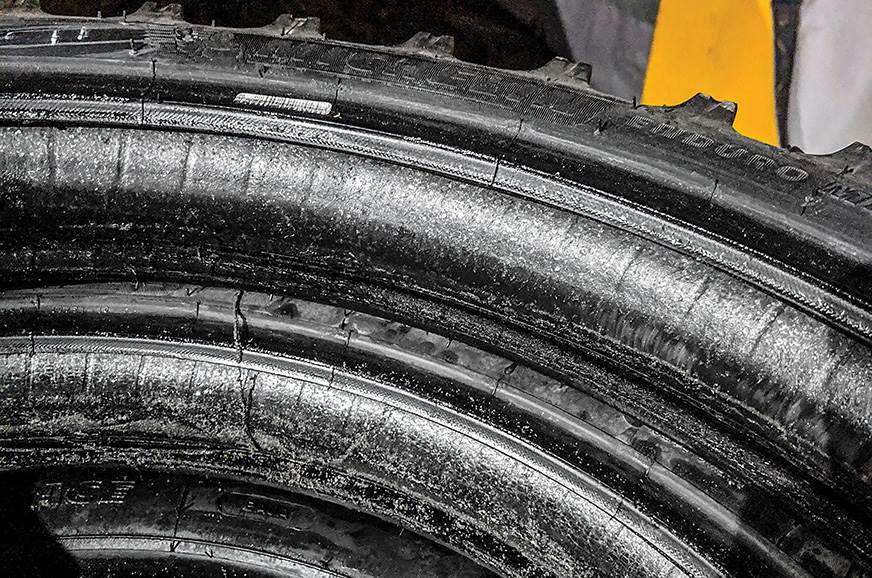 The Dakar allows riders to use tyre mousse – a high-density foam-like replacement for tyre tubes that ends the hassles of punctures.
INDIAN DREAMS
Team Sherco TVS came to the rally with an improved motorcycle that had a bigger fuel capacity of 32 litres and an increased top speed of 170kph. This was Aravind KP's third stab at the Dakar and he was determined to finish. KP battled through multiple crashes and the drama of his bike stalling in the middle of Stage 9 with alternator issues. Fortunately, he managed to fix it and ultimately finished the rally in 37th place, which makes him only the second Indian to ever do so.

Three Sherco TVS riders completed the Dakar, including Aravind KP, the only Indian to do so this year.
Sherco TVS' leading rider this year, Lorenzo Santolino, unfortunately wasn't as lucky, as a crash in Stage 6 ended his race and left him with a cracked vertebra and six broken ribs. Teammates Adrien Metge finished in 22nd and Michael Metge in 25th. Adrien rode through most of the rally with what was later diagnosed as a fractured scaphoid and Michael made up for his terrible luck with fuel issues by putting in a stellar performance to win Stage 9.
As for Hero Motorsport, CS Santosh was doing well, but a crash on Stage 5 ended his rally. Oriol Mena put in another superb performance to finish in 9th, while teammate Joaquim Rodrigues brought it home in 17th place.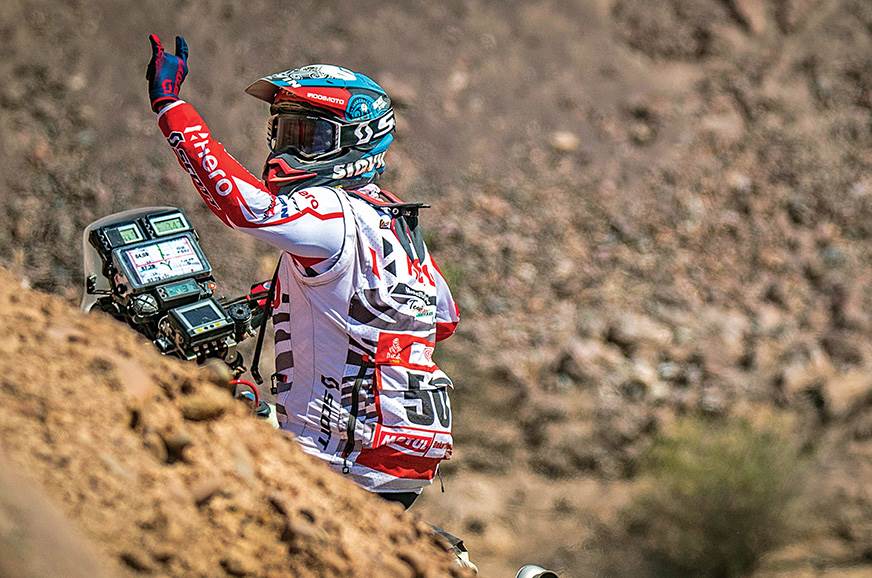 A hard crash unfortunately ended CS Santosh's rally at Stage 5. But he's sure to be back next year!
LIFE LESSONS
Experiencing Dakar has taught me new respect for just how far man can push through adversity. Beyond the racing, this is one of the most intense tests of human spirit. Those who conquer the Dakar find euphoria, but the rally hands out gut-wrenching heartbreak far more easily, as the 63 non-finishers (about 43 percent of the starting line-up) in the motorcycle category will tell you. This holds painfully true for factory Honda rider Ricky Brabec whose engine seized when he was leading the overall standings, just two days from the chequered flag.
As for me, I've returned with a new perspective of what difficulty means and the lesson that when tough times strike, to just smile and tell myself, 'This too shall pass'.
For another year in a row, the mighty Kamaz was unbeatable, although the Ivecos tried hard.
IMAGE CREDITS: TVS, Ishaan Bhataiya/Rally Zone and Rishaad Mody
Copyright (c) Autocar India. All rights reserved.