Every square inch of the 1000cc supersport territory is crammed with precise, potent and devastatingly quick motorcycles. These cutting edge motorcycles have honed their skills to a gleaming razors edge over several generations and racing programmes. Every gram and millimetre is pared away until bare necessity and ruthless pace remain. A quick first ride on BMW's S1000RR shows the lack of accomplished racing pedigree or decades of superbike building experience hasn't stopped them from achieving lofty targets.
The S1000RR's design cuts through the clutter. An S1000RR face is cockeyed. The size of the low beam (larger unit) and the high beam designed purely to meet functional needs. This disruptive design is carried forward to the engine fairing. The lower portion uses a matte black finish. Riders get a simple, legible analogue rev-counter, while the digital display shows speed, gear engaged, lap times and engine settings. The compact tank has contrasting black sections. The tail rises sharply to end in a sharp toothed rear.
A 999cc motorcycle with 193bhp on tap at 13000rpm and 11.4kgm of torque made at 9750rpm has all the raw and rabid trappings of a litre class bike. In pre-programmed 'Rain' mode the ECU caps engine power output to 150bhp, with throttle responses left smoother. Dynamic Traction Control and Race ABS also cut in earlier.
Three other modes, Sport, Race and Slick deliver the full blast of 193 horses. However, the last two modes are to be reserved for track use with purpose built tyres. Riding with Sport mode engaged means only a quick twist of the throttle sends the BMW shooting ahead with intimidating intensity.
The BMW's six-speed gearbox allows smooth, quick shifting, although finding neutral can sometimes be fiddly. On the go, optional High Performance Gearshift Assistant lets you shift up with the throttle wide open, without the clutch. Overall engine refinement is excellent, the cable operated clutch offering a light action that belies the power at hand.
First impressions suggest the seating position is as comfortable as it gets in the supersports class. At low speed, the S1000RR feels easy and hassle free to steer, as speeds build this calm and no-nonsense air only getting stronger. The S1000RR feels slim and light from the moment you sling your leg over.
By way of suspension the S1000RR does without BMW's Duolever, instead using 46mm upside down front forks. At the rear, the S1000RR deploys a conventional double sided swingarm with a progressive monoshock.
The BMW turns with great confidence. It is direct and agile. The brakes offer fantastic bite, as also great feel. The suspension proved surprisingly adept at dealing with even far from smooth roads.
Blame German heritage, solid engineering and their fabled efficiency for the manner in which the S1000RR delivers hyper-performance and race track worthy handling, yet still remains so easy to use. Cutting edge technology makes this fierce Beemer an adaptable model. The S1000RR comes across as one heck of an accomplished motorcycle, and you can read the full story about it in our July issue already on stands across India.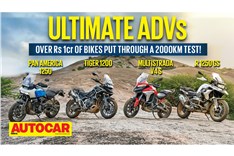 BMW vs Ducati vs Harley vs Triumph - 2000km ADV road trip...
4866 Views|5 months ago
BMW G 310 RR video review
9706 Views|6 months ago
BMW G 310 RR walkaround video
5056 Views|8 months ago