If you are familiar with Toyota's global nomenclature format, you would know the TRD Sportivo name that is associated with sporty flagship variants of Toyota models. Now Toyota is gradually phasing out its TRD (Toyota Racing Development) motorsport division altogether in favor of Gazoo Racing (GR) and it was only a matter of time before this name made it on to their road cars and SUVs as well.
Toyota has thus launched a new range of flagship GR Sport models in Indonesia and a similar treatment is expected to follow for other markets such as Malaysia, Australia and even India among others.
Toyota has begun replacing TRD Sportivo with GR Sport branding
New range of GR Sport models introduced in Indonesia recently
Fortuner and Innova Crysta GR Sport variants could make it to India
Toyota GR Sport line-up: what's new?
Toyota had kick started its GR Sport range of models in Indonesia with the Toyota Raize in April earlier this year. Now, the Japanese carmaker has launched five new GR Sport models in Indonesia which are based on the Rush, the Fortuner, the Yaris, the Agya and the Avanza Veloz.
These GR Sport models essentially get a cosmetic makeover that makes them look sportier than the standard models, although they do not get any performance or handling upgrades. The standard treatment is a bodykit, blacked-out trims, new wheel designs, GR badging replacing the TRD Sportivo logos, and in some cases, additional equipment too.
Toyota's Gazoo Racing range of products is broadly categorized in four divisions – GR Parts, GR Sport, GR and GRMN. GR Parts essentially supplies motorsports-inspired aftermarket parts. Meanwhile, the GR and GRMN divisions produce proper performance focused models.
The Toyota Agya and Yaris GR Sport models only get a sportier looking bodykit over the standard model. Meanwhile, the Rush and Fortuner GR Sport models get some additional features along with a sportier bodykit. Lastly, the Avanza Veloz also gets the GR branding and treatment, but it's "GR Limited" on the budget MPV, and it will be limited in numbers.
Toyota Fortuner GR Sport could make it to India
Of all the models that have received the GR Sport treatment in Indonesia, we only have the Fortuner on sale in India. Interestingly, Toyota briefly sold a limited-edition TRD version of the pre-facelift Fortuner in India in 2020, and chances are the new Fortuner GR Sport could be considered for India as well.
Although Toyota has not revealed a GR Sport variant of the Innova Crysta so far, this could also be in the pipeline for India at a later point of time.
Toyota cars, SUVs in India: 2021 and beyond
Toyota currently sells the Glanza hatchback, Urban Cruiser compact SUV, Yaris sedan, Innova Crysta MPV, Fortuner SUV, Camry Hybrid sedan and Vellfire luxury MPV in India. Moving forward, Toyota is expected to introduce two new mass market products – a mid-size sedan and an MPV. The mid-size sedan will be based on the Maruti Ciaz and is expected to be rebadged as the Toyota Belta, while the MPV will be based on the popular Maruti Suzuki Ertiga. Toyota is also likely to launch the Hilux pickup in India in the near future.
Also See:
2021 Toyota Land Cruiser LC300 image gallery
Ciaz-based Toyota Belta to replace Yaris in India
Toyota bans Land Cruiser LC300 resale in some markets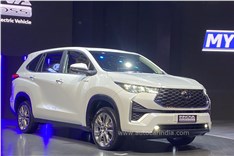 Toyota Innova Hycross image gallery
65367 Views|11 days ago
New Toyota Prius image gallery
8202 Views|20 days ago
Toyota Innova Hycross video review
8947 Views|18 hours ago
Toyota Innova Hycross walkaround video
20133 Views|11 days ago