On the enduring nature of the Honda City:
The City has been one of the longest-running nameplates in India, and it has been able to build its brand from the very first generation. It has been around for 22 years and has a base of 8,00,000 customers in India and four million, worldwide. As a brand and product, it has always brought in contemporary technology and styling, along with the Honda attributes of durability, quality and reliability.
On the quintessential City customer:
We've had a mix of people, both family-oriented and individual owners; but interestingly, the City is a car which people have loved to drive themselves, and the same goes for a majority of the model's owners today as well. Having said that, anywhere between 20-35 percent of our customers occupy the rear seat at some point in time; but most of them, too, like to take to the wheel occasionally. This love of driving and the pleasure they derive from it is a common trait among our customers. Further, they want to own something which is a pleasure to have and to drive everyday.
On improvements at the rear:
In the new City, we have increased the cushion thickness by as much as three times and paid special attention to under-thigh support. Plus, leg space is equivalent to much larger cars.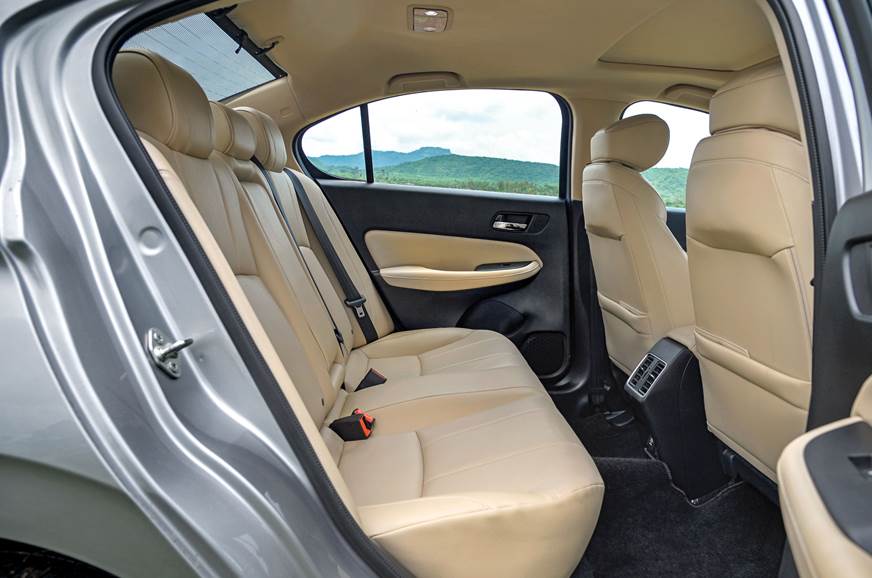 Goel says that cushion thickness at the rear has been increased by as much as three times.
There are also small things that we have taken care of. Like, for example, you are always looking for a place to keep your phone, wireless headphones and such, at the rear. So, there are these four specially designed and handy pockets at the back that take care of this requirement.
There are also small improvements like the phone pockets.
The City's space frame:
The new body shell has an increased torsional rigidity of about 20 percent over the previous generation and weight has been reduced by four percent. We have achieved this because of two things. The new inner frame structure has lesser number of parts; which, in turn, means fewer welding points, thus increasing the rigidity. Second, we increased the usage of high-tensile material – in particular, we use greater high-tensile steel of between 780MPa and 980MPa, which our press shop is now capable of doing.
For the body shell, Honda uses greater high-tensile steel of between 780 MPa and 980 MPa.
Reducing NVH levels on the diesel:
The simplest thing to do is to increase the amount of insulation used, which we have done in the new car, but this does add weight. So what we did with the new City is use a special spray-foam insulation that is lighter. We have also strategically used insulation of varying thickness all around the car. Then, of course, we have worked on the engine itself, in terms of improving tolerances, reducing friction in various places and controlling, more precisely, the movement of the various parts. All this has resulted in marked improvement in the NVH levels in the new car.
No turbo, at least for now:
In the short term, we aren't looking at a turbo unit. We believe that the new DOHC unit offers a perfect blend of drivability, performance and economy.
On selling two generations of the City concurrently:
We are certainly focused on selling this new fifth-generation car, but the purpose of continuing the fourth generation City alongside is to offer a wider choice to our customers. So that, depending on their needs and economics, they can own a City. This way, we believe we will be able to get incremental sales. That's why we have kept both, the fourth and fifth generation on sale.
According to Goel, the purpose of continuing the fourth generation alongside is to offer a wider choice. So that depending on the customer's needs and economics, they can own a City.
On virtual assistants and convenience:
It's too early for us to predict how customers are going to be responding to Alexa in the new City, but the initial response of people, including from those who have taken test drives, has been phenomenal. Everybody is excited about it. Of course, we also take pride in showing off what we have; but more than that, it offers convenience to the customer which is unmatched. It allows them the freedom to know things beforehand, like being able to check the fuel level while still at home. That is something that I personally have needed to use.
Also see:
2020 Honda City review, test drive
2020 Honda City launched at Rs 10.90 lakh
New Honda City price, variants explained
Honda to trim fourth-gen City range to two variants
Nissan Magnite, Renault Kiger, Honda City & Jazz Global N...
11121 Views|11 months ago
2020 Honda City video review
48895 Views|2 years ago