With #AprilFools trending worldwide, what better a way to engage with the people of the internet than to pull a prank of your own? Every year, on April 1, car and bike manufacturers are out to get their fans with some sort of joke, with varying degrees of effectiveness. Here are the best ones from this year's pranks:
Audi downsizing assistant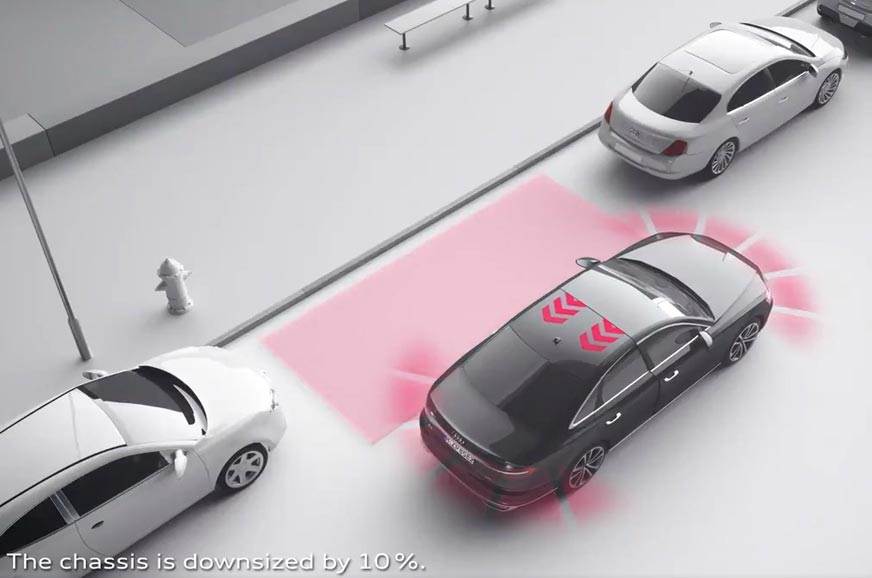 It's Rush hour. You need to be in office before 10, but you'll need to park your car first. Is that a... yes! An empty space! But your car's too big to fit into it... unless it's an Audi. The company's new tech enables you to "reduce the vehicle's chassis length by up to 15 percent".
Audi India even went to the length of producing a video demonstrating how the system would work – so it gets extra points for pulling a pretty convincing April Fools' stunt.
Rating: 4/5
BMW Motorrad iParts 3D Mobile Printer
BMW Motorrad's ability to pull off pranks straight-faced is what makes its otherwise bonkers ideas sound almost true. Last year, it had debuted an "all-wheel drive" version of the GS adventure-tourer, a story several motorcycle news sites fell for. This year, it came up with this: the iParts 3D Mobile Printer, which can – you guessed it – produce spare parts on the go, as and when you need them.
Housed in a special top case made of CFRP, the printer can be used to print, "Smaller parts such as a handbrake, clutch or gear levers, valve caps, fork bridges and turn indicator glasses," says BMW. The release goes on to state that "This can be done not just at home but even when out and about, since the handy high-tech device can be conveniently stowed in a top case or side case."
The seriousness and sincerity of the whole thing is good enough to lure most people into thinking this could well be a real concept. Top marks, BMW Motorrad.
Rating: 5/5
Honda CR-V Roadster concept
Honda took its April Fools' prank to the next level: it created a roofless version of the CR-V – by literally chopping off the roof of a perfectly good CR-V. This means structural rigidity has gone for a toss, and with no rollover protection in place, it is no longer road-legal.
Honda's release is funnier still. It says "If you ask us, Honda's confidence is well-placed: the CR-V Roadster is half the price of the CR-V. (It is literally half the car, after all.)"
Not convincing enough, but they deserve an applause for the effort.
Rating: 3/5
Porsche Mission E tractor
Porsche is taking the whole Mission E business seriously. So seriously, in fact, that it wants to plug into "the future of all-electric agriculture" with the 'Mission E tractor'. The post goes on to say "Combining Porsche's tradition and innovation, our 700hp plug-in workhorse will be the fastest accelerating, quietest and cleanest tractor in the world".
Barely believable, but at least the concept in the render looks classy.
Rating: 2/5
Tesla goes bankrupt
If anyone were to even believe that title for a moment, it was undone by the rest of the matter of enigmatic Tesla CEO Elon Musk's tweet:
Tesla Goes Bankrupt
Palo Alto, California, April 1, 2018 -- Despite intense efforts to raise money, including a last-ditch mass sale of Easter Eggs, we are sad to report that Tesla has gone completely and totally bankrupt. So bankrupt, you can't believe it.
Musk followed it up with a second tweet, with an image of himself lying cold next to a Tesla, holding a placard that reads 'Bankwupt', and this caption:
"Elon was found passed out against a Tesla Model 3, surrounded by 'Teslaquilla' bottles, the tracks of dried tears still visible on his cheeks.
This is not a forward-looking statement, because obviously, what's the point?
Happy New Month!"
Musk's announcement was hilarious, if not exactly a convincing prank, so it gets bonus marks.
Rating: 3/5
As for us at Autocar India, well, if you were following our social media feed, you'll know we drove a Bugatti Chiron, right here, in Mumbai – or did we?
Belated happy April Fools' day!