The COVID-19 pandemic has brought the world to a standstill with nations all around the globe urging individuals to stay at home to help control the spread of the virus, and effectively 'flatten the curve'. At a time when everyone is turning to screens to remain connected with the world outside, social media is proving to be one of the best mediums to really drive the message home.
While auto manufacturers have taken a big hit in sales as a result of this pandemic, a lot of them remain determined to push the social distancing agenda. Here are some online campaigns that stood out:
Logos speak louder than words
Social distancing isn't just for people! Chances are that a few months ago you'd probably never even heard of the term and now it's become a part of everyone's daily conversation. In a bid to promote the importance of social distancing practices, several carmakers – including Volkswagen, Audi, Mercedes, MG, Hyundai and even Citroen – have modified their iconic logos with each individual element kept separate, reinforcing the idea of distancing.
Flatten the curve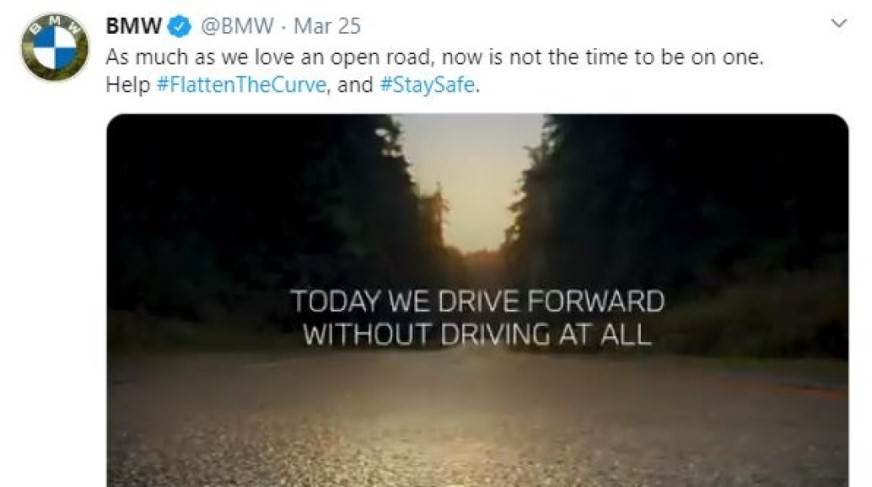 The need of the hour is to flatten the curve, or, in other words, slow the spread of the virus. A number of carmakers have come up with their own unique way to promote the message. BMW has launched its very own #FlattenTheCurve campaign on social media, even releasing a prompt play on its slogan, changing it to 'Sheer non-driving pleasure'.
Meanwhile, brands like Maruti Suzuki, Honda and Hyundai are encouraging their followers to stay at home.
Nissan India has even provided a new perspective on road safety signs. Turns out road rules are just as applicable at home during the lockdown.
Getting creative
There's no time better than a lockdown to unleash your inner artist, right? To celebrate International Children's Book Day, Ford decided to give the occasion a fun automotive spin and released an activity book that includes everything from join the dots to colouring pages and even a maze game. Sure, this is intended for children, but we're sure there are quite a few adults who would like to have a crack at this to pass time.
Jeep India, meanwhile, has been flexing its own creative muscles online. The carmaker has given its seven slot grille a fun spin – covering everything from indoor games to art and even cleaning – to help followers combat their lockdown blues.
Rewarding innovation
Carmakers around the world are using their production capabilities to help develop crucial medical equipment. Here in India, companies like Mahindra and Maruti Suzuki have stepped forward to help produce more ventilators, and now MG India has launched a social media campaign inviting people to submit their design ideas for an affordable and quick-to-produce ventilator. In addition to handing the winner a grant, MG India claims that it intends to produce ventilators based on the winning design at its plant.
Stay fighting fit
It may be tempting to spend the lockdown perched up in front of the TV, binge-watching your favourite shows. But Tata Motors is encouraging people to make sure fitness is not on the back burner. The carmaker has challenged its followers to a lockdown version of a fitness marathon, asking individuals to submit video entries of them completing a 2Km run in their own homes.
For the wanderlusters
Sitting at home daydreaming about and planning your next road trip? Royal Enfield recently invited its followers to share images of all the locations they would like to ride to once situations improve. The manufacturer has also been sharing the various entries online; so it's worth checking out their social media profiles if you're looking for some travel inspiration.
Rewind
Remember Kia Motors India's Carnival TV commercial starring actor Jim Sarbh? The carmaker decided to go for a less literal approach and instead recently re-uploaded the ad on its YouTube channel, with an important change: the whole video plays in reverse, ending with the message "Let's all just rewind. Stay home".
Also see:
How coronavirus has hit the global auto industry: a timeline
Top 10 Autocar India videos you must watch
Slideshow: Automotive movies to watch in the lockdown