We find out how the indestructible Toyota Hilux pickup tackles off-roading challenges.
Widely regarded as the toughest off-roader in the world, Toyota's Hilux is nothing less than an icon. Universally respected for its solid construction, indestructible nature, and the fact that many will still be around long after we've upped and left for another habitable planet, it is a legend in its own lifetime. "Tested and respected" by the rebels all over Africa and, of course, the Taliban, the Hilux is nothing less than the automotive equivalent of an AK47 – both effective and unbreakable at the same time.
Now we've already put the Hilux through its paces in the city and on our highways, and we already know what it's like to ride in, sit inside and drive on regular roads. But what's it like to drive out in the wild, out on a real off-road trial? Just how good is it over some real rough terrain where you'd need a 4X4, and just how does it differ from its sister SUV the Fortuner? Both are built on the IMV platform after all.
Toyota Hilux chassis, 4WD system
While the Hilux shares its chassis with the already tough-as-nails Fortuner, it is also different and considerably more robust. This is especially true of the ladder-frame chassis. The longitudinal rails are larger and wider, the longer rear section is built more robustly and for added strength and bending stiffness, the chassis also gets more stout cross members. Toyota engineers, in fact, say they made the chassis "tougher than we can imagine", taking it to the next level.
When it comes to off-roading, the Hilux is built on a longer 3,085mm wheelbase, as against 2,745mm for the Fortuner, and this along with the additional rear overhang, reduces its effectiveness off-road. So while the approach angle is a good 29 degrees (good off-roaders have around 30), the departure is now 26 degrees. These clearance angles, and the fact that it has no lockable front diff, mean it's not quite a Jeep Wrangler, still the Toyota should manage climbs, rock crawling and general off-roading pretty easily.
The ladder-frame chassis, which is similar to the Fortuner's, is considerably more robust.
Where the Hilux has an advantage off-road is the 'live' rear axle and leaf-sprung suspension. This combo allows for better axle articulation during more demanding angles, and then what also helps is that it gets an electronic limited slip differential at the rear, low range and a rear diff lock. In addition, there's also hill-descent control and VSC or electronic stability control.
Toyota Hilux off-road ability, performance
Our opportunities to test the Hilux off the road were limited to a custom-made set of courses. Still the experience was sufficient to show us just how indestructible it feels off-road and that the Hilux will take you just about anywhere you can go in an off-roader of a similar size.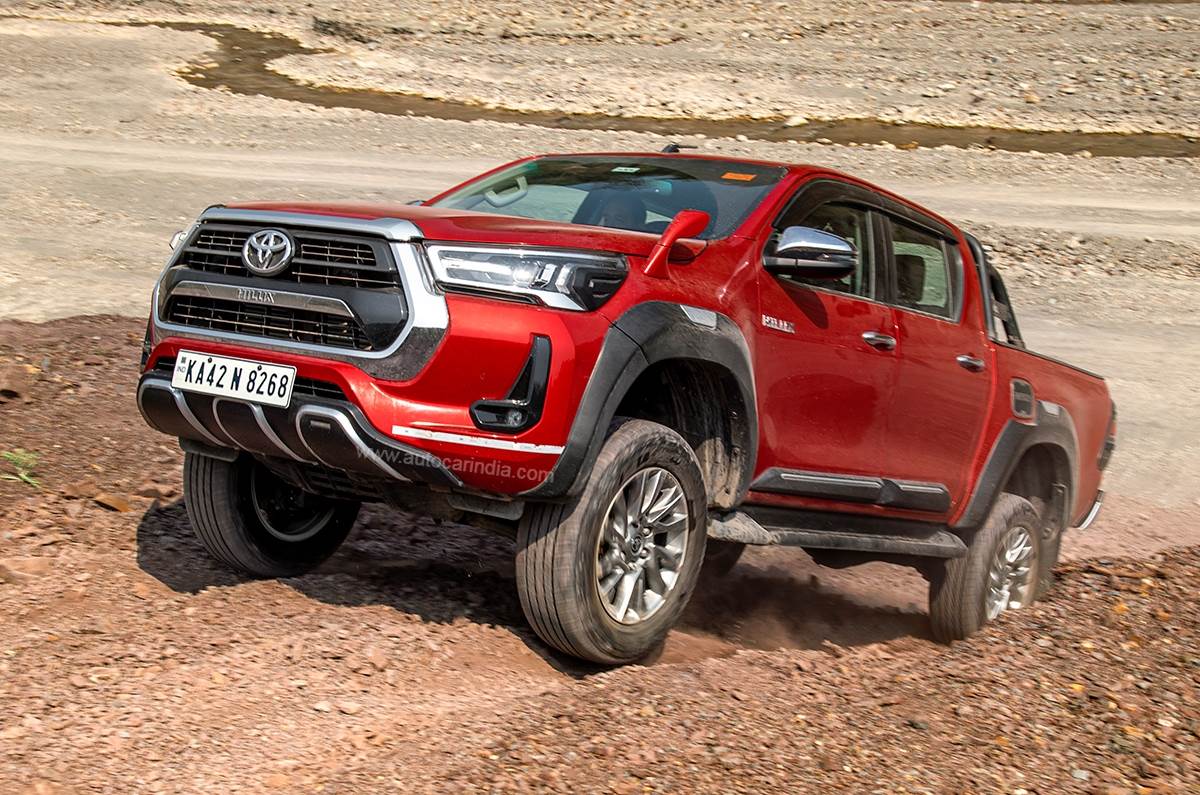 Despite having no weight over the rear wheels, the Hilux tackles steep ascents with ease.
The first off-road test for the Hilux is a steep ascent on some broken ghat roads with plenty of sand and gravel on some of the steeper inclines. And here we get a chance to see how well the rear manages, especially as there is no weight over the driven wheels. While the size of the truck is apparent on the tighter sections, what's also impressive is that the traction control cutting in doesn't cause a break in the momentum. The 500Nm of torque from the engine makes climbing up feel effortless, and the Hilux's 204hp diesel just burbles away at around 2,000rpm, but remember this pick-up weighs around 2.3 tonnes.
With a ground clearance of around 220mm, the Hilux crawls smartly over smoothened river rocks.
Up next is a long descent over a rocky river bed. The Hilux takes to this like a duck to water despite the long wheelbase. It does have around 220mm of ground clearance and set in four low, it keeps crawling smartly over the smoothened river rocks, clambering over like a big reptile as it heaves itself over some sections. Lowering the Hilux gently over some of the bigger boulders is important, but otherwise it manages what would have been an impossible task in a lesser off-roader quite easily.
700mm of water-wading capacity allows the Hilux to cross streams with ease.
Later on, we get to check the Hilux's 700mm water-wading capacity as it crosses a deep stream with relative ease. And remember this can easily be extended by fitting a snorkel if you are serious about crossing a lot of streams. The Hilux even manages a steep ascent over a gravelly surface quite easily; the power, torque and low-range traction making it clamber up what you would need to go on all fours to climb up yourself.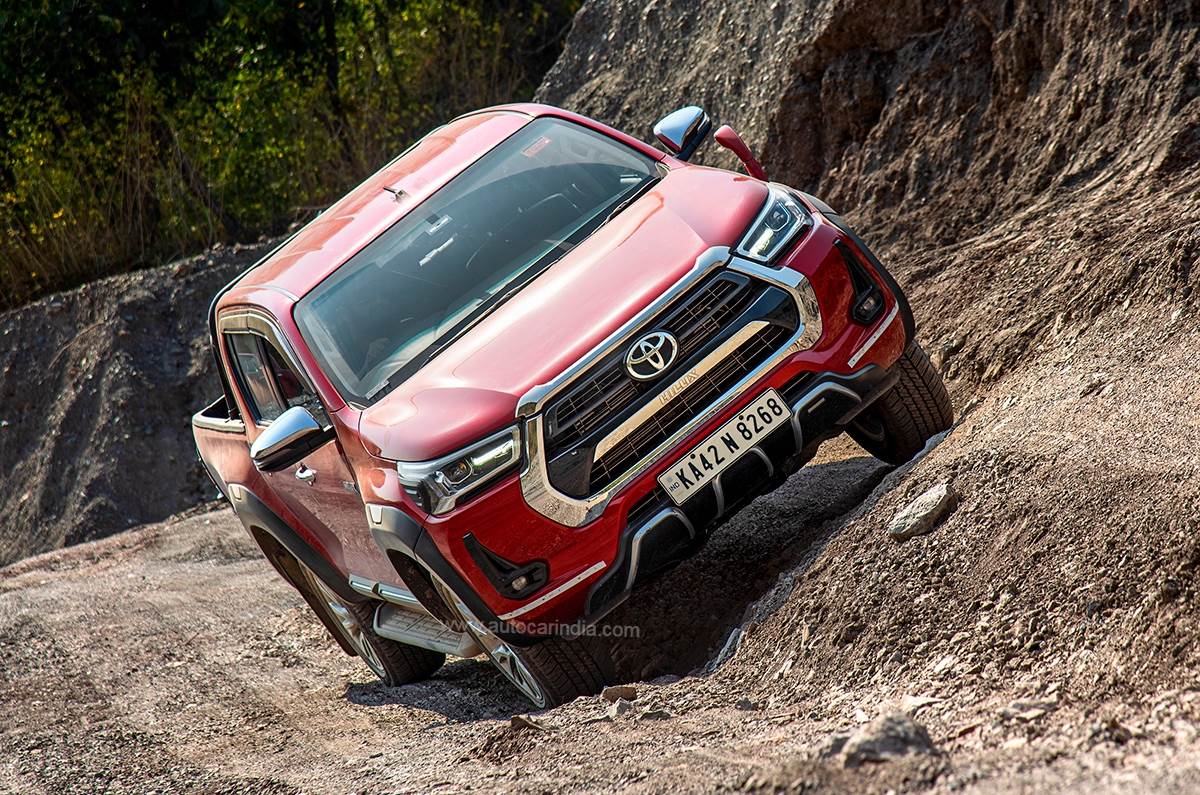 The Hilux can tackle side inclines easily.
So clearly, while the Hilux isn't as capable as a dedicated off-roader, it still is as capable as most full-sized SUVs, ramp over and departure angle apart. And driving it across terrain like this only makes you want to load up your tent, kayak, off-road cycles, dirt bikes or quad and head into the wild.
Toyota Hilux price, rivals and verdict
Whereas the Hilux feels like it is in its element over the rough stuff and is great if you have an outdoorsy lifestyle, it feels a bit 'over-specified' for everyday roads and regular use. The leaf spring rear is the biggest issue. Ride is lumpy, fidgety and restless, and the leaf springs rear often tosses you around. Once you are used to the extra length, however, it feels quite similar to a Fortuner to drive over regular roads.
A commanding driving position is one of the Hilux's strengths.
The steering is a bit heavy, but the torque and response from the motor are perfect for making up gaps in traffic and what you'll also enjoy is the commanding driving position and the ability to scare other traffic witless. Taking U-turns and parking, however, are another matter entirely; remember this truck is 5.3 metres long… one metre longer than a Hyundai Creta. In addition, the plastic quality on the black-on-black cabin isn't great and the cabin feels more utilitarian than specified for a car that costs Rs 37 lakh (ex-showroom). Isuzu's V-Cross is around Rs 10 lakh cheaper. You do get a fair amount of kit and what makes it practical is that you can sit four in relative comfort.
Still, the core appeal of the Hilux is that it is an off-roader that has the ability to carry a seemingly unlimited amount of cargo – around half a ton if you push it. This, unlike any other off-road vehicle currently on sale, makes it a more practical alternative, one you can use to enjoy the great outdoors. Toyota also offers a host of optional extras, like deck lids and covers for the loading bay, and this gives the Hilux added flexibility. There's no doubt the Hilux exerts considerable appeal; so yes, while you clearly want one, do you really need one? That's a more difficult question to answer.
Also see:
Toyota Hilux off-road video review
Toyota Hilux off-road video review
7384 Views|2 months ago
Toyota Hilux video review
8437 Views|2 months ago