Nissan's fresh take on the compact SUV segment is loaded with features and wears a killer price tag.
Suspension duties are handled by MacPherson struts linked with a stabiliser bar up front, twin-tube telescopic shock absorbers at the rear and coil springs all around. Get moving, and on a less-than-ideal patch of road, you will notice an underlying firmness to the Magnite's ride, particularly at low to medium speeds, but seldom to the point of being uncomfortable. It'll crash quite hard into big potholes or sharp bumps and the suspension perhaps doesn't feel quite as robust as what you'll find in most other compact SUVs, it has to be said; but then it's nowhere as brittle as what you'd find in a hatchback either. As is often the case with slightly firmer setups, things only get better as you pick up the pace, and once you've worked up to a decent cruise, the Nissan pummels out road imperfections a whole lot better, with far less movement inside the cabin.
The other advantage of a slightly firmer setup is that, when you get to highway speeds, there's little wallow and float, which only adds to confidence. What also helps in this environment is the steering, which does put on a fair amount of weight as you go faster, and because it's not overly responsive, it doesn't require constant minute course corrections to stay in your lane on an expressway at speed.
Stiff suspension has a hard edge and sharp bumps filter through into the cabin.
At low speeds, this slow steering may mean you need a few more turns, lock to lock, to make a U-turn, but it feels light enough (as is the car itself) so it's seldom a bother, and manoeuvrability in most situations is very easy. Now yes, a light, slow steering is not the best recipe for handling, and what doesn't help is that it's not the last word in feel and feedback either. But the Magnite's good body control, again down to that slightly taut suspension, does at least make it quite capable through a set of corners, if perhaps not the most enjoyable. Those 195-section tyres even provide a surprising amount of grip.
On the braking front, it takes a little getting used to as there's some slack in the pedal before the brakes bite. That said, once you're acclimatised, you'll find their performance quite impressive. Perhaps some of this can be attributed to the Magnite's light weight, but we managed to get it from 80kph to a standstill in less than 25 metres – one of the best showings in the class.
Nissan Magnite, Renault Kiger, Honda City & Jazz Global N...
9501 Views|9 months ago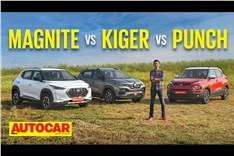 Tata Punch vs Nissan Magnite vs Renault Kiger comparison ...
27273 Views|10 months ago
Nissan Magnite vs Maruti Suzuki Vitara Brezza comparison ...
44608 Views|1 year ago