Nissan's fresh take on the compact SUV segment is loaded with features and wears a killer price tag.
The base engine is the same 72hp, 1.0-litre naturally aspirated engine we've seen in the Renault Triber, but the one we're testing here is the new HR10 1.0-litre turbocharged petrol that made its debut with this car. And, before you ask, there's no diesel, nor will there ever be; the CMF-A+ platform simply cannot accommodate one.
The 100hp, 999cc turbo-petrol engine isn't direct-injected, but instead sticks to indirect or multiport injection. It's available with either a 5-speed manual or a CVT, and the torque output varies accordingly – 160Nm at 2,800- 3,600rpm in the manual, and 152Nm at 2,200-4,400rpm in the auto. But don't be disheartened by the auto's lower torque output, because it is available at lower revs and is spread across a wider powerband.
Turbo engine is tuned for responsiveness and efficiency.
Co-developed by Renault and Nissan, this lightweight engine features state-of-the-art tech  such as an electronically controlled wastegate, an exhaust manifold partially integrated into the cylinder head, twin variable-valve timing for the intake, and bore spray coating, all  in the interest of improving thermal efficiency, performance and responsiveness. This helps the engine feel smooth and effortless, even when off-boost.
Unlike with Hyundai and Kia's 1.0-litre turbo-petrol, there's very little perceptible turbo lag, and power delivery is seamless and linear. You will feel the boost come on at around 1,700rpm, but it does so without any prominent step or spike. Performance stays strong until about 5,500rpm, after which it tapers off in the last 1,000rpm. It responds keenly to sudden taps on the accelerator, which makes for effortless overtaking or quickly filling gaps in traffic. But you'll do well to shift up early in the manual as this isn't a particularly free-revving unit, and can sound coarse and feel strained past 4,500rpm.
The Magnite suffers from an overall lack of cabin insulation and hence all sorts of mechanical sounds seep into the cabin, particularly at higher revs or when the engine is under load. One can even feel vibrations on the steering, gear lever, pedals, and even through the seats, when the AC compressor kicks in while the three-pot engine rocks on its mounts at idle. Tyre and road noise, too, can become an issue at triple-digit speeds. 
The 5-speed manual transmission requires a bit more effort than most rivals and the shift action isn't very positive either. Even the clutch feels heavier than others in this segment, and the release point isn't easy to judge, so you will need to modulate it carefully for a smoother drive. What comes as a big surprise is that the Magnite can out-accelerate its  turbopetrol rivals in a sprint from 0-100kph, which takes just 11.19sec. However, acceleration through the gears is quite the opposite, and it takes the longest time to accelerate from 20-80kph and 40-100kph in third and fourth gears, respectively, with timings of 12.82sec and 16.72sec, quicker than only the Tata Nexon.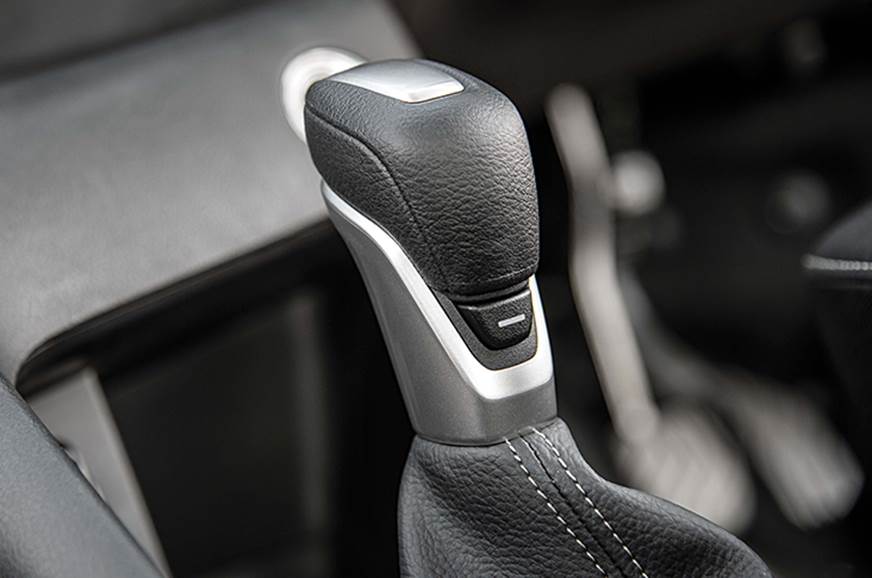 CVT a perfect match for this engine. Sport mode makes it even better.
The superior transmission is definitely the CVT auto, which feels smooth, intuitive and in complete sync with the engine. In congruence with the peppy engine, it gets you off the line briskly but not abruptly, and quickly adapts to your driving rhythm. While there is no manual mode or simulated 'steps' to shift through like in some other CVTs, you won't miss it, thanks to a very effective Sport mode that keeps the revs higher than usual for quicker responses when you need them. And even in this mode, if you attempt to drive flat out, there's very little rubberband effect (an increase in revs without a corresponding increase in speed).
There's an L or Low mode that focuses on providing maximum torque, intended for better hill ascents or descents, or if the car is carrying a full load, but even here, the Magnite impressively pulls well above 100kph with ease. In summation, this is one of the best CVTs in this price ballpark, and impresses with its smoothness, responsiveness and ability to adapt to a variety of driving conditions.
This car also packs in cruise control, and what's interesting is that when the cruising speed is set and you accelerate to make a quick overtake (in the same gear) and then lift off, it will bring the car back to the preset cruising speed automatically. Also, the speedo cluster turns purple indicating cruise control is engaged.
Nissan Magnite, Renault Kiger, Honda City & Jazz Global N...
9635 Views|9 months ago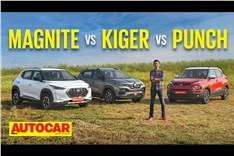 Tata Punch vs Nissan Magnite vs Renault Kiger comparison ...
27489 Views|10 months ago
Nissan Magnite vs Maruti Suzuki Vitara Brezza comparison ...
44691 Views|1 year ago