Nissan's fresh take on the compact SUV segment is loaded with features and wears a killer price tag.
The first impression is good. You'll find keyless entry access buttons on both front doors, unlike some rivals which have skipped the passenger side to save costs. Swing the door open after the sun's gone down and you'll be ushered in by a 'welcome' logo projected on the ground, and you'll step inside a neat and modern-looking interior. The 7.0-inch full-digital coloured instrument panel is likely to get your attention first, with its funky, cartoon-like animations and different screen options that throw up ample information legibly.
A neat design, clever use of textured plastics and new-age features give it a lot of appeal.
Adorning the dashboard are Lamborghini-esque hexagonal AC vents, a floating 8.0-inch touchscreen unit, well-finished toggle switches and rotary AC controls with monochrome LCD displays housed within them, showing you temperature and fan speed – a very premium touch.
The exposed steering rack in the footwell is quite an eyesore.
While the steering doesn't adjust for reach, the pedal box that's placed quite close to the driver helps you find an agreeable driving position easily. The front seats are deep, with nice cushioning and ample lateral support, although those with larger frames might find them a tad narrow. Shorter drivers might find the dash set a bit too high, and will need to crank the seat up.
Seats nicely contoured and well cushioned, but not ideal for large people.
You'll find well-padded door armrests upholstered in a premium-feeling, double-stitched denim-like material, and this is also present on the front-centre elbow rest, but unfortunately, this doesn't open to reveal any storage space underneath. There's a clever use of textured plastics across the cabin and even though these are hard, they don't feel cheap or scratchy, and the all-black colour scheme is saved from being too claustrophobic by a few silver accents in key places.
Spacious and comfy rear seat has ample support and comfort .
With a 2,500mm wheelbase, cabin packaging is really good, and even tall passengers will find sufficient head, knee and foot room at the rear. The backrests are upright but not uncomfortably so, and thigh support is a bit of a mixed bag, as although the squab is long enough, it tapers off at the edge. More of an issue is the cabin's relatively narrow width, which means it's not ideal for housing three adults abreast.
Wireless charging pad (part of the tech pack) is large enough for most modern smartphones.
There's a good deal of practicality, with lots of convenient storage spaces around the cabin. The wireless charging pad can hold even plus-size smartphones, and there's a USB port up front too and a big storage shelf underneath it. The door bins hold a one-litre bottle each, the centre console has two big cupholders and the huge glovebox has nifty dividers to hold smaller items in place. Another thoughtful touch is the phone slot in the rear armrest, just ahead of the cupholders. The boot, at 336 litres, is adequately sized, and the rear seats can be folded in a 60:40 split to accommodate more cargo.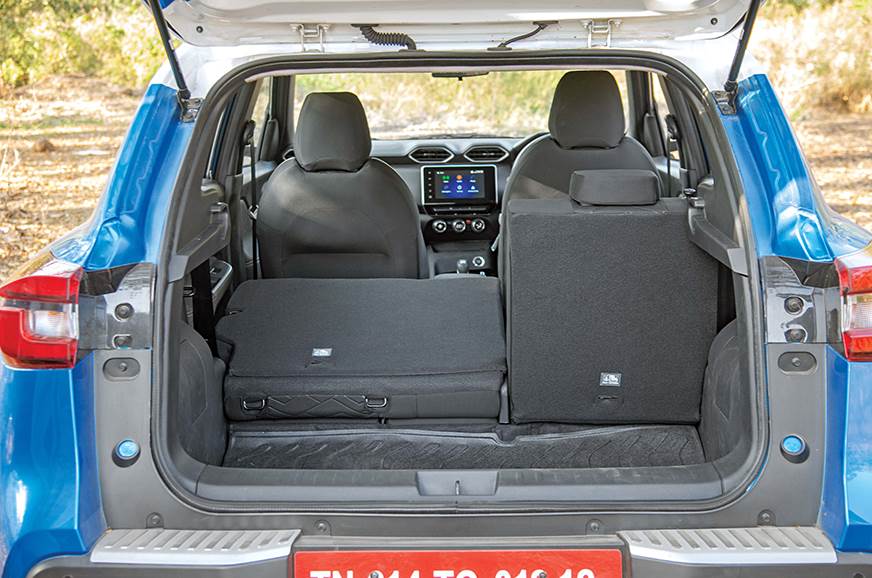 Adequate boot space. Rear seats fold to accommodate excess cargo.
Look close and you'll find signs of Nissan's cost considerations with the Magnite. While they've got the touch and feel spot on, bits like the glove box lever, grab handles and the inside rear-view mirror don't feel well put together. In the driver footwell, you might be able to spot the exposed steering rack, and in the manual car, there's no place to rest your left foot beside the clutch pedal. So while the cost cutting isn't as evident as in, say, early Datsun models, Nissan should have masked some of the more glaring bits better.
Nissan Magnite, Renault Kiger, Honda City & Jazz Global N...
9501 Views|9 months ago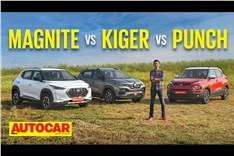 Tata Punch vs Nissan Magnite vs Renault Kiger comparison ...
27274 Views|10 months ago
Nissan Magnite vs Maruti Suzuki Vitara Brezza comparison ...
44610 Views|1 year ago