New entry-level Mercedes sedan raises the game on comfort, luxury, tech and space.
Entry-level luxury is a tricky business. You have to deliver not just a luxury badge, but the trappings that are associated with it, plus a robustly engineered package with powertrains to match, the latest tech that modern customers expect, and all the while making sure the price doesn't creep up too high. It's no wonder that for most luxury car brands, it's the segments above that end up generating the larger volumes, as buyers often bypass the entry level and stretch for the bigger, better car. With the new A-class Limousine, Mercedes is targeting not only new aspirants to the brand, but also existing customers who'd like a second, smaller vehicle in their fleet. And while the first generation of the brand's MFA (Modular Front Architecture) models – A-class and B-class hatchbacks, CLA and GLA – were a reasonable success, Mercedes feels it has perfected the formula with the second generation. So, have they done it?
Mercedes A class Limousine: exterior design
There's often a conscious decision to make an entry-level luxury car look different from the rest of the range; perhaps a factor of cost, or more likely to appeal to younger customers that might be entering the fold. It's important to note, at this juncture, that the CLA, the A-Limousine's predecessor in India, did go down this route to an extent. It was a four-door coupe with frameless windows, a swooping roofline and very aggressive lines, compared to the softer, simpler look of bigger Mercs. While there is a new CLA in Merc's global range, they've chosen the A Limo for India this time around for its added rear-seat space, which was a shortcoming of the old CLA.
Styling is in line with the rest of the Mercedes family with the nose bearing a resemblance to the CLS.
And though it is still relatively compact and technically entry-level, you'll agree this new A-class looks far more grown up and in line with the rest of the family. In fact, from the front, it's a dead ringer for the sexy CLS, with its triangular headlamps, sharp LED DRLs and upturned grille. It may not have the curved roof of the CLA, but its profile is still very attractive, with a single, confident shoulder line, and there are also a smart-looking set of aero-efficient 17-inch alloy wheels that no doubt contribute to its class-leading fuel economy. Incidentally, the A's arrow-like shape sets a world record for the lowest drag coefficient of any production car, at 0.22cd. The rear is less dramatic, with a simpler iteration of the CLS' angular LED tail-lamps and strangely sited reflector strips in the bumper, but it all ties together well as a cohesive design.
No CLA-like curved roof though the A-class Limousine still looks attractive.
Mercedes A class Limousine: interior and features
Inside the cabin is where the new A-class really brings the wow factor. The old-generation cars never felt quite up to the high standard of the Three-pointed Star, be that in design, quality or level of equipment for India, but this changes all that. There's no skimping here, with high-quality plastics, brightwork in all the right places and soft-touch materials everywhere. They've chosen a good spec for India, too, with cream-coloured upholstery (it does dirty easily though), a black dash top and open-pore wood, imparting a properly luxurious feel. The rotary AC vents, an evolution of the ones in the old CLA, are particularly impressive and even feature ambient lighting.
Dash design is typical new age Mercedes with twin 10.25-inch high-res screens for the instrumentation and infotainment.
Then there's the design of the dashboard, which is really fresh. The lower-half is arranged like a shelf onto which a slim panel of two adjoined 10.25-inch high-def screens sits. Essentially a smaller version of the MBUX infotainment unit you'll find in a GLE or GLS, it certainly isn't small on features, with almost everything from the bigger cars present here, including 64-colour ambient lighting, an AI-based digital assistant and connected-car tech with Alexa integration. You even get all the customisable digital instrument cluster layouts. Other feel-good features are wireless phone charging, dual-zone climate control, a large (though not panoramic) sunroof, and powered seats with memory for the driver and front passenger.
Touchscreen packs in latest MBUX software with AI voice assistant and connected tech. Digital dials offer a choice of customisation options.
Speaking of the front seats, they're a touch smaller than what you'd find in, say, a C-class and so don't offer quite as cossetting an experience, but they're still plenty comfortable. This is important because the A Limousine is more likely than any other Mercedes sedan to be owner-driven.
5 USB ports in the cabin, but all are Type-C.
The back seat is just as important in our market, however, and this is where the shift from four-door-coupe to sedan has really paid off. Space back here is really generous for the car's size, particularly kneeroom, thanks to the long 2,729mm wheelbase, and the headroom, thanks to the taller roof. This gives it a distinct advantage over its only real rival, the BMW 2 Series Gran Coupe, whose sloping roof really compromises rear-seat space and comfort. The relatively narrow cabin makes it better suited to just two, and the bigger issue is that you're sat very low down, so it forces your knees up. You can get around this to an extent by tucking your feet under the front seats; there's plenty of place for them.
Taller roof and longer wheelbase means more space than the old CLA, and new rivals.
Though you see a spare tyre sitting in the boot of these imported pre-production cars, the locally assembled (from day one, unlike the CLA) customer cars will have a special recess for the spare under the boot floor. The volumes, incidentally, are 405 litres for the petrol and 395 litres for the diesel, and you can even fold down the back seats to pack in more stuff.
Mercedes A class Limousine: engines and performance
There will be three flavours of the A-class limousine at launch – the A 200 petrol, A 200d diesel and the AMG A 35, which will be the second locally assembled AMG model in India, and we will review that soon. For now, let's stick to the bread-and-butter models, starting with the petrol.
While '200' once denoted a 1.5 turbo-petrol hybrid in the C-class and has since been replaced by a 2.0-litre turbo-petrol engine, in the A 200, it's a 1.3-litre turbo petrol. Confusing, perhaps, but don't be put off by the modest swept volume, because it makes a pretty healthy 163hp and 250Nm of torque. Other stats worthy of note are a claimed 8.3sec 0-100kph time and a class-leading ARAI fuel efficiency rating of 17.5kpl. As with the old MFA models, the A-class is front-wheel drive, and the A 200 puts its power down via a 7-speed dual-clutch automatic.
It's reasonably refined when you start it up and in light cruising at low revs, but as the tacho needle crosses about 3,500rpm, things start to get a bit too audible. The thing is, you will often find yourself extending this engine beyond that, because it does need to be worked a bit to get going. Moreover, in Comfort mode especially, the easy-going gearbox does expose quite a bit of turbo lag, which you'll want to extinguish by kicking down hard on the accelerator, or dropping a gear with the paddle shifter.
The A200's 163hp, 1.3-litre turbo petrol is reasonably refined at low revs but gets audible past 3,500rpm. A 200d's 150hp, 2.0-litre diesel offers effortless torque from low revs.
Sport mode rectifies this a great deal, but then you're constantly aware of the engine working harder. Still, once it's on the boil, responses are good and, though it's not outright sporty, you can derive quite a bit of enjoyment from this powertrain. The DCT, though quick to shift, can feel a little clunky under duress though, say when downshifting suddenly on an incline.
The A 200d has an engine to match its badge – the OM654 2.0-litre diesel you'll find in the C, E, CLS, GLC and GLE. It's a lower state of tune, of course, but its outputs of 150hp and 320Nm are far from shabby in this smaller vehicle. It too gets a class-leading ARAI figure – 21.35kpl – and a claimed 0-100 time of 8.2sec. It also uses a new 8-speed dual-clutch auto gearbox.
First impressions are rather good, and it actually feels the more refined of the two in everyday use. That's largely because it's far more effortless at moving the A-class along, making all its torque from really low down, meaning you rarely have to flex your right foot all the way. If you do venture towards the redline, you will of course be met with quite a bit of diesel clatter. Punching down hard in the lower gears will give you a solid burst of acceleration, but also quite a bit of torque steer. This certainly feels the stronger of the two engines, and provided there isn't too big a price gap between the two, it would be our pick.
Mercedes A class Limousine: ride comfort and handling
This is an area the A-class Limousine is a huge step up from its predecessor. The suspension is raised for India, which gives it great ground clearance, but that hasn't come at the expense of ride comfort, as we've seen in some other locally assembled Mercs in the past. In fact, we'd even say it rides better than some of its larger sedan siblings.
Suspension has been raised for India but it doesn't come at the expense of ride comfort.
The petrol version especially has a very good suspension tune, with a soft setup that takes the edge off sharp bumps superbly. It even stays stable as the speeds build and will keep bad roads out of mind of your passengers. The only shortcoming is refinement, and you can hear a lot of road noise in the cabin, which is perhaps the only un-Mercedes-like facet of the driving experience.
The diesel is slightly firmer set up to bear the added weight of its engine, and you'll feel more of the road in the cabin as you go along. That's not to say it's uncomfortable. The A 200d also has a slightly heavier steering, and while I personally prefer that, many will like the easier helm of the petrol version.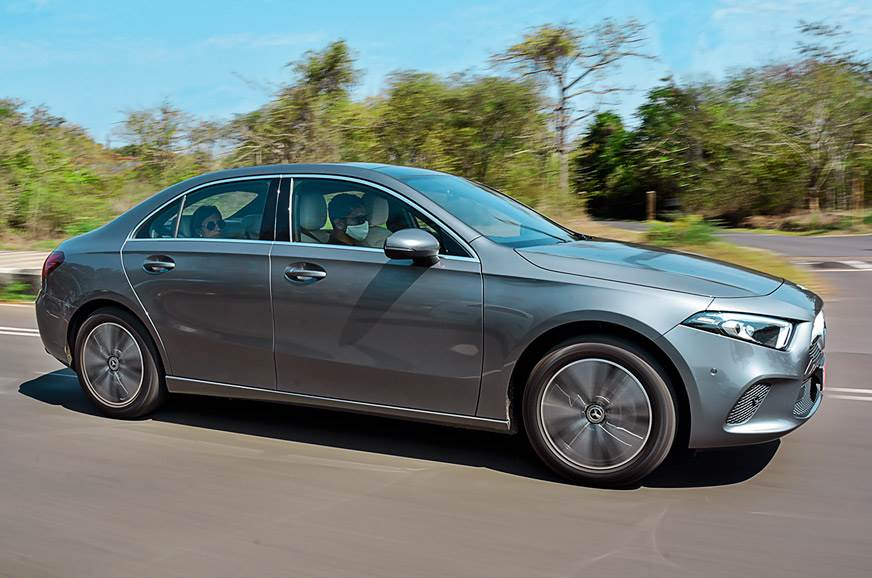 The petrol's softer set-up takes edges off sharp bumps superbly. You can feel more of the road inside the cabin with the diesel's stiffer set-up.
Unlike the 2 Series Gran Coupe, the A sedan isn't a prodigious corner-carver. There's quite a bit of body roll, the ESC cuts in even when turned off, and the steering is quite light. But then comfort is the name of the game with this sedan, and at that, it excels.
Mercedes A class Limousine: estimated price and verdict
It's clear that Mercedes has learnt from its first generation of MFA cars and switched things up for the new A-class. It no longer feels 'entry level' in any way, and it amplifies the traits buyers look for in their Benz, like space, comfort, quality, restrained style and high tech. It doesn't try to do sporty and that's just as well (there's the AMG for that); we only wish they'd worked on refinement a bit more. That knockout price, however, may not be on the cards, as there will be only one fully loaded variant of each, the A 200 and A 200d, and we expect them to cost about Rs 40-42 lakh (ex-showroom), similar to the BMW 2 Series Gran Coupe. So, is it a worthy starting point to the Mercedes-Benz family? This time around, it sure feels like it.
2020 Mercedes-Benz AMG A35 sedan India image gallery
5715 Views|2 years ago
2019 Mercedes-Benz A-Class sedan image gallery
19074 Views|4 years ago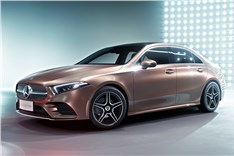 2018 Mercedes-Benz A-class sedan image gallery
11929 Views|4 years ago