A posh new compact luxury sedan that promises to be more practical than the popular CLA sedan it replaces.
The plush cabin of the A-Class Limousine certainly gives a taste of premium grade, Mercedes-Benz levels of quality and fit-finish. The dashboard is richly-appointed and what grabs your attention are the twin screens – one for the instrument cluster and one for the infotainment system – seamlessly integrated into a single binnacle, a design feature borrowed from larger Mercs. The turbine-inspired, rotary air-vents ooze quality and feel great to operate, as do the metallic toggle switches for the climate control. Lifting the cabin's appeal further are the tastefully executed ambient lighting, unvarnished wood inserts, as well as the piano black and matte silver combination for the trim bits. The beige upholstery adds to the sense of space and brightens the cabin. Its front seats offer ample adjustments, are broad and comfortable, and also have adjustable neck restraints (unlike the large, single-piece seats of the CLA).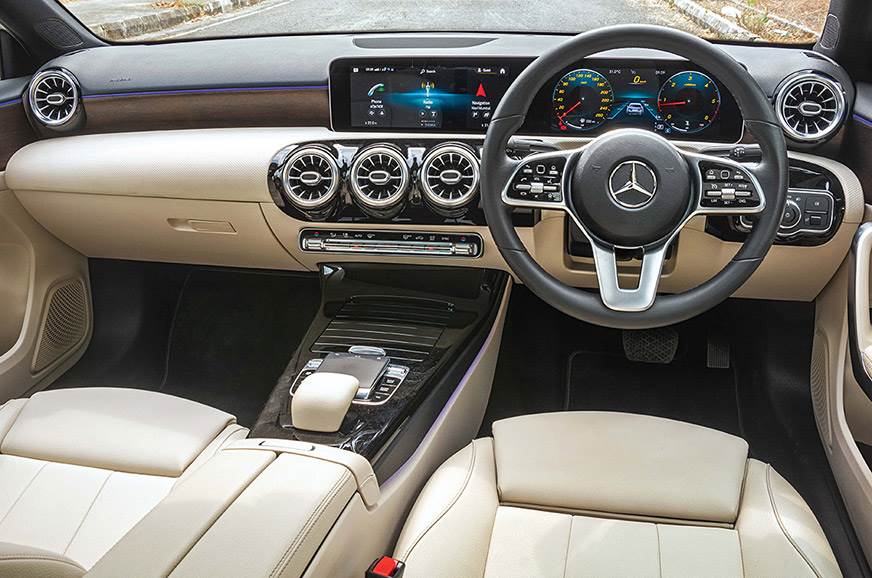 Superb blend of wood, gloss black and matte silver trims; feels premium and is solidly built.
As mentioned earlier, things are better at the rear this time around, compared to the old CLA; the roof doesn't slope as sharply, so headroom is no longer an area of concern, and it gets a longer wheelbase, liberating generous knee and legroom. Due to the lighter colour interiors and front seats that don't hinder frontal visibility, like in the old CLA, this area doesn't feel as claustrophobic. The backrest angle is still quite upright and the cushioning is a bit firm, but it's actually the low placement of the seat that results in a knees-up seating position, leading to almost no thigh support. So, while space is better managed this time around, the backseat experience could have been more comfortable.
Space is aplenty; however, the seat is placed too low for comfort.
The AMG's interiors sport an all-black theme on the inside, with red stitching on the steering and part- Alcantara seats, along with red seat belts, in line with its racy theme. A matte silver panel replaces the wood trim. The rest of the design, layout and other bits are identical to the standard version.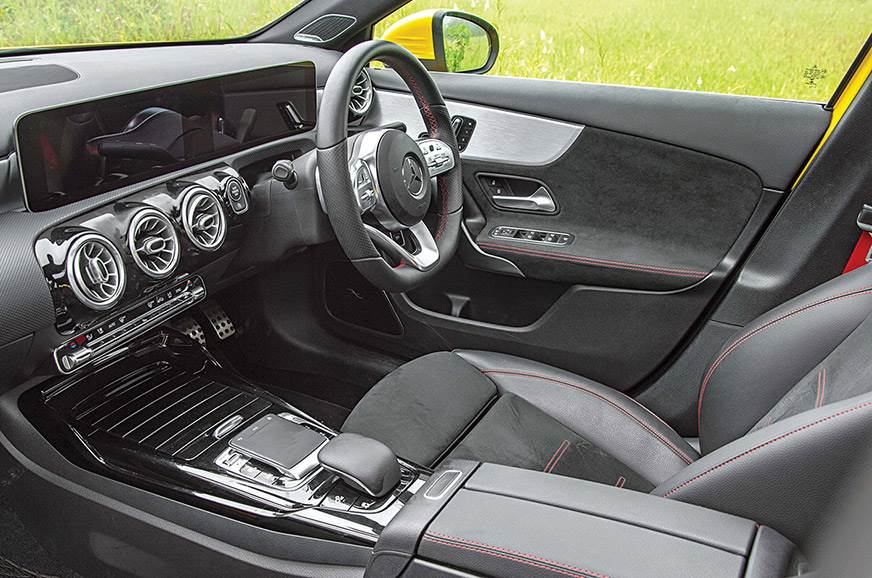 AMG A 35 gets an all-black theme with sporty red stitching on the seats and steering.
The petrol versions have a cargo area of 405 litres, while the diesel's is 395 litres, 10 litres less due to the AdBlue tank. The luggage area is quite generous, with the spare wheel tucked beneath the boot floor. The backseat can also fold down to accommodate additional cargo. In the AMG version, however, due to the placement of the sub-woofer in the boot, the spare wheel is stationed on the boot floor, severely restricting cargo space.