The A 45 S elevates the hot hatch to an all new level. But, how useable is it in our conditions and just how much of the power can you deploy on our roads?
Mercedes-AMG A 45 S; it has an extremely strong power to weight ratio
No single metric describes the performance potential of a car better than its power to weight ratio. This is something that becomes apparent as soon as you look at the various facets that affect performance. While many of us pay attention to the power figure in isolation, which sort of makes sense, what we forget is that the weight it has to push around is equally important.
This brings us nicely to AMG's A 45 S, a car whose power to weight ratio explains so much. With 421hp and a kerb weight of 1,625kg, the A 45 S has an extremely healthy power to weight ratio of 260hp per ton. While this may not sound like a lot in isolation, let's put this into perspective and compare it to something we know is quick; something like a... err... Porsche 911 Carrera 4S. With 450hp and 1,605kg, the four wheel drive 992 has a power to weight ratio of 280hp per ton. This, as you can tell, isn't far removed from that of the A 45 S. The standard rear wheel drive 911 Carrera, however, has just 244hp per ton. Hmm. Admit it, you are looking at AMG's A 45 S with greater respect now.
Mercedes-AMG A 45 S: what's it like on everyday roads?
Now, having driven this car at the NATRAX high speed bowl in Indore and having seen 278kph come up on the speedometer effortlessly, I thought I knew what to expect out in the real world. But boy oh boy, was I wrong. Wide open spaces, such as those at Natrax, have a habit of masking real pace, and this is rudely brought home by the rampaging A 45 S, as it dispatches block upon block of urban sprawl.
Truth be told, nothing quite prepares you for just how quick the A 45 S feels in a familiar setting. This is made abundantly clear during an early morning drive, where the A 45 S's rabid pace opens my eyes like a double shot of espresso. You feel the potency almost immediately. That tug the moment the boost comes in, the ride up the powerband as power and torque continue to build and then, what seals it is, the top-end, where instead of flattening out as many turbos do, this one keeps pulling and pulling. This engine is so much better than the one in the earlier CLA 45. While that one pushed out power any and everywhere it could, this one's power delivery is more nuanced, more curated. And this is the first four-cylinder AMG engine assembled by hand, using its one-man one-engine philosophy that worked so well for it.
In our conditions and on our regular 91 octane fuel, the A 45 S, with launch control activated, managed to do a 0-100kph time of 4.17 seconds, with 200kph coming up in 15 seconds dead. And that's seriously quick. Junior performance, this certainly isn't.
Ground clearance is low, you have to take care.
The A 45 S, however, also struggles in our conditions. While speed-breakers, even large ones, can be crossed successfully if you are slow, deliberate and approach them at an angle, riding carelessly over them, especially with a few passengers, will bring the bottom of the car in contact with the speed hump. With its low profile tyres, hard springs and stiff engine mounts, the A 45 S also rides hard. This is especially true at low city speeds, where despite the dampers softening the ride in 'Comfort', the AMG still tosses you around a fair bit and, at times, crashes over large sharp-edged bumps. This clearly isn't a car you can drive flat out over bad patches, and road noise especially over coarse surfaces can be excessive too. This clearly is a car where you have to pick and choose, wisely, where to open the taps and where to back off. And at low speed, the twin clutch gearbox also drags and lurches at times.
Mercedes-AMG A 45 S: what's it like in its natural environment?
Once up to speed and on faster flowing roads outside the city, the A 45 S is much more adept at taking bumps. It isn't comfortable per say, but, you don't get tossed around either. What you do get is a fair amount of road noise, and on coarse surfaces, this gets amplified even more.
Where the A 45 S really comes into its own is around corners. Yes, as good as the engine and performance are, it is the manner in which the A 45 S assaults corners that truly elevates this car above the ordinary.
To begin with, the steering is extremely accurate and has a fair amount of feel. So, all you need to do to place the car accurately in a corner, is flick the wheel. Then, unlike some four-wheel drive performance cars that are stodgy and two dimensional, this one is playful and agile. And as you go harder, what makes it nicer still is that AMG, on application of throttle, has even managed to give it a slight rear-bias. So you tuck into corners beautifully and are even encouraged to use more and more throttle. You do have to manage the weight transfer and pay attention to the attitude of the car as it enters corners, but this only makes it more engaging and more involving.
This allows you to rag the A 45 S, along with plenty of confidence, set it up for a corner, and then pick up the throttle nice and early as you exit using all the grip and seamless superbike like top-end of the engine. It feels fluid and loose and incredibly fun; a big change from the earlier CLA 45. Even the twin-clutch gearbox responds very promptly at high speeds and helps deliver a double shot of driving nirvana as you rip through the gears. What a car.
Sporty rear bumper and quad exhausts tell you this is a serious piece of kit.
Using the drift mode in wide open spaces is also loads of fun. The front axle isn't disconnected as on other predominantly rear driven AMG cars, but 50 percent of torque can be sent to the rear and then the rear diff can pinch the inside wheel with the brakes and push drive to the outside wheel, which allows for some big slides. They don't feel as natural as those on the rear wheel drive car, but once you get the hang of it, it is loads of fun.
What also gives you a layer of adjustability is AMG Dynamics; it alters stuff like traction control, ESP and the differentials to deliver a tailor-made driving experience all the way from basic to pro.
Mercedes-AMG A 45 S: what does it come equipped with?
For what you pay for the car, the A 45 S's cabin feels a bit too familiar. The basic layout of the dash is similar to the A-Sedan, the look and feel is almost identical to the A35 and for the premium you pay over that car, you don't get all that much more. Quality levels, however, are excellent, the sport seats help make it look sportier and what makes you forgive and forget the humble origins is that the seats are both very supportive and comfortable, even over long drives. What works in its favour is that it is a fairly practical and large hatch.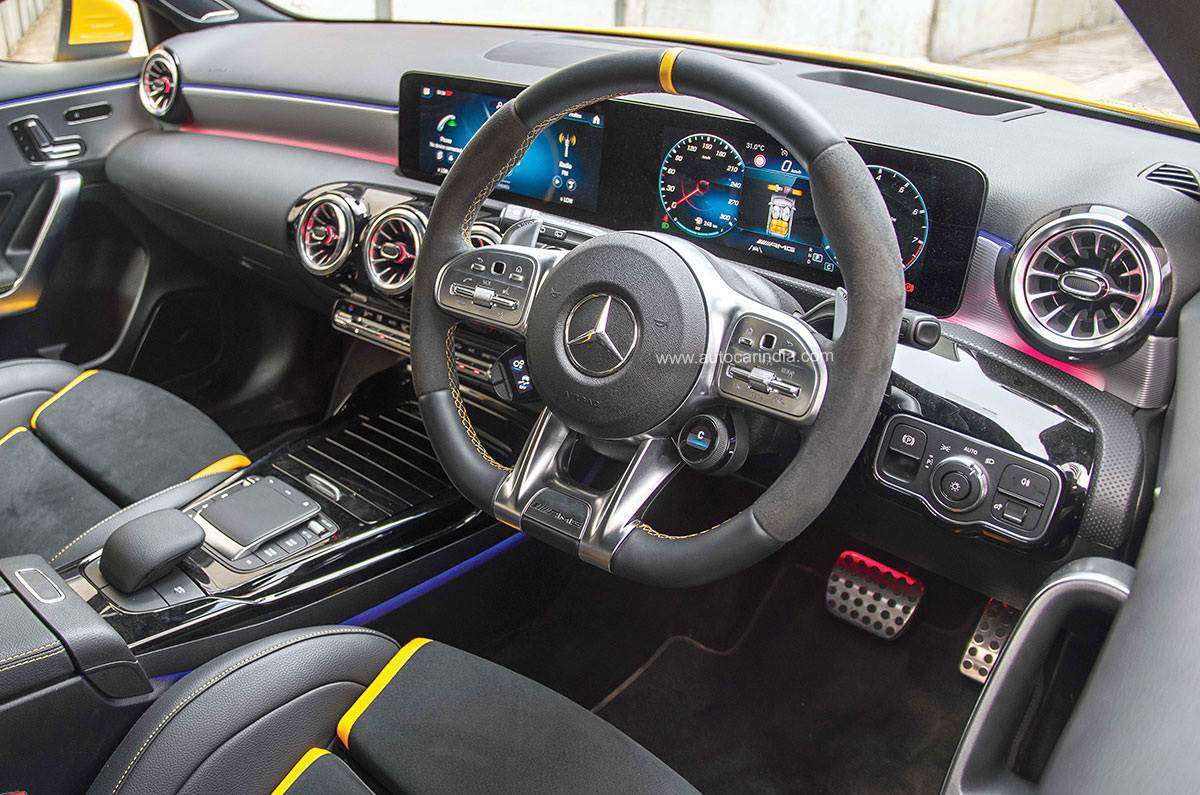 Cabin similar to A-Sedan and A35 AMG in India.
There is a fair amount of space in the rear, luggage space is decent, and while the rear seats are placed a bit low and there isn't as much legroom as on the sedan, the semi-practical nature of this car compared to something overtly sporty is what owners will appreciate. AMG has even equipped it well. Standard features include dual 10.25-inch screens with MBUX infotainment system and AMG performance displays, a Burmester hi-fi audio system, and a decently sized sunroof. Optional equipment gets you 'advanced' sports seats with heating, massage and memory functions, a head-up display, a chrome exterior package, and driver assist systems like a 360-degree camera, lane keep assist and blind spot warning.
Not the most spacious or comfy rear seat, but it is a practical hatch.
Mercedes-AMG A 45 S: should you buy one?
The Mercedes-AMG A 45 S is one of the most fun driver's cars around. Blessed with rabid pace, adjustable fun-handling and the ability to turn a mundane drive into an epic one, the A 45 S is a landmark achievement. Capable of delivering the goods and more, even at the Rs 79.5 lakh (ex-showroom) price, it takes the hot hatch and elevates it to an all-new level. Sure, the cabin feels ordinary at this price, the low ground clearance is far from ideal in our conditions, ride quality isn't comfortable, there's a fair amount of road noise and it is easily the most expensive hatch on sale in India. Still, if you are looking for a special driving experience, at a not-so-stratospheric price, and aren't so concerned that this car is based on a relatively humble hatchback, the A 45 S is the car for you. It's different and it isn't perfect, but it works really, really well.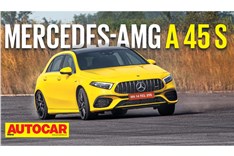 Mercedes-AMG A45 video review
13455 Views|10 months ago
Mercedes-AMG A45 S vs Audi RS5 Sportback drag race video
3790 Views|1 year ago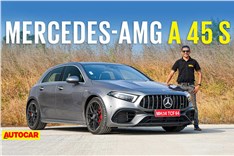 Mercedes-AMG A45 S video review
9232 Views|1 year ago