All-new 1.5-litre 98.6bhp diesel motor in Honda's first compact saloon, Amaze, claims a record fuel efficiency of 25.8 kpl.
FIRST VERDICT
Honda has hit the sweet spot with the Amaze. Despite being a sub-four-metre saloon, it looks properly formed and not truncated or ill-proportioned. The interiors are incredibly spacious for such a compact saloon and, the boot is large as well and it's great to drive. The all-new diesel motor is perfectly tuned for Indian driving habits, so there is plenty of power just when you need it. The headline news however is the fuel efficiency, which is a record breaking 25.8kpl in the official Indian Driving Cycle. Real world figures will of course be lower but we expect the Amaze to be incredibly frugal in daily use. To achieve such low fuel consumption with a 1.5 litre engine and near 100bhp is a monumental achievement. However, the Amaze isn't perfect. The diesel is noisier than the competition and the dashboard, carried over from the Brio, doesn't feel as special. Saloon buyers will expect a richer interior.
Look at the overall picture, however, and the new Amaze clearly has almost everything else buyers in this class are looking for, and now with prices announced its become even more desirable too. The Honda Amaze prices start at Rs 4.99lakh for the base petrol and goes upto Rs xxxxlakh for the top-of-the-line VX variant. While the Amaze diesel price starts at a low Rs 5.99 lakh and the top VX diesel will set you back by Rs 7.60 lakh. These prices put it bang opposite the Maruti Dzire and it is only about Rs 10,000 more expensive variant for variant. So if you are buying a car in this class or even anything else in this price range, we strongly suggest you check the Amaze out, it's that good.
Model
Honda Amaze
Maruti Dzire
Mahindra Verito
Tata Manza
Toyota Etios
LxWxH
3990x1680x
1500mm
3995x1695x
1555mm
4247x1740x
1540mm
4413x1703x
1550mm
4265x1695x
1510mm
Wheelbase
2405mm
2430mm
2630mm
2520mm
2550mm
Engine
1.2 petrol/
1.5 diesel
1.2 petrol/
1.3 diesel
1.4 petrol/
1.5 diesel
1.4 petrol/
1.3 diesel
1.5 petrol/
1.4 diesel
Power
88bhp/
98.6bhp
86bhp/
74bhp
75bhp/
65bhp
89bhp/
89bhp
90bhp/
68bhp
Torque
11.1kgm/
21kgm*
11.6kgm/
19.3kgm
11.2kgm/
16.3kgm
11.8kgm/
20.4kgm
13.4kgm/
17.3kgm
* - estimated
Honda Amaze Prices:
Petrol Manual
E: Rs 4.99 lakh
EX: Rs 5.24 lakh
S: Rs 5.62 lakh
VX: Rs 6.60 lakh
Petrol Automatic
S: Rs 6.62 lakh
VX: Rs 7.50
Diesel Manual
E: Rs 5.99 lakh
EX: Rs 6.24 lakh
S: Rs 6.67 lakh
VX: Rs 7.60 lakh
Maruti Dzire prices
Petrol manual
LXI: Rs 4.92 lalkh
VXI: Rs 5.54 lakh
ZXI: Rs 6.45 lakh
Petrol Automatic
VXI: Rs 6.75 lakh
Diesel Manual
LDI: Rs 5.99 lakh
VDI: Rs 6.67 lakh
ZDI: Rs 7.50 lakh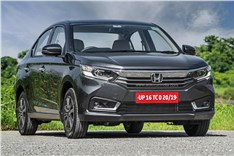 2021 Honda Amaze facelift image gallery
9839 Views|1 year ago
New Honda Amaze image gallery
93133 Views|5 years ago