All-new 1.5-litre 98.6bhp diesel motor in Honda's first compact saloon, Amaze, claims a record fuel efficiency of 25.8 kpl.
We also drove the automatic gearbox-equipped petrol Amaze and it felt quite sprightly and energetic. Initial responses to the throttle are good (the automatic gearbox helps disguise the lack of bottom-end grunt to a certain extent), and the Amaze takes off from rest with a considerable amount of energy. Gearshifts are not particularly seamless and at low speeds, the transmission is slightly jerky. However, for ease of use, this transmission does the job and makes incredibly light work of traffic.
Honda has also taken care to give the Amaze good ground clearance (at 165mm, it is the same as the Brio's) and hopefully this clearance will keep the Amaze's underbody clean on the worst of speed breakers even with a full load. The raised long-travel suspension also helps it ride well over our badly built roads. Apart from the odd shudder when you hit a sharp edge, the suspension tackles potholes and bumps rather well.
What's also impressive is that the jacked up suspension doesn't really compromise driving manners. The Amaze feels well planted and precise to punt around corners, and this feeling of confidence and poise remains even when you go faster. What also adds to the driving experience is the steering, which, though electrically power-assisted, is quite accurate and well weighted. It is both light at low speeds and not overly light as you go faster, which really is nice.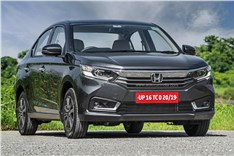 2021 Honda Amaze facelift image gallery
9840 Views|1 year ago
New Honda Amaze image gallery
93133 Views|5 years ago