All-new 1.5-litre 98.6bhp diesel motor in Honda's first compact saloon, Amaze, claims a record fuel efficiency of 25.8 kpl.
Otherwise, the audio system, sans CD player, the manual air-con control and three-spoke steering wheel remain the same. This top-end Amaze VX also gets electric folding mirrors, alloy wheels, a basic trip computer and a green 'ECO' light on the instrument console that lights up when you drive economically. Also, importantly, this car has a real boot which, at 400 litres, is pretty huge. It looks like it can easily swallow more than a couple of pieces of full-size luggage.
Now that we've established that the Amaze is truly spacious and comfortable on the inside, it's time to find out what it is like on the move. Can it feel more grown up to drive than the compact hatch it is based on?
It is easy to get comfortable behind the wheel, the seat height adjustment for the driver makes a big difference here, and holding onto the thick-rimmed steering wheel feels good too.
Honda's first diesel for India however, is a bit of a mixed bag. On one hand, power delivery and driving manners are brilliant, but on the other, it's pretty noisy and nowhere near as quiet as other cars in its class. Let's deal with the bad bit first. Start the engine and there's a considerable amount of shock from under the bonnet, the engine rocking back and forth on its mounts as it fires up before settling down to a more quiet idle. The all-aluminium engine, though lighter, transmits more noise than a typical cast-iron-block diesel engine. Aluminium simply doesn't have the sound absorbing properties denser metals have.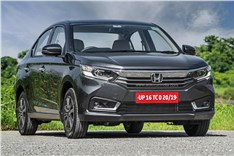 2021 Honda Amaze facelift image gallery
9839 Views|1 year ago
New Honda Amaze image gallery
93132 Views|5 years ago