All-new 1.5-litre 98.6bhp diesel motor in Honda's first compact saloon, Amaze, claims a record fuel efficiency of 25.8 kpl.
Where Honda has spent money is in lengthening the wheelbase. More space between the wheels, of course, means greater space inside the cabin, and in this area the Amaze is an absolute delight. You can easily fit four large adults inside, with enough head-, shoulder- and legroom for all. The fifth passenger, sat in the middle on the rear bench, has less shoulder room, but the seat is still useable for short journeys. The longer doors also make getting in and out of the back really easy. The front seats are similar to those on the Brio, and though they are slender, they are comfortable on long journeys as well. The driver of the Amaze gets seat height adjustment (not available on the Brio) and rear-seat passengers get a new fold-away elbow rest as well. Other plus points include the dashboard with its low cowl that gives you great forward visibility. The one piece front seats with fixed headrests, may not appeal to a lot of Indian customers as such a design is perceived as cheap.
The dashboard looks similar to that of the Brio, and while this works well on the hatchback, it does look a bit low-spec here. Quality isn't really the issue – the plastics are acceptable (though not as good as the Dzire's) and there's no issue with functionality either (there are no less than seven 1-litre bottle holders), it's just the design that's a bit spartan. The vents, centre console and instrument panel don't 'line up' in the traditional sense and then there are some odd looking bits, like the joint of the glovebox that stands out like an upturned lip. 
Still, you can't fault Honda on how well they have packaged the cabin --the dashboard has been pushed as tightly as possible to the front of the cabin and, as a result, takes up less space than a traditional one and this, combined with the slender seats, means there is more space for passengers. Compared to the Brio, the Amaze gets longer armrests and additional door pockets for rear- seat passengers, the rear speakers have been moved to the parcel tray and the rear seat cushioning is thicker too.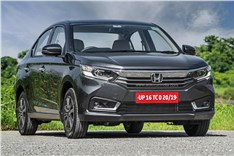 2021 Honda Amaze facelift image gallery
9839 Views|1 year ago
New Honda Amaze image gallery
93133 Views|5 years ago