If effortless long-distance cruising in an EV is what you're after, you can't go wrong with the Q8 e-tron.
It's just been two years since Audi launched the e-tron in India (although it had been available in international markets since 2019), and it has already received a significant makeover. Unlike its ICE counterparts, where the pace of development has slowed down, in the hyperactive EV world, it's quite the opposite. The speed of change is immense and so is the pressure on automakers to react correspondingly to stay on top of their game. And that's exactly what Audi has done, along with a rejig of its EV model nomenclature.
Facelift has sharpened the Q8 e-tron's EV credentials with more range and faster DC charging.
The e-tron, which was Audi's first dedicated EV, has been renamed as the Q8 e-tron to establish its position at the top of the carmaker's fast-growing EV range, which already includes the Q4 e-tron (not yet in India) and the upcoming Q6 e-tron that will see a global reveal next year.
Audi Q8 e-tron battery, platform
The Q8 e-tron, which continues to be offered in both SUV and Sportback body styles, is more than just a renaming exercise. It gets styling tweaks, better aerodynamics, more features and, crucially, a higher capacity 114kWh battery that replaces the original e-tron's 95kWh pack. Also on offer in India is the lesser '50' trim equipped with a smaller capacity 95kWh battery pack, which still surpasses the earlier e-tron 50's 71kWh capacity.
Customers have the choice of two body styles – SUV and Sportback.
However, unlike Audi's newer generation of EVs, the Q8 e-tron continues to rely on the same ICE-derived MLB Evo platform as the Q7 and Porsche Cayenne. Consequently, it carries a considerable weight penalty (2,585kg for the SUV) and a transmission tunnel between the seats, which limits interior design possibilities compared to 'born electric' cars with inherently more open space.
Audi Q8 e-tron design
The previous e-tron wilfully downplayed its electric credentials with a well-proportioned but rather unexciting design (for an EV) that maintained the same elements associated with its ICE range. The thinking was to provide a look and feel that was familiar, intuitive and instantly recognisable as an Audi, with the aim of attracting a broader consumer base – consumers who were not yet fully comfortable with the idea of a radically different-looking EV.
In profile, the Q8 e-tron still looks like a mainstream luxury SUV than a radical EV.
However, BMW, with its blob-like iX, has taken a radically different approach and is none the worse for it. In fact, the iX is the bestselling luxury electric SUV in India by a country mile proving that EV owners too want to be spotted as being different.
There's a bit more 'EV-ness' in the Q8 e-tron, which gets tweaks to make it look more futuristic. What stands out is the new mesh grille, which gets black elements that stretch to the sides and makes the Q8 e-tron look wider than it is. There's also a light bar that runs across the grille and connects the stunning-looking LED Matrix headlights. The talking point, however, is the all-new 2D Audi logo that debuts on the Q8 e-tron. There's no chrome and the logo, finished in a solid white (or light grey) colour, sits on a prominent base with the contours of the four interlocking rings.
Audi's new 2D logo debuts on the Q8 e-tron.
Other changes include restyled and edgier-looking front and rear bumpers with their chins finished in gloss black, and the e-tron name tastefully embossed on them. The new Q8 badge is fixed on the tailgate, and if you look closely at the blacked-out B-pillar, you'll notice subtle 'Audi' and 'Q8 e-tron quattro' etchings. The Q8 e-tron also gets a new set of 20-inch alloy wheels and though the size is unchanged, you can opt for self-levelling Audi logos, which look pretty cool.
e-tron logo subtly embossed all over.
Audi claims the styling changes and updates have also helped with aerodynamics and reducing drag. This has been achieved with minor tweaks to the wheel well design, which improves airflow, and shutters behind the grille that open (for cooling) and close (for better aerodynamics).
Internationally, the Q8 e-tron gets cameras instead of wing mirrors, but this hi-tech touch isn't available as yet in the Indian market due to regulatory hurdles that Audi India is trying to work around. Whilst the facelift has injected a good dose of electric freshness in the Q8 e-tron, there's no big change in profile and it still looks more of a mainstream luxury SUV than a radical EV.
The Sportback version is well-proportioned and stands out more as an EV.
However, for those who want a more standout design, the Q8 e-tron Sportback gives you just that. Giving a sleek and well-proportioned coupe look to SUVs is a challenge, but Audi has done a great job with the Sportback version that neatly blends a swoopy roof with the Q8 e-tron's high stance. More importantly, it gives customers the benefit of two distinct body styles to choose from.
Audi Q8 e-tron interiors, cabin space
The Q8-etron's cabin is largely unchanged from the previous e-tron, which means it's high-quality and a comfortable place to be in. Build quality is top-notch and everything you touch, from the chunky yacht-inspired drive selector to the haptic touchscreen, feels solid. The plastic quality, piano black and brushed metal finishes are all A-grade too. It's also a very practical cabin with large door bins, lots of storage spaces, four USB type-C charging ports (including two for the rear seat), very comfortable seats and a large panoramic roof that brightens up the inside. An important addition is a 360-degree camera, which wasn't there in the previous e-tron.
Cabin is well-built and practical, but largely unchanged from previous e-tron.
The driving position is spot-on with fantastic all-round visibility and enough headroom for tall drivers. Shorter drivers too will appreciate the generous amount of seat height adjust, which you can set on the 8-way-powered memory seat that elevates you above the beltline for a commanding view. The rear seat is pretty comfy and you don't feel that space has been compromised by the large 114kWh battery, which doesn't eat into the floor area. This means that it doesn't push your feet up, and you can sit very comfortably at the back for long hours. The middle passenger, however, doesn't have it so good because of the large console between the front seats that encroaches legroom.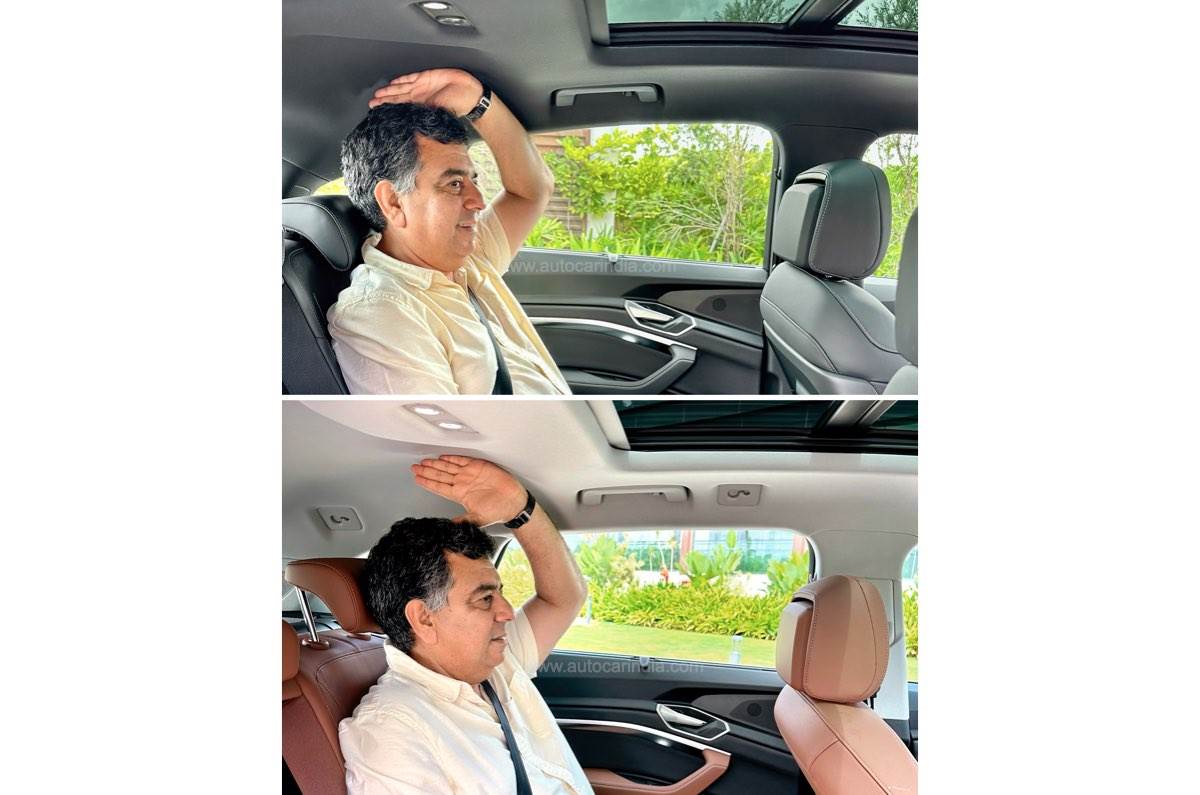 Headroom in Sportback (top) is distinctly less, but it's acceptable for not very tall passengers.
The difference in the headroom at the rear between the SUV and the Sportback is immediately obvious once you belt up, but if you're not too tall, the Sportback's lower roof won't impinge uncomfortably on headroom. The SUV body style has a bigger boot (569 litres) as well that's 41 litres more than the Sportback, which equates to one extra bag. There's also a nifty 62-litre frunk that's convenient for storing charging cables and other small items.
Audi Q8 e-tron features
Where the Q8 e-tron loses out is with the on-board tech, which feels a generation behind the competition. Audi's 'virtual cockpit', once the gold standard for digital instrument clusters, doesn't have the graphics or the functionality of its competition.
360-degree camera is a new addition with the facelift.
Like in other top-end Audis, the infotainment and climate control systems are two different screens. Adjusting the air-con on the lower 8.6-inch screen requires you to momentarily take your eyes off the road, which isn't desirable. Also, both screens pick up fingerprints too easily.
Whilst the haptic touch on both screens is great, the 10.1-inch infotainment screen isn't the best when it comes to resolution. And what's shocking for a luxury EV launched in 2023 is that there's no wireless Apple CarPlay. I had to fish out my cable to plug in.
Apple CarPlay, shockingly, is still wired in a luxury EV in 2023.
The Q8-etron's cabin may not be a hi-tech place to be, but it certainly is amongst the most comfortable.
Audi Q8 e-tron performance, ride comfort
Driving the Q8 e-tron is almost like a non-event. It is so utterly smooth and refined, supremely comfortable and whisper quiet. It wafts you with an imperious air that makes you oblivious to the surroundings. There's a certain heft to the car, be it in the steering, the pedals or the sheer 2.5-plus ton weight that allows it to ride with a special authority, almost impervious to the surface below.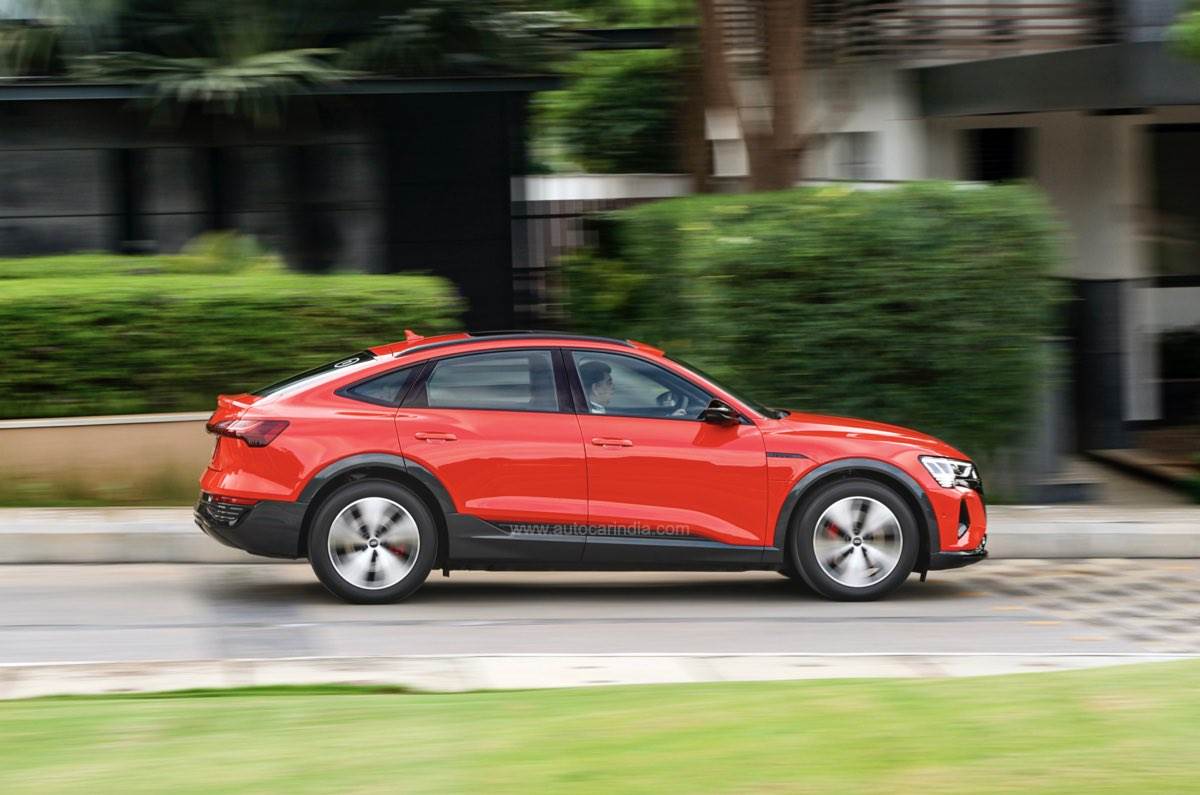 There's a sense of heft and authority in the way the Q8 e-tron drives.
In fact, it's very un-EV like in the way it drives. Not only does it feel rock solid at high speeds, the ride is simply outstanding, the air suspension cushioning you from broken roads and sharp edges. Also, with two electric motors, front and rear, giving 4x4 capablity and a suspension that can be raised with the touch of a button to increase ground clearance from 176mm to 226mm, no other EV would dare go places the Q8 e-tron can.
Height adjustable suspension gives maximum ground clearance of 226mm, useful on
Indian roads.
The 408hp Q8 e-tron will gallop to 100kph in a scant 5.6 seconds (claimed), but when you pin the accelerator pedal to the floor, you don't experience a sudden burst forward; it's a more measured rate of acceleration. And it's not just the acceleration that's linear but the superb brakes too, which blend regen and friction braking seamlessly.
One upgrade in the Q8 e-tron is the improved levels of regeneration to increase range, which is now 582km on the WLTP cycle with the bigger 114kWh battery, while the Sportback with the more slippery shape will go 600km on one charge. This sort of range gives the Q8 e-tron the legs to go long distances and play the role of a highway cruiser extremely well.
It offers a supremely comfortable and refined ride, making for a great long distance tourer.

Audi Q8 e-tron driveability
Another big improvement Audi has made is with the steering. The Q8 e-tron gets a taller (hence quicker) steering ratio (14.6:1 compared to the previous e-tron's 15.8:1) and this has a profound effect on handling.
The dead zone around the straight-ahead position is gone and the Q8 e-tron turns into corners with an agility that defies its weight. The improved steering also gives you more confidence at high speeds, especially when you have to dodge past slow moving traffic in all lanes.
The steering is sharper than before, but when pushed hard, the heavy Q8 e-tron rolls a fair bit.
However, push the Q8 e-tron too hard around corners and you'll understand why physics is physics. Even in Dynamic Mode (the sportiest of the three drive modes) the Q8 e-tron rolls a fair bit, and you can feel the car's humongous weight leaning on the sidewalls as the tyres scrabble for grip. This isn't a car that likes to be pushed hard on a twisty road, and, if that's what you want, Audi will happily point you to the e-tron GT instead!
Audi Q8 e-tron verdict
Audi may not have given its flagship electric SUV a major facelift, but the improvements have sharpened its EV credentials and put it back on the radar of today's EV buyers at a time when the luxury EV market is hotting up.
The Q8 e-tron is a solid, smooth and supremely refined luxury EV.
Yes, the Q8 e-tron still lacks the wow factor and level of tech that rival brands deliver, and neither does it have that explosive acceleration that characterises some top-end EVs. However, it makes up with some very special attributes that will seep through once you starting living with it. Well-built, practical and extremely comfortable, no other EV covers long distances as effortlessly. The Q8 e-tron stands out for its soothing driving experience and unpretentious appeal, which will be appreciated most by owners who don't necessarily want to shout they are going electric.
Also See: