Part SUV, part large hatchback, Audi's Q2 is pure crossover. But what exactly does it bring to the table, and what's it like to drive?
The Audi Q2 is the latest, and smallest, addition to the brand's Q family of SUVs and crossovers in India. Audi has enjoyed considerable success with its luxury SUVs in India. First came the massive, gen-one Q7, followed by the 'right-sized' Q5, and then the compact, but superbly packaged Q3. While all three have done rather well here, and the Q7 and Q5 are well into their second generation, the Q2 is different kettle of fish.
Audi Q2 Exterior Design
Yes, it is an SUV, and clearly an Audi too, but unlike the rest of the family, it doesn't quite follow the same laws of arithmetic, or for that matter, geometric progression. So, while the Q7, Q5 and Q3 use the same basic formula, adapted for size and spec, the Q2 is designed to appeal to a different sort of customer. One who is younger in approach, more appreciative of an edgy design and, importantly, someone who sees real merit in compactness.
It's quite a forward-looking design by Audi's conservative standards, but it isn't really loud or in your face either.
While the Q2 is designed to be different, it is still an Audi, and therefore isn't a design that shouts out loud or draws attention to itself. That ice-cool, understated Audi demeanour is there in spades and the more you look at the Q2, the more you appreciate its chiselled features. While the Q2 may only be 4.2 metres long, it has a strong shoulder line, gently bulging wheel arches and fast roofline. And then there's the wide rectangular nose with its multiple trapezoidal details.
'T' shaped motif in headlight also seen in the tail-light.
Audi designers have also provided plenty of interplay between light and shade. The flanks of the Q2 look like they've been worked on with a giant chisel, and these scooped out sections look great, especially with their sharp cuts and ridges catching the light. The 'T' shaped pattern in the headlights and tail-lights also work well, and although the Q2 is neither an SUV nor a hatch, it is comfortable in its own skin and not awkward looking; a malady suffered by a good many crossovers.
Audi Q2 Interior and Features
The Q2 may be small on the outside and only has as much space on the inside as your average mid-size family SUV, but given the shadow it casts on the ground, packaging is still good. There's more than sufficient place for those sat up front, both front seats are extremely supportive and comfortable, and finding the right driving position is also easy. The India-spec car, however, has no powered seats – a shocking omission, and there's no touchscreen either; probably in an effort to keep the price in check.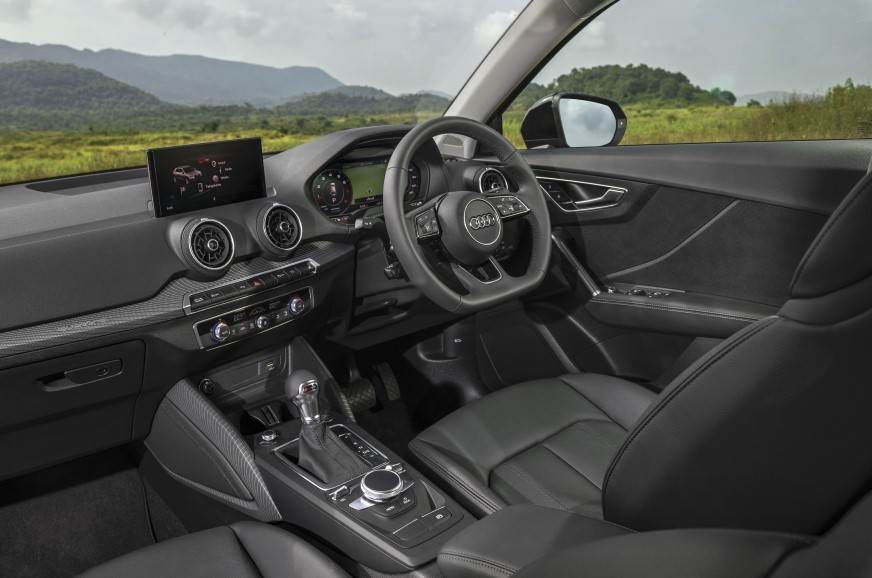 Visibility out is excellent; seat is placed at a height, and the A pillar is slim.
The slightly elevated driving position, however, feels just right. Visibility up front is superb and the dash doesn't seem to be too in your face either. It's aesthetically pleasing on the inside too. Quality levels are almost as good as they are in an A4, and the dash even has some of the TT's vibe, with its rotary click-to-shut vents. The quality of the soft-top dash and the fit and finish of the various chrome elements make this a cabin you want to touch and feel all the time, and this is particularly true of the nicely put-together flat-bottom steering wheel that feels great to hold. The knurled metallic knobs and dials on the centre console are also a delight to use, and though the LED inlay in the dash feels a bit gimmicky, the snakeskin-like effect is quite interesting.
Medium-size sunroof brightens up the otherwise dingy and dark all-black cabin.
In addition, you get Audi's Virtual Cockpit – the configurable, fully digital instrument panel, a wireless charging tray in the elbow box and, though it isn't quite panoramic, there is a big sunroof too. Rear visibility, with those massive C pillars and the slot-like rear windscreen is poor, though.
Legroom is decent but backrest is upright and the seat isn't too comfortable.
Now clearly, you wouldn't buy a Q2 to be chauffeur driven in. That said, there's sufficient space in the rear to be reasonably comfortable. Headroom is decent, there's some surplus knee room, and since you can put your feet under the front seats, you can even stretch out a bit. The seat base is short, however, and the backrest is a bit upright, so no long drives with people sat in the rear. And it also feels a bit a bit dark and dingy in the back. Also, while there are USB sockets in the rear, both are Type C units, so you will need adapters.
405-litre boot is nicely shaped; and you get a space-saver spare tyre too.
While the boot is well shaped and easy to load, and you get a decent 405 litres, it is only large enough to carry a pair of big bags in the back. Should you need more space, you can fold the seatback down. So that you don't get stranded with a puncture, there is also a space-saver spare tyre placed below the boot floor.
Audi Q2 Engine and Performance
With all its power and the taut chassis, the Q2 conjures up plenty of thrills for the driver. A lot of this is down to its 190hp power output –strong enough for an SUV that tips the scales at just 1,430kg. The 2.0-litre engine is a familiar one. Powering all manner of Audi, VW and Skoda products, from the A6 to the Tiguan AllSpace to the Octavia RS and everything in between, this is one of the best four-cylinder engines around.
The Q2 is a joy to drive.
Idle is vibration free and refined, there is almost no lag, and responses are so immediate, it doesn't feel turbocharged. There's no sudden spike in power when the boost comes in, probably down to the BS6 tune, but there's still is a clear ramp up after 2,000rpm, and then performance rises steeply all the way to the conservative 6,200rpm redline. What adds in to the experience is that the engine just loves to rev. There's an enthusiasm here, as it winds up the powerband, that you'd normally find only in a naturally aspirated engine, and though the acceleration doesn't quite throw you back in your seat, performance is still very urgent.
A quick test we carried out revealed a 0-100kph time of 8.08 seconds, but with a stronger launch, the Q2 has the potential to be much closer to its claimed time of 6.5 seconds. The Q2 also, expectedly, comes with a dual-clutch gearbox, which is quick on the draw during regular driving, and allows you to snap through the gears smartly. What takes away from the driving experience, however, is that at times it can be reluctant to shift down. This happens just when you need it most; when you need to brake, downshift and get into a corner, and this can be quite frustrating.
Audi Q2 performance (as tested)*
0-20kph
1.04s
0-40kph
2.23s
0-60kph
3.66s
0-80kph
5.60s
0-100kph
8.08s
0-120kph
11.79s
20-80kph (in kickdown)
5.00s
40-100kph (in kickdown)
6.79s
*Performance figures not to Autocar India test standards
Audi Q2 Comfort and Handling
What impresses is that the suspension rides silently over several of the bad patches we encounter. While it's fairly absorbent, there is some amount of stiffness here, and this shows up over some of the sharper-edged bumps. Also, while there is a bit of roll in corners, body control in general is very good. In fact, once you get stuck in, it feels more like a sporting hatch than an SUV. The long-travel suspension is kept on a tight leash and the Q2 settles down quickly after that initial bit of roll. And since there's plenty of grip, you can put the power down quite nicely too.
Body control in general is very good but there is some stiffness felt.
The steering could do with a bit more feedback though, and the Q2 begins to understeer if you push harder. Still, the driving experience in general is so pleasing, this is a car you just love to drive quickly, be it in a straight line or around a series of nicely meandering corners.
The Q2 will have a niche appeal for those looking for a bit of fun.
It's important to note, however, that while the badge on the grille says Quattro, this isn't one of Audi's typical, full-time all-wheel-drive systems. Unlike the arrangement used on its larger cars, which use a longitudinally mounted engine and a Torsen-based Quattro system, the Q2 is based on the VW Group's MQB platform, and so comes with a transverse engine, a front-biased setup, and an on-demand AWD system based on a multi-plate clutch.
Audi Q2 Price and Verdict
At an expected starting price of Rs 35 lakh, ex-showroom, Audi's imported Q2 isn't for those looking for value for money. Unlikely to be a rational choice, it is targeted more at self-driven owners who want a compact luxury crossover with good performance, easy everyday usability and a high-quality cabin. For your money, you get a high-riding car, an added dose of excitement thanks to the peppy petrol and relatively light weight (which, frankly, is central to its appeal), and it feels agile from behind the wheel too.
It should have been better equipped at this price, and there will be a mild facelift out internationally at around the same time the Q2 goes on sale in India, which customers are unlikely to be happy about. But if compactness is a virtue, and at times it truly is, the Q2 could be the compact luxury crossover you are looking for.
Also see:
Audi Q2 India launch on October 16, 2020
Audi Q2 bookings open; booking amount set at Rs 2 lakh
2020 Audi Q2 facelift gets subtle design updates
2020 Audi Q2 facelift image gallery
9054 Views|2 years ago
Audi Q2 photo gallery
34127 Views|6 years ago