Can this premium luxury, all-electric Audi SUV meet the company's ambitious 200 units per year sales target?
We subjected the e-tron to our standard Autocar city cycles, during which we toggled between max regeneration set manually in one run, and full auto setting in the other. However, in both cases, the 'Efficiency' drive mode was used and we had set the climate control to 22degC. We also used the infotainment system, and occasionally the wipers and lights too, which run off the additional 12V battery. Over our city runs, the e-tron averaged a healthy 350km driving range, which is more than adequate for the urban grind, making the e-tron a competent daily driver.
In our highway cycle, with regeneration set to auto and in 'Efficiency' drive mode, it returned 382km of range. While short outstation excursions won't pose much of a challenge for the e-tron, long, inter-city commutes certainly could, owing to the under-developed public charging infrastructure. One must also bear in mind that inclines consume a high amount of energy, thus adversely affecting an EV's range; so outstation trips to hill stations will need careful planning.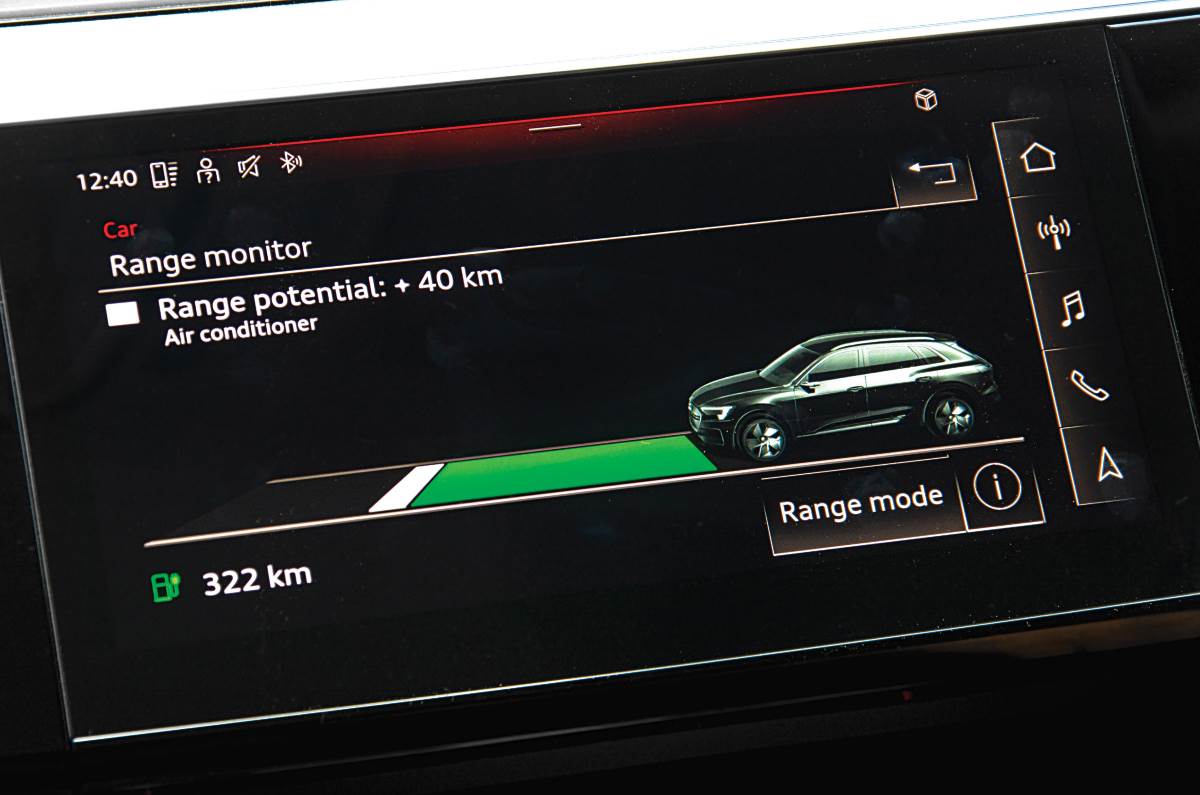 This mode limits max speed to 90kph, turns off climate control to extract a longer range.
If you are running really low, there is also a 'range mode' option, which when selected, switches the climate control off, reduces power consumption, and limits the max speed to 90kph, which can provide an additional 40-60km of driving range.
Audi e-tron vs Jaguar I-Pace vs Mercedes-Benz EQC compari...
10016 Views|1 year ago
Audi e-tron Sportback 55 quattro video review
16911 Views|1 year ago
Audi e-tron 55 quattro India video review
19629 Views|1 year ago