Mahindra has finally revealed its first all-electric SUV that will take on the Nexon EV Max; we take it for a spin to give you our first impressions.
After a big bang showcase of its electric future in the UK last month, Mahindra unveiled its electric present in Chennai with the reveal of the long-awaited XUV400. It's a significant model for the company for several reasons. Firstly, it's the first electric SUV from the company, which, over the past three years, has become laser-focused on the SUV segment and nothing else. After years of talking electric and, in fact, taking an early lead in the EV space (with the Reva), which it lost equally quickly, the XUV400 is finally the walk of the company's EV talk. Except that it's no longer a walk but a sprint to catch up with Tata Motors, which has sped far ahead in the EV race. The XUV400 goes squarely up against the Nexon EV, the bestselling EV in the market today, but can Mahindra's late-to-the-party EV thwart arch-rival Tata Motors' almost unopposed dream run?
Mahindra XUV400 EV: exterior
The XUV400 is not a 'born electric' EV and is based on the XUV300 in the same way the Nexon EV is based on the IC engine-powered Nexon, but it has one trick up its sleeve – size. Unlike the Nexon, which was originally conceived as a sub-4m compact SUV, the XUV300 is derived from the SsangYong Tivoli and was actually downsized to under 4 metres in length to take advantage of the lower tax for the category. However, with no benefit to be gained from a sub-4m length (all EVs attract a flat 5 percent GST), Mahindra cleverly reverted to the Tivoli's original 4.2m length with the XUV400.
The Mahindra XUV400 EV is 205mm longer than the ICE-powered XUV300 it's based on.
This has two big advantages, firstly, it addresses one of the XUV300's biggest weaknesses – the poor 257 litres of luggage space. There shouldn't be complaints of luggage carrying capacity now in the XUV400, which has a boot enlarged to a useful 378 litres. The extra length has also given Mahindra an upper hand in the positioning of the XUV400. This 4.2m-long SUV is technically no longer a compact SUV but a size above, into the Creta-dominated midsize SUV segment, and closer to the more expensive MG ZS EV and Hyundai Kona Electric.
The XUV400 EV retains the same 16-inch alloy wheels as the XUV300.
Unlike the truncated rear of the XUV300, the XUV400 has better proportions and looks more balanced too. Lengthening the XUV400 has resulted in an all-new tailgate, though the design and the tail-light cluster are similar to the XUV300's and that's no bad thing. Like the XUV300, the XUV400 has the same muscular stance and, apart from the rear section, is very similar to its petrol counterpart, as both share the same doors, glasses and bonnet. However, the XUV400 is nicely differentiated as an EV with a new bumper, a blanked-out grille and an overdose of copper-coloured accents. The logos, the badging, and accents on the grille and bumpers are all finished in copper, which the company says is the signature colour for its EVs going forward.
Mahindra XUV400 EV: interior
The copper theme is carried into the interior as well, with bits like the rotary knobs for the volume and air con, the air vents and gear lever surrounds, and, of course, the 'twin-peaks' logo on the steering finished in copper. It's a bit overdone and a touch 'blingy' but drives home the point that this is a Mahindra EV.
Analogue dials with a new EV skin for the XUV400.
The rest of the cabin doesn't quite do that and it's an XUV300 through and through. This means you get a rather outdated-looking dash with a small 7.0-inch infotainment screen, analogue dials (with a new skin for the EV variant), and old-fashioned buttons and knobs. After the XUV700's and Scorpio's state-of-the-art infotainment, the XUV400's system is a step-down, with poor graphics and a screen that picks up a lot of reflections, as does the instrument cluster.
Small 7.0-inch touchscreen has poor graphics and picks up lots of reflections.
Connectivity has been given a massive step-up in the XUV400, as it gets Mahindra's BlueSense Plus technology, which comes with a suite of 60 features, including multiple remotely-operated functions like checking range and activating climate control. Storage space isn't that great and though you get generous door bins and a reasonably sized glovebox, there's no proper place to store your phone and no wireless charging pad either.
The XUV400 EV offers great cabin space which feels a class above the Nexon.
Compared to the XUV300, there's a fair bit of equipment that's missing. There are no front fog lamps, dual-zone AC, rear AC vents and front parking sensors, among other bits.
Where the XUV400 scores is with cabin space, and it's here that it feels a class bigger than the Nexon. There's a good amount of legroom and headroom all around, and the cabin is wide enough for three.
Large cabin has good headroom and legroom and is wide enough for three passengers.
To accommodate the battery, Mahindra has cleverly raised the floor only under the centre console and the middle passenger section, leaving the outside ends of the cabin almost untouched. As a result, your feet are not pushed up due to a high floor like in other EVs and your seating posture isn't compromised. Overall, the XUV400's cabin is extremely comfortable, though, on this sweltering hot day outside Chennai, we missed not having rear air-con vents.
Mahindra XUV400 EV: powertrain and performance
Getting to the heart of the XUV400, which is the electric powertrain, Mahindra has specced it quite competitively. A single electric motor producing a competitive 150hp and 310Nm of torque drives the front wheels. Power comes from a 39.4kWh battery, which the company claims is good for a range of 456km in the official test cycle. The NMC battery pack, sourced from LG Chem in Korea, is an older-generation chemistry (5.3.2) and Mahindra engineers have had to balance power and range.
39.4kWh battery pack offers a claimed range of 456km (MIDC).
The electric motor, controllers and battery management system come from Valeo and offer a level of refinement that is astonishingly good. There is minimal motor hum or whine, and the overall insulation of the XUV400 too helps keep the cabin whisper-quiet. Mahindra engines are known for their class-leading refinement and now its first EV has impressively low NVH levels too.
The XUV400 comes with three drive modes, cheesily named – Fun, Fast and Fearless – and the instrument cluster takes on a different hue for each mode. Let's start Fearless, the most aggressive one, which, with no traction control, is hard to use.
Straight-line performance in Fearless mode is very strong.
All that instant torque is hard to put down and there's an alarming amount of wheelspin, which on a mild bend is alarming with the understeer that results from it. But fear not of Fearless mode because Mahindra's engineers have assured us that traction control (not yet ready for our media drive) will be standard on the XUV400 when it goes on sale. And that's crucial, because without it the XUV400 would be tricky to drive, especially in the wet.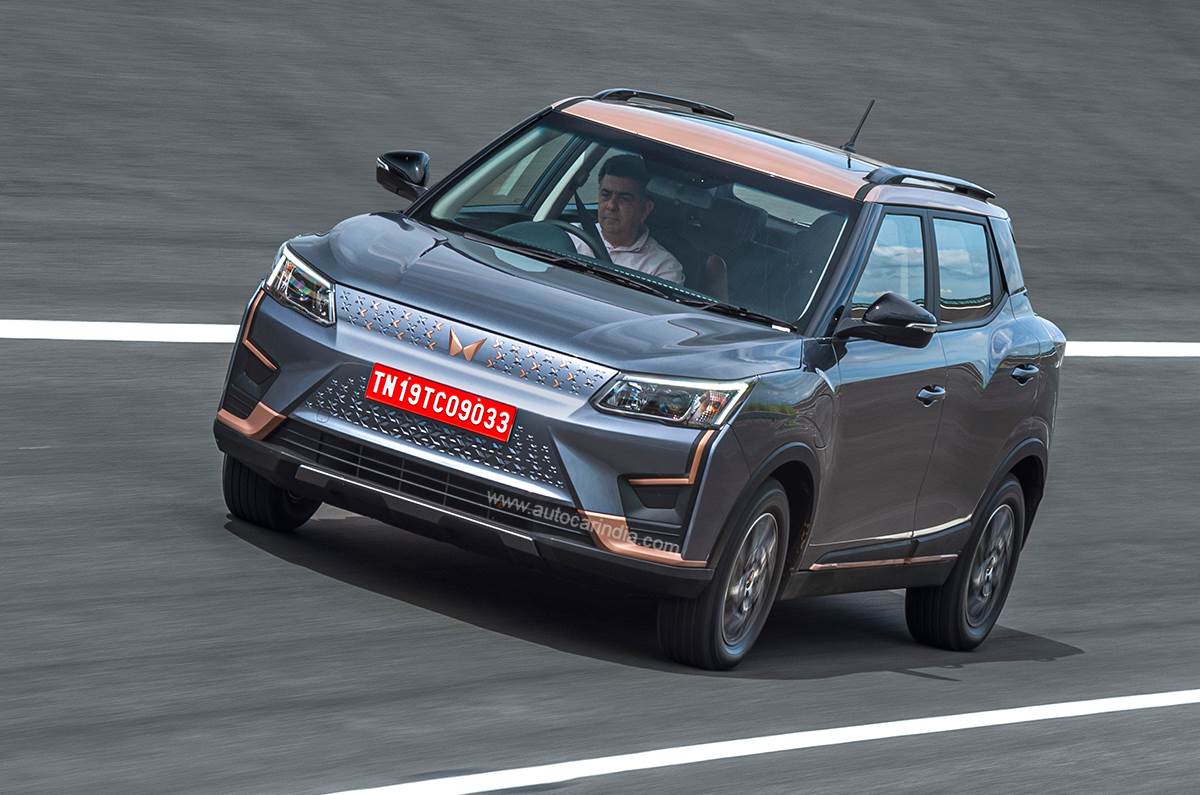 The XUV400 EV achieved a top speed of 160kph, making it the fastest SUV in its class.
Straight-line performance in Fearless mode is very strong and in a rough acceleration test, despite massive wheelspin, we managed a 0-100kph time of 8.7sec which is 0.7sec faster than the Nexon EV Max (9.4sec). The XUV400 nudged 160kph on the high-speed track and Mahindra's proving ground, again making it the fastest SUV in its class despite its rather heavy 1,578kg kerb weight. The weight penalty is likely to be felt more in range, and the biggest challenge for Mahindra has been to finely balance performance and range, especially with the NMC532 battery pack, which doesn't have the energy efficiency of more modern chemistries.
Mahindra XUV400 EV performance
Acceleration (from rest)
Fun mode
Fast mode
Fearless mode
0-10kph
0.90 sec
0.74 sec
0.72 sec
0-20kph
1.66 sec
1.43 sec
1.40 sec
0-30kph
2.41 sec
2.1 sec
2.08 sec
0-40kph
3.18 sec
2.79 sec
2.76 sec
0-50kph
3.95 sec
3.5 sec
3.46 sec
0-60kph
4.85 sec
4.29 sec
4.23 sec
0-70kph
5.91 sec
5.24 sec
5.15 sec
0-80kph
7.15 sec
6.35 sec
6.18 sec
0-90kph
10.52 sec
7.69 sec
7.36 sec
0-100kph
-
9.24 sec
8.74 sec
0-110kph
-
11.06 sec
10.38 sec
In Fast mode, there's a distinct drop in performance and the corresponding 0-100kph time is a slower 9.24sec. In Fun mode, it's slower still, and we couldn't even hit 100kph because top speed is limited to 92kph. What we like is that you can distinctly feel the difference in all three modes, which really makes them useful, depending on your driving style. For everyday driving, Fearless mode may be a bit too extreme and ultra-responsive. But this is the mode to be in if you are in a hurry, because the way the XUV400 shoots off the line and reacts to even the slightest pedal movement is very impressive.
Fun, Fast and Fearless modes have distinctively different driving dynamics.
Fast mode is the default mode, if you aren't in a hurry and want to conserve some range, whilst Fun mode is when you want to have fun eking out the maximum range; it's not for fun driving. There are no manually selectable regeneration levels, which automatically vary based on the mode you are in. Regen is maximum in Fun mode, where it is all about conserving the charge, and the least in Fearless mode, where the brake feel is more normal. Speaking of brakes, they tend to be a bit grabby and the transition from regen power to hydraulic power could be more seamless.
Don't want to use the brakes? The XUV400 comes with a 'one-pedal' mode, which you activate by selecting 'L' on the stubby gear lever. A point to note here is that the gear selector feels quite upmarket, works well, and feels far nicer than the rotary driver controller in the Nexon. Coming back to one-pedal driving, though there is an increase in regen level, instead of aggressively slowing you down, deceleration is a bit too gradual. We would have preferred stronger regen for one-pedal driving to be more effective.
Gear selector feels upmarket, works well, and feels far nicer than rotary dial controller in the Nexon.
Whilst there is no creep function in L mode, creep works really well in D. Take your foot off the brake and the XUV400 edges smartly forward. In fact, simulating stop-and-go traffic conditions on the city route at Mahindra's test track, we found that getting on and off the brake pedal and letting the creep function move the car forward was a more effective method of one-pedal driving.
The different modes have an impact on the steering as well, and you can feel it weigh up distinctly, as you move from Fun to Fearless mode. However, other than an increase in the steering effort, there's no difference in steering feel, which needs to be improved before the XUV400 goes on sale. There's a fair bit of slack around the straight-ahead position, and when you turn on the lock, it doesn't weigh up progressively, but you feel a sudden resistance at one point. The ride quality seems very good and promises to be a highlight of the car, but we'll reserve final judgement till we test on Mumbai's roads. At high speeds, the long wheelbase and weight of the XUV400 give it a reassuring sure-footedness, which makes it a good high-speed cruiser, but constant corrections at the wheel are needed. Calibrating and fine-tuning the EPS should be high on the Mahindra team's to-do list before it reaches customers.
Charging the XUV400 is quite straightforward and pretty quick if you plug it into a 50kW DC fast charger, which will take the battery from 0-80 percent in 50 minutes. A 7.2kW wall box AC charger, the type you will install, will charge a completely flat battery to 100 percent in 6.5 hours, and 13 hours if you use a 3.3kW domestic socket.
Mahindra XUV400 EV: pricing and launch
There's no word on pricing yet, but knowing Mahindra, expect it to be predatory, because the company finally has a chance to spoil the Nexon EV's party. We expect the XUV400 to be priced between Rs 18 lakh-20 lakh (ex-showroom), which will certainly make it attractive enough to swing buyers away from the Nexon EV Max. The question is, will Mahindra, which hasn't sorted out its supply issues, be able to make enough of them?
Also see:
Mahindra XUV400 vs rivals: specifications compared
2022 Mahindra XUV400 EV video review
Mahindra XUV400 EV image gallery
12320 Views|6 months ago
Mahindra eXUV300 image gallery
6543 Views|3 years ago
2022 Mahindra XUV400 EV video review
20208 Views|6 months ago
Mahindra eXUV300 first look video
14474 Views|3 years ago