Can the new turbo-petrol engine from the Venue make the Nios more exciting to drive?
Think Hyundai Grand i10 Nios and you'd picture a practical, sophisticated, feature-loaded family car; sporty and exciting aren't words that you'd associate with it. But Hyundai is working towards changing that perception withthis hot new turbocharged petrol version.
This Turbo version of the Nios is powered by a 1.0-litre, three-cylinder, turbo-petrol engine that made its debut in the Hyundai Venue, and is also available with sedans like the Verna and Aura. The Nios Turbo is based on the Sportz Dual Tone (DT) variant of the regular Nios with which it shares its features list, interiors and its exterior design; and it commands a premium of Rs 95,000-1,00,000 over the comparable 1.2-litre petrol engine. So, is the Nios Turbo exciting enough to justify that premium?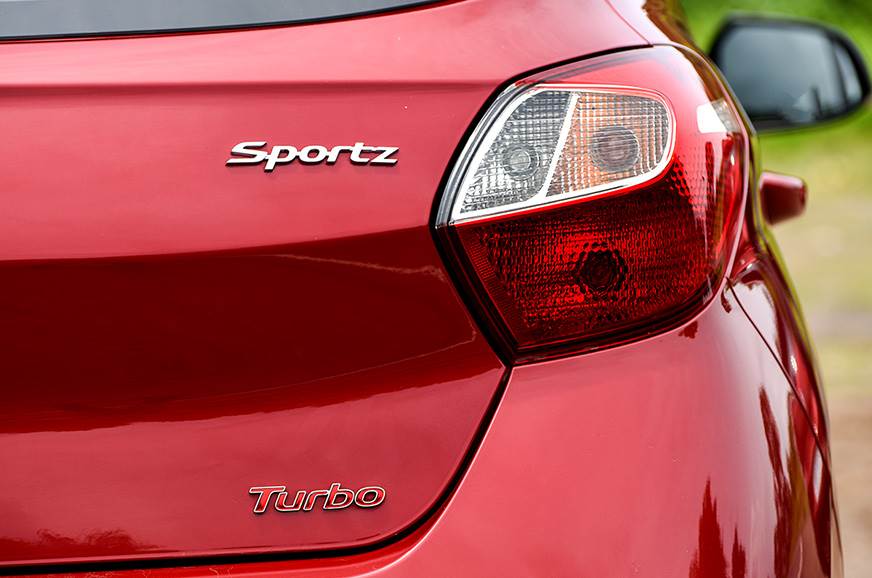 The Turbo badge is one of the few visual ques that differentiates the sportier version.
How do you distinguish the Turbo from the regular Nios?
Save for a fully blacked-out trapezoidal front grille featuring a 'Turbo' badge, there isn't anything to tell this version apart from a regular dual-tone Nios. This turbo variant gets an optional two-tone paint shade with blacked-out roof and pillars (priced Rs 5,000 higher than the single tone), projector headlamps with LED DRLs, roof rails, and wide 175/60 tyres with 15-inch alloys from the top-spec Asta variant (as compared to the 165/65 R14 tyres available on the Sportz single-tone variant). The boot now wears an extra 'Turbo' badge, in addition to the 'Grand i10', 'Nios' and 'Sportz' badges.
The dual-tone finish costs Rs 5,000 more than the single-tone one.
Is the Nios Turbo's interior much sportier?
Like the exteriors, the interiors get mere cosmetic changes, which are standard on the DT version. Red highlights around the air-vents and the rotary AC controls, as well as red stitching and piping on the seats, add a touch of sportiness to the all-black interiors. Although there aren't any Turbo-specific changes to the interiors, the gear lever gives this one away, due to its reverse gear positioning that is besides the first gear, as opposed to being besides the fourth gear in the standard Nios. Cosmetic changes aside, the interiors are spacious and nicely put together with high-quality plastics. And this remains a practical cabin with a very user-friendly layout.
Red highlights inside mark the Nios Turbo apart.
Does the Nios Turbo get more features?
In terms of equipment, the Turbo features a leather-wrapped steering, climate control, a part-digital instrument cluster, touchscreen with Android Auto and Apple CarPlay, reverse camera, projector headlamps with LED DRLs, remote-key entry, and wireless charging. Compared to the top-spec Asta variant of the standard Nios, it misses out some convenience features like a push-button start and keyless entry, and some crucial bits like a rear wiper and washer.
The Nios Turbo Sportz misses out on keyless entry and go and a rear wiper available on the top-spec Asta variant.
What is it like to drive?
As mentioned earlier, this is the same 998cc, three-cylinder turbo-petrol engine that made its debut in the Hyundai Venue, but the only difference is that in the Nios, it makes 100hp – 20hp lesser than the compact SUV – but still produces an identical 172Nm of torque. With a sub-1-tonne kerb weight, power-to-weight and torque-to-weight ratios are better than any other affordable petrol hatchback in the market today.
This engine is smooth and refined, as far as three-cylinder motors go, but it isn't completely vibration-free, especially at idle, when compared to its 1.2-litre four-cylinder naturally aspirated counterpart. When spun faster, this motor does get a bit thrummy, although the sound isn't excessively loud or coarse.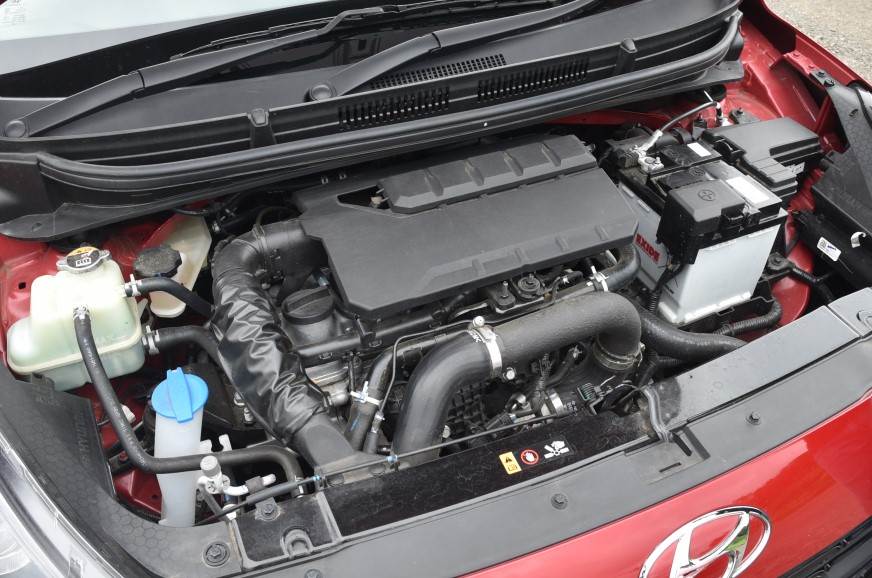 The 1.0-litre turbo-petrol engine is shared with the Venue and Verna but makes 20hp less.
Those used to driving non-turbo cars will need to get accustomed to this turbo petrol engine, as on-tap responses aren't as sharp as a larger naturally aspirated engine, and small-capacity turbo engines like this one need to be spun a bit to build the boost and bring them into their zone. You will do well by keeping the revs above 1,800rpm as that's where the turbo starts singing, and there's a nice second wind of power once the tachometer needle crosses 3,000rpm. Between 2,000-5,000rpm is this engine's sweet spot, and it feels very gutsy and far more capable than the 1.2-litre petrol, especially while overtaking out on the highway. While it isn't as free-revving as Volkswagen's 1.0-litre TSI motor, it will spin to 6,600rpm in the first three gears, maxing out at 101kph in second gear and at 164kph in third gear, which goes to show how tall-geared this version is. Flat-out, it will even go on to hit a top speed of 183kph.
The Nios Turbo is the quickest mass market hatch to 100kph.
And while on the topic of outright performance, this is currently the fastest accelerating mass-market hatchback on sale in India. It out-accelerates the Volkswagen Polo 1.0 TSI (which was the previous fastest) to 100kph and it even reaches 160kph a full second quicker. Even through the gears, especially in the fourth, from 40-100kph, the Nios is 0.88sec quicker. Even when you consider smaller bursts of acceleration like 20-40kph in second gear, 40-60kph in third, or even 60-80kph in fourth, the Nios noses ahead when compared to the Volkswagen. The Nios' standard 1.2-litre petrol version isn't even in the same league in terms of performance. To put it into perspective, the Turbo accelerates 3.46sec, 0.7sec and 8.59sec faster than the naturally aspirated petrol from 0-100kph, 20-80kph in third and 40-100kph in fourth, respectively.
Hyundai Grand i10 Nios Turbo vs VW Polo 1.0 TSI vs Grand i10 Nios 1.2: Performance (as tested)
Grand i10 Nios Turbo
Polo 1.0 TSI
Grand i10 Nios 1.2P
0-10kph
0.52s
0.43s
0.52s
0-20kph
1.08s
1.06s
1.14s
0-30kph
1.62s
1.64s
2.16s
0-40kph
2.39s
2.28s
3.02s
0-50kph
3.29s
3.27s
4.11s
0-60kph
4.58s
4.23s
5.75s
0-70kph
5.69s
5.28s
7.20s
0-80kph
6.93s
6.51s
8.79s
0-90kph
8.23s
7.99s
10.78s
0-100kph
9.82s
9.97s
13.28s
0-110kph
12.17s
11.88s
15.89s
0-120kph
14.46s
14.14s
19.06s
0-130kph
17.12s
16.87s
23.31s
0-140kph
20.20s
20.36s
29.60s
0-150kph
23.92s
24.75s
-
0-160kph
29.30s
30.36s
-
20-80kph (in 3rd gear)
13.30s
12.36s
14.00s
40-100kph (in 4th gear)
13.85s
14.73s
22.44s
This motor is mated to a 5-speed manual in the Nios Turbo (as compared to the Venue's 6-speeder). The gearbox is an absolute delight to use, with butter-smooth shifts and a light and positive action. Its clutch is light too, and so is its steering, which is effortless to twirl at city speeds. Out on the open road, however, you will be left wanting for a more consistent feel, and although the steering weighs up a bit at speeds, it doesn't offer a very 'connected' feel. And while mechanical grip is decent – with its wheels pushed to the extreme corners of the car, making it feel quite agile – road grip from the skinny tyres, however, isn't very confidence inspiring. A set of wider tyres would improve its cornering ability to a great extent. Like the standard car, ride comfort remains excellent, and its brakes are very progressive, offering a strong initial bite.
5-speed manual is a delight to use.
Should you buy the Nios Turbo?
Despite being a spruced-up version, this car retains all the Nios' strengths, like its sophisticated, practical interiors, an absorbent low-speed ride quality, and its easy-to-drive nature, which makes the standard car very appealing in the first place. Hyundai must be lauded for taking the plunge and introducing this performance-oriented turbo version to cater to the driving enthusiasts – the added performance has made the Nios a lot more capable and more effortless, especially out on the open road. Performance is so strong that this one is the quickest hatchback on sale in India today. But those who love to drive will be left wanting for a more engaging driving experience to match the added performance, and the Rs 95,000-1,00,000 premium that this turbo version commands over a comparable 1.2-litre petrol variant seems a bit too hard to justify. Sharper driving manners and sportier looks would have made the Nios Turbo a purer hot hatch and a more compelling proposition.
The Rs 95,000-1,00,000 premium for the Turbo over the standard 1.2 petrol is a bit hard to justify.
Also read:
Big discounts on Hyundai cars and SUVs