In India, we may turn a blind eye towards plug-in hybrids, but internationally, electrified vehicles get their due recognition. The Porsche Cayenne E-Hybrid is one such vehicle, and while this two-tonne-plus SUV may seem like an unlikely green candidate, it does claim a mileage of 31.25kpl on the European driving cycle. In contrast, the regular petrol V6 Cayenne stands at 11.11kpl.
The hybrid can be charged via a wall outlet and, of course, also on the move via the engine. It has an all-electric mode (E-Power) that has a range between 23-44km and a top speed of 135kph. On paper, these are pretty decent numbers for the daily office commute, but how does it fare in the real world? Let's find out.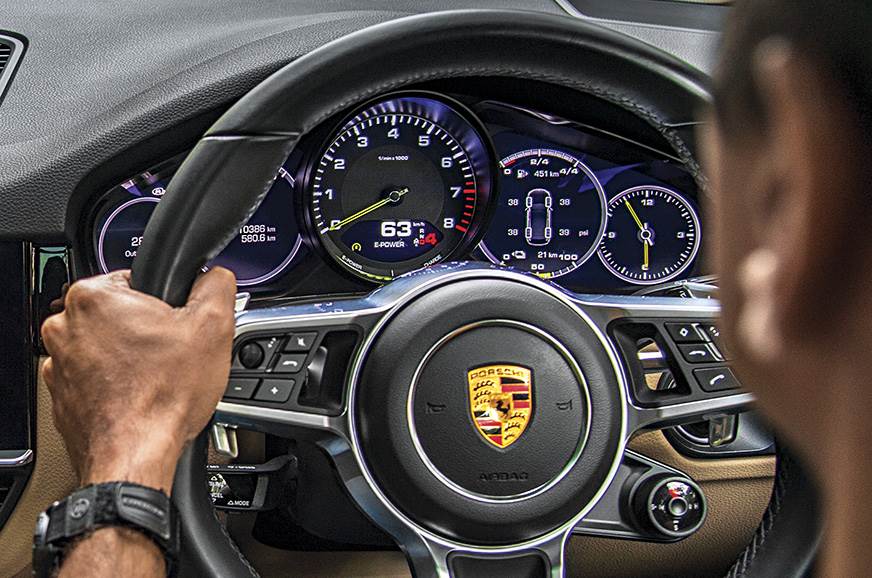 In the city, it's very useable and keeping up with traffic is no problem at all; even overtaking is a hassle-free affair. Overall performance isn't as quick as with the engine on, but it won't leave you embarrassed trying to overtake a rickshaw. A neat little touch is an artificially induced resistance point in the throttle beyond which the engine will kick into life. I found the resistance perfect – it's enough to let you know you've reached the limit, but also easy enough to push past. Of course, in regular driving modes, this resistance point isn't there, so it's a smooth throttle all the way.
And speaking of drive modes, the Cayenne has plenty. There's E-Power, where you have pure-electric running; Hybrid Auto, where engine and electric power are balanced for maximum efficiency; and Sport and Sport Plus, which push for performance from both, the engine and the batteries.
There's also an E-Hold mode that lets you preserve your electric power for use later and an E-Charge mode that will priorities battery charging while you drive. The most interesting mode for me, however, was E-Launch. Of course, there's launch control, but E-Launch is only under battery power. It's for those times when you need a quick but real quiet getaway. We tried it a couple of times, and while it refused to cooperate on some occasions, it was fun when it did. Yes, there's no tyre squealing or pin-you-to-the-seat acceleration, but it's fast and quiet.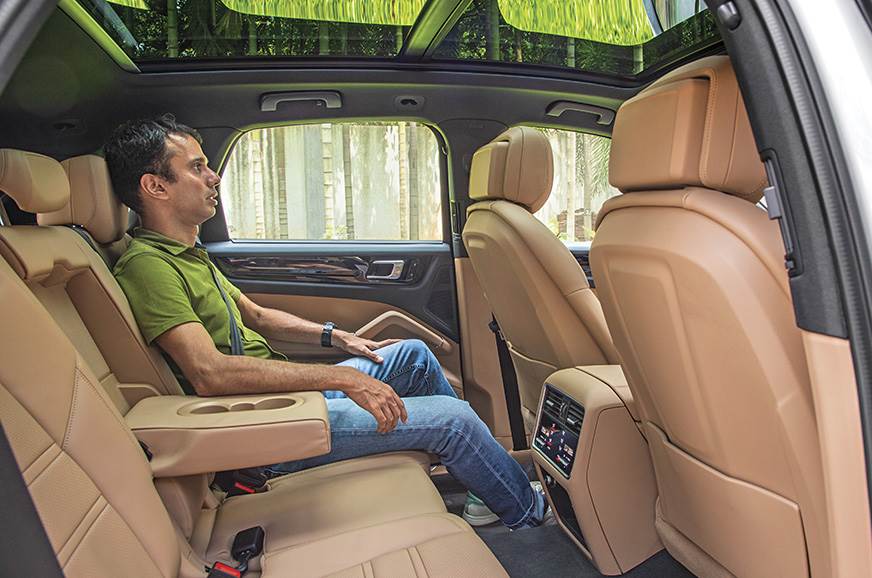 Comfy seats; panoramic sunroof a big draw for chauffeur driven.
What was also a pleasant surprise was the highway performance in E-Power mode. Here, too, there were no issues in overtaking, and it was only with multi-axle trucks that I would push past the resistance point. Like a very light sleeper, the V6 would wake up and quickly propel us ahead; and while it's quick to respond, there is a noticeable pause while the engine starts and the gears drop. Once it's on though, in true Porsche fashion, it's responsive and the gearbox is smooth and quick. Thanks to the battery boost, the hybrid out-sprints the regular V6 by about a second in the dash to 100kph, clocking a time of 5.0sec. Also, thanks to the massive 700Nm of total torque available from the engine and the electric motor, the Cayenne hybrid offers a diesel-like torquey feel.
An area where the hybrid system isn't great is braking. As with many hybrids today, the combined braking effect from the electric motor and wheel brakes is something that isn't quite sorted, resulting in an inconsistent pedal feel.
The steering isn't all that feelsome either, but that's only when you judge it against the high standards set by Porsche in this department. All Cayennes in India come with standard air suspension, with the ride leaning towards the firmer side, but it doesn't crash through bumps and ruts. What's neat is the sharp handling, you'd have to push real hard to feel the extra weight of the hybrid. A lot of this would be down to the optional rear-wheel steering that our car came with, and that's something you should consider, if you buy one.
Luminescent green calipers signify an electrified Porsche.
We had reviewed the Cayenne Turbo last year and the hybrid stays pretty much the same in the areas of comfort and equipment, which is a good thing. The seats are comfy and there's sufficient room all round. It also comes with the touchscreen and the touch-surface intensive Porsche Advanced Cockpit dashboard. I'm no fan of this as I would have preferred a few more buttons and switches, and better placement for the few that there are. As for equipment, it has all the goodies like LED Matrix headlamps, four-zone climate control and soft-close doors; though, a lot of them are paid options. However, one feature that is standard, and also exclusive to the hybrid, is AC pre-cooling, thanks to the battery system.
The Cayenne Hybrid comes in at a starting price of Rs 1.58 crore, which is about Rs 40 lakh over the regular V6 model. That's a fair bit of a hike, but you get a faster accelerating car, better fuel efficiency, along with a very useable all-electric mode; all of the Porsche driving appeal is pretty much intact too. It isn't as quick as the V8 Turbo but that'll set you back Rs 1.9 crore. Thus, as it stands, the Cayenne hybrid could very well be the perfect blend and fill that void.
Click here for Porsche Cayenne prices, reviews, images, videos and more
Click here for Porsche India models, prices, reviews, images, videos and more