Rear-engined sportscar doesn't stray too far from the formula, but is that a bad thing?
Let's get the cynicism out of the way right at the start – this is a new-generation Porsche 911. It's called the 992 and it's the eighth iteration of the iconic sportscar. Yes, Porsche tends to make two generations back to back, so there are some commonalities with the outgoing 991, but there are also some changes. The body panels are now almost entirely aluminium, it's managed to put on about 50kg in kerb weight despite all that aluminium, it has grown by 21mm, 44mm and 7mm in length, width and height respectively, the tracks are wider and the wheels are larger. Initially, at least, I have to admit I too am amongst the cynics. I can't shake the feeling that this just doesn't feel like a full generational leap forward.
Silhouette
The look of a 911 is never going to deviate much from the tried-and-tested formula, is it? As long as the engine stays unapologetically behind the rear axle, that 'teardrop' shape will always remain. However, they have at least made one dramatic styling change to set this one apart. It's not as controversial as the 'fried egg' headlamps of the 996 generation, but the rear of the car looks entirely different now. The tail-lamps are joined by an LED light bar, which sweeps around the rear and looks superb when aglow at night. More subtle than that, though, is the whole rear, which has taken on a more three-dimensional look, with various layers protruding outward, including the new 'Porsche' lettering. I like the gloss-black engine grille, and that the high-mounted brake light is integrated into two of its slats, and how the two-stage retractable spoiler sits flush with the bodywork when it's not deployed.
I'm less of a fan of the rear valance lower down. Oh, the big oval pipes that signify the sports exhaust do allude to something tasty, but the matte-black plastic housing that surrounds them in the rear bumper looks a bit too flat and ordinary. This is mirrored in the front bumper, where you might even miss the fact that the intakes now have louvres that open only when cooling is required; they're almost camouflaged in black plastic. But I digress.
This car is larger, as I mentioned earlier, but it's where it has grown that really matters. The two-wheel-drive cars, like this Carrera S, now get the same 44mm-wider body as the all-wheel-drive versions, and it makes a huge difference. Those iconic rear haunches are now thick enough to give Kim Kardashian a run for her money, and even the front fenders bulge outward a bit. The wheel sizes have grown too, with 20 inches in the front and 21-inchers at the rear; we're even told you'll be able to go up an inch from there. Classic silhouette and new details aside, its wider, more planted stance points to more serious performance intent. Remember, we're talking about the base model here.
Retro-futuristic
I'm told the most obvious change, at least to the average 911 buyer who doesn't set out in search of new lap records each morning, is to be found in the cabin; but first, I have to play a small game with the door handle. It now sits flush with the bodywork and pops out when you unlock the car – very cool. What they don't tell you is that it works in three stages – closed and locked, closed but unlocked, and open. When closed, it's unclear if the car is locked or not, and the lever action is firm, so you're afraid you might break it if you pull too hard. It sometimes doesn't respond to the key fob, and I even found it clamping down on my fingertips a few times. Yes, that's a lot of talk about a door handle, but frankly, it's your first point of contact with the car, and Porsche seems to have overcomplicated something so simple.
Door handles can be fiddly to operate.
They were right about the interior though, and it's here where I finally feel like things have moved forward for the 911. You instantly notice a greater richness to everything you can see or touch, particularly the trims on the dashboard and door pads. You couldn't really fault any recent Porsche for build quality, and that same solid feeling returns to every button, switch and stalk. It's the new dashboard design, however, that bowls you over. It's a return to the horizontality of the 911s of old, looking almost like a shelf onto which the infotainment and instrumentation are placed. The new wide-angle 10.9-inch touchscreen looks as crisp as ever, and behind the steering wheel sits a clear analogue tachometer (phew) on either side of which are screens that mimic the remaining four circular dials, a trademark of every single 911.
Minimalist dash design but too many controls relegated to touchscreen.
The centre console's buttons are distilled down to just the essentials, and even the gear selector is now simply a quirky little stub. Some might miss the ability to shift gears via the lever (you still have paddles for that, of course), but it's not a cause for complaint. While the passenger cupholder continues to pop out from the dashboard, the driver's has been moved just where you'd want it – at the base of the centre console; ideal for a coffee or even your cell phone. Combine this with reasonably sized door pockets and you'll find the 911 to be pretty practical for a 2+2 sportscar. Yes, the tiny back seats return, and while you could squeeze some kids in there, it's more likely to be used as luggage space with the seats folded down.
Shut up and drive
The driving position is just so right; it's set low, as it should be, but even someone as short as me can find a good compromise, because forward visibility is really good. You get the typical 911 view forward, of the two headlamp bulges rising out of the bonnet, helping you place the car perfectly.
Mode selector part of Sport Chrono Package option.
I grip the small-rimmed steering wheel, twirl the mode selector to Sport, and then it hits me. I glance back down to that minimalist centre console and realise all the driving mode controls are gone. There's a suspension toggle switch and an ESC off button, but that's it. If you want to switch drive modes, activate the sport exhaust or even raise the spoiler for a bit of showing off – that's right, it's all on the touchscreen now. Even the aforementioned mode selector dial is a part of the optional Sport Chrono Package, which you should probably select just for the convenience.
There's no starter button, but keeping things retro is a switch that twists like a key would, even while the actual fob stays in your pocket. The engine fires to life behind me and it's louder than I thought it would be, in the best way possible.
All the disappointments from the 718 Boxster's 2.0-litre flat-four are remedied by this 3.0-litre flat-six. First, the sound. Yes, it's not quite as melodic as the rev-happy flat-sixes of old, it's 'enhanced' through the car's audio system, and you do get a bit of forced-induction burble and whoosh, but get it on song and it sounds just incredible. More than that, however, it doesn't feel turbocharged. It sets off without much hesitation, and the turbochargers – which have grown larger and now spin in opposite directions for quicker spool-up – don't create any interruption inthe power delivery. The 450hp and 530Nm are put to the road via a new 8-speed PDK automatic that's just as quick and intuitive as the old 7-speed unit. Every gear is a loud, manic race to the redline. Locked in Sport Plus, it will hold gears until you tell it otherwise, allowing you to modulate the throttle in corners without the fear of an unwarranted upshift.
And corners are where the Porsche magic show really begins. A lot of sportscars don't have the burden of an engine over their front wheels, making the steering lighter and easier, but because the 911's engine is behind even the rear axle, it steers like nothing else. The front end scythes into corners – and more so now with a steering that's 11 percent quicker than before. It is easily the best electric-assisted power steering I've ever encountered, with an amount of heft and connectedness you just couldn't imagine possible from such a system. Wider tracks and wider tyres give you more grip and reassurance, and an all-round revised suspension setup means there's no such thing as body roll. In fact, the clever trick they've achieved with the suspension is pushing the Comfort and Sport modes further apart; so that it'll take on even our roads when you need it to. It really is the sportscar for every occasion.
If it ain't broke
The 992 Porsche 911 isn't the generational leap I'd expected, but the more I drive it, I wonder – is that really such a bad thing? It hasn't brought with it course-altering changes like turbocharging (930), all-wheel drive (964), water cooling (996), direct injection (997.2), electric power steering (991.1) or turbocharging again (991.2). Instead, it's subtly brought in more comfort, technology and luxury to what was already an almost perfect dynamic package. It's a car that's grown bigger but doesn't feel it from behind the wheel, and yet manages to be practical and comfortable enough to use every day. And as with all 911s, the launch model is only the tip of the iceberg. You can expect dozens of derivatives to spawn from this.
What will the next mid-life update (992.2) bring? A hybrid variant seems likely. The industry is advancing at an alarming rate and Porsche has done well to keep up, with cars like the upcoming all-electric Taycan. But as long as there's room somewhere in the model range for a petrol-powered 2+2 sportscar with its engine in the wrong place, petrolheads everywhere can rest easy.
Also see:
Porsche Cayenne Coupe India launch in December 2019
2019 Porsche Cayenne Turbo S E-Hybrid Coupe review, test drive
2022 Porsche 911 Dakar image gallery
4828 Views|1 year ago
2023 Porsche 911 GT3 RS image gallery
6264 Views|1 year ago
Porsche Taycan Turbo S vs Panamera Turbo S vs 911 Turbo S...
2620 Views|3 months ago
2022 Porsche 911 GT3 RS video review
10472 Views|1 year ago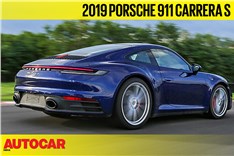 2019 Porsche 911 Carrera S video review
13914 Views|4 years ago