The Leaf won't be cheap when it launches in India by end of this year. Nissan says it drives as well as a regular car. We decide to take it for a spin.
Even if you aren't a fan of electric vehicles, you'll know this one. The Nissan Leaf is one of the pioneering EVs of modern times and is the world's largest-selling, highway-capable electric car, with Nissan selling over 4 lakh units of it, up until March 2019.
First unveiled in 2010, the Leaf was sold in many markets around the world; India was to get the car, but the company deferred the launch and will now bring this, the second-generation car, here, sometime towards the end of this year. The new Leaf is roomier, faster and has a better range too. It's also cheaper than the outgoing car, but being an import, expect a sticker price of about Rs 40 lakh; that's not cheap but Nissan does promise a more complete motoring experience.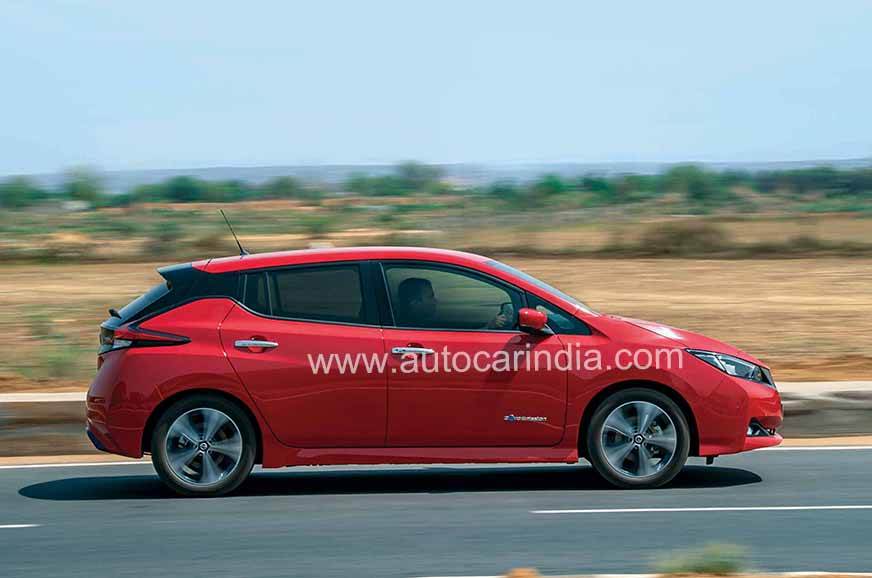 A lot has been done to make the Leaf stand out from a conventional car. The wedge shape is alluring, especially in red. The headlights flow neatly into a faux-grille area – a black translucent panel that has neat pyramid-like structures beneath. Around the side, the Leaf gets a floating roof and a blacked-out rear section.
Culture shock
If your expectation of EVs is based on what was on sale in India so far, be prepare to be very surprised. Nissan is yet to finalise trim and features for the India-spec car but we can expect it to get a fair bit of kit like six airbags, ABS, a Bose sound system, electronic climate control, electric seat adjustment, leather seats, power windows, central locking and a 7.0-inch touchscreen with Android Auto and Apple CarPlay. Given that the connected car experience has already started in India, Nissan could offer its full connectivity suite which includes remote diagnosis and pre-cooling the car via a smartphone; as well as Amazon Alexa and Google Assistant control.
On the inside, the dash is quite functional and fairly conventional. The only giveaway to the car's alternate propulsion system is the gear selector, which is a small knob with a joystick-like movement; the pattern isn't intuitive but there is a small legend printed just ahead along with a position indicator too.
e-pedal switch alters engine braking intensity.
The quality of the switches, door pads and dashboard are all quite acceptable if you think midsize sedan; but you'll be disappointed to not find the finish and luxury you'd normally expect from a car that costs Rs 40 lakh. The premium paid, however, is not for a luxury car but for the extra attention it will get you – and for the alternate propulsion system that's billed to be future of the automobiles.
The seats are comfortable and supportive, room at the front is decent and the seating position is quite high (because you sit above the batteries) but despite this, you have enough headroom. At the rear, it's safe to say that no hatch in India feels so big. Legroom is very good for an average-sized adult and headroom is generous too. Plus, you can also seat three people in reasonable comfort, although the middle passenger will have to contend with a centre tunnel.
IP indicates all important range.
Amped up
Having tested a wide variety of EVs, we know range anxiety is a real thing, and so we made sure we were near available charging points. The infrastructure is sparse today, but a few companies have started offering space for public chargers –like DLF which let us use the facility at DLF Cyber City for our test.
We used about 70 percent of our charge in 87km, and this included a lot of hard acceleration runs (timing), a lot of stationary time with the AC on (cameramen need time to shoot the insides) and very little use of the Eco mode.
Unlike the exteriors, the dashboard layout and styling is straightforward and conventional.
This, of course, is far from ideal and you should get more; our full road test will give us a better idea of the range.
As for motive power, there are two powertrains on offer – one with a 40kWh battery system (the one we drove), with an EPA cycle range of 241km, and the other with a 62kWh battery and a promised range of 364km. The 40kWh system is the version that's likely to launch here; it has a 150hp motor that puts out 320Nm of torque from 0-3283rpm. Yes, zero. Electric motors develop max torque right from the word go, and thus from behind the wheel, the Leaf feels like every other electric car, very quick off the line, followed by linear acceleration. While the initial burst is very strong, it's not really dramatic. And even though its claimed time stands at a quick 7.9sec for the 0-100kph dash, it doesn't really feel all that fast due to the lack of any aural drama.
Gear selector has joystick like movement.
Lift off the pedal and the motor acts like a generator, sending charge back to the batteries; this helps with range and also slows the car down. It's calibrated to feel close to the slowdown of a conventional car during engine braking. Move to B mode and the effect is stronger. However, it is in e-Pedal mode that it's at its max, where the car also uses the regular friction brakes to come to a full stop. The effect in this mode is dramatic enough for you to drive around ignoring the brake pedal and using just the accelerator most of the time. However, I found it to be a little too much in certain start-stop traffic conditions. Ironically, the brakes that feel unservoed otherwise are best in e-Pedal mode.
The Leaf ride is good despite the stiff suspension necessitated by the car's heavy 1.5-tonne weight, and apart from some up-down clunkiness, ride on our roads was good. The light steering is great in traffic, and because of the lower centre of gravity (thanks to the weight of the batteries placed low down), you can fling the car around with some level of confidence; just don't expect hot-hatch levels of grip from the 'efficient' tyres.
Motor and controller under the hood.
At the end of the day, the Leaf feels pretty much like a conventional car. The ride is good, it's got all the creature comforts you'd expect, and the space is more than adequate too. Of course, being an import, it isn't going to be cheap, but the real issue will be its range. For now, charging points are few and there isn't a standardised fast-charging plug that can be used by all cars. A home charger would be a must then, but Nissan should consider the 62kWh battery – a potential range of 360km would be far more practical in our environment.
Factfile
Price
Rs 40 lakh (estimated)
Length
4480mm
Width
1790mm
Height
1540mm
Wheelbase
2700mm
Kerb weight
1490-1520kg
Motor type
Synchronous
Power
110kW at 3283-9795rpm
Torque
320Nm at 0-3283rpm
Battery type
Lithium-ion
Battery capacity
40kWh
Range
241kms (US EPA)
Charging time
16hrs (3kW) / 8hrs (6kW) 40min (quick charge)
Nissan Qashqai image gallery
7822 Views|3 months ago
Nissan X-Trail image gallery
9946 Views|3 months ago
Nissan Juke image gallery
6176 Views|3 months ago