The new X5 has grown larger, in both size and the breadth of its abilities. But then it also comes at a hefty price.
What is it?
The X5 was BMW's first SUV, nee SAV (Sports Activity Vehicle in BMW speak) and it set the tone for models of the type. Genuinely sporty and surprisingly versatile, the X5 has been a favourite for keen drivers and luxury buyers for long. In India too, the X5 has had a good run over the three generations yet. The fourth-gen X5 is out and it marks a slight shift in focus for the model; there's a greater emphasis on luxury than before. If that's good news or bad and how the latest X5 fits into the India scheme of things is what we're going to find out.
New iDrive touchscreen has a customisable home screen.
What's it like on the outside?
The new X5 is bigger than you think. Unlike the X3, which looks visually larger than its predecessor, this new 'G05' X5, from a distance at least, looks much smaller than the outgoing 'F15' X5, despite it being 36mm longer, 19mm taller and a solid 66mm wider. In fact, you might mistake the X5 for an X3 or even an X1, up until the point it pulls up next to you.
This is because of its design, which features sharper lines, tighter skinning and some exaggerated details. The most controversial of these is the enormous chrome-heavy, single-piece kidney grille, which absolutely dominates the front end. From this sprouts a pair of slimmer, more angular headlamps – now with the electric-blue signature of BMW's Laserlight high-beam system (which gives a throw of 600m) – and, of course, the new-age, C-shaped take on BMW's LED corona ring DRL signature. The waistline crease flows into a pronounced haunch over the rear wheel, adding some muscle, and this xLine trim looks far more elegant than the M Sport version, which is currently only available with the petrol engine.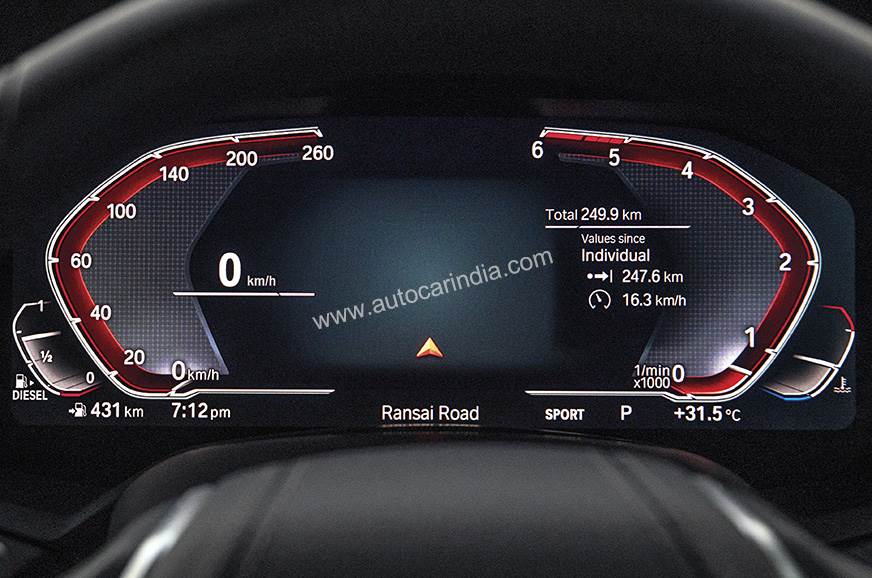 Stylised digital dials look cool but hard to read on the move.
Some of us aren't fans of the way BMW has abandoned the classic L-shaped tail-lamp signature for a more generic, rectangular look, but we like that they've stuck with the trademark split tailgate. As for some perspective on just how big this car has gotten, look at the wheels – they have a decent amount of tyre sidewall and don't look that big, but they're 20 inches in diameter. A few years ago, this would have been the largest size; now it goes up to 22 inches. And as for the stance, you can go from jacked-up off-roader to hunkered-down M car at the flick of a switch, thanks to the two-axle air suspension new to the X5 (previous cars only had it on the rear axle, so you couldn't vary the ride height). As ever, you get different-sized front and rear tyres, with the ones at the rear being almost comically wide, with a 305 section – the same as a Lamborghini Huracán!
What's it like on the inside?
The latest BMW X5's greater dimensions have, naturally, translated into more interior space. The 42mm increase in the wheelbase to 2,975mm can be easily felt as soon as you slip into the back seat and stretch out, but the even greater sense is of width. The previous X5 was not a narrow car, but in the new one, it feels like there's a chasm between you and your fellow passenger. It's a comfortable back seat too, but some might find the backrest a bit too upright, and it's not adjustable. You can flip it down to free luggage space of course, and if you do, you'll find the already vast 650-litre space expanding to 1,860 litres, and a really cool motorised luggage cover that whirrs out from its deployed position to under the floor when not needed. What you won't find anymore are the pair of tiny rear jump seats – they have been left out of the India-spec car this time, likely to differentiate it from the upcoming, three-row X7. What you do get, happily, is a space-saver spare tyre.
Cabin quality and ambience now almost at 7-series levels.
Back to the cabin, and more than the outright comfort, it's the ambience that's taken a quantum leap. It's not a stretch to say this xLine variant is approaching 7 Series levels of luxury. Thick bars of dull, unvarnished wood veneer sit on the dashboard, central console and doors, and these are framed in brushed aluminium, which you'll also find the door handles are fashioned from. The 'Vernasca' leather upholstery, available in this cream colour, as well as tan, brown, or black, is wonderfully soft, and there's even double-stitched leather on the dashboard. The front seats (powered, with a memory function, of course) are big and plush, with a wide array of adjustments, including shoulder support. There are 12 choices of colour combinations for the LED ambient lighting, which even extends to a panoramic sunroof – Sky Lounge, as BMW calls it – and it looks incredible at night.
Leg and head room are good but what really impresses is the width. Some will find the non-reclining seat back a bit too upright.
There are some things that stand out for the wrong reasons in the otherwise high-quality cabin. Those chrome central AC vents, though incredibly well-finished, appear as an uninspired piece of design in this classy BMW cabin. The mode select buttons feel a little flimsy and are tricky to click properly, especially on the move. Then there's the cut-glass effect on the gear lever, iDrive click-wheel and start button, which has been very polarising. Some find it cool, others find it gaudy, and while on one hand it doesn't smudge with fingerprints like the standard plastic lever, on the other, in bright sunlight, the reflections off it can hit you right in the eye.
Crystal-effect gear selector finish divides opinion.
Speaking of points of contention – there's the new all-digital dial system. While the previous generation of this system (in the 5 Series, for example) mirrored BMW's classic twin round dials, this new one, which you'll find on all upcoming Bimmers, adopts a more sci-fi-feeling angular look. This would be fine if it functioned well, but the numbers aren't as clear to read, the tachometer spins counterclockwise, and when you switch to Sport mode – the tacho needle disappears entirely! Plus, being a screen, they've tried to cram it with as much info as possible, which would be helpful, but it's small and hard to read, which means it's more distracting to try and find it. The navigation map between the dials, for instance, is monochrome, not full colour, so it blends in rather than standing out. It just seems unintuitive; I wish there was at least the option of returning to the classic dial layout.
Ambient lighting extends to the panoramic sunroof as well.
We can't talk tech without mentioning the latest version of BMW's class-leading iDrive infotainment system, which is presented here on a crisp 12.3-inch touchscreen. Apart from touch, it can be operated by the traditional click-wheel, the touch pad, voice commands and gesture control as well. The tile-based home screen has been replaced with a more tablet-computer-like clustered system, which takes a little getting used to, but ultimately works better at giving you all your vital data at once; and it's customisable. You also get readouts for real-time power and torque usage, G-force, pitch and yaw angle, and other off-road parameters. There's also the 360-degree camera with the fun 'augmented reality' system that puts a 3D model of the car in a camera-generated depiction of your surroundings. And if you opt for the M Sport trim, you'll get a head-up display too.
No third row, but a space-saver spare.
The equipment list on the whole, in fact, is vast and impressive. Apart from what we've already discussed already, you'll find the likes of wireless mobile charging, hands-free parking, four-zone climate control, a 16-speaker Harman Kardon hi-fi, soft-close doors, paddleshifters, adaptive dampers, a powered tailgate with remote opening, auto stop-start, Apple CarPlay (but no Android Auto) and eight airbags. Interestingly, there is only one conventional USB port, but there are three of the new-generation USB-C ports – one at the front, two at the rear – so chances are you'll have to buy a new cable to make the most of them.
Monstrous 305-section rear tyres.
What's it like to drive?
As we've said already, the new X5 is bigger than you think, and while that may apply to its appearance, it isn't quite as true from behind the wheel, as it was with previous X5s. It's a trend we're seeing in most new BMWs – a general 'softening' of the driving experience to cater to a wider audience and offer a more luxurious experience, but here, much of the change can be attributed to one mechanical difference – two-axle air suspension. Previously, X5s only offered air suspension at the rear to aid comfort, but now that it's at all four wheels, it's allowed for much more. For one, the ride height can be raised or lowered (in five steps) for varying situations, but the main benefit is a far more luxurious ride. Sure, the massive wheels and tyres can cause a bit of lumpiness over bumps, but overall, the ride is incredibly plush. If you find it too floaty in Comfort mode, switching to Sport gives it a good balance.
265hp straight-six smooth and punchy.
Sound insulation, too, is far improved, but again, it's those big tyres that play spoilsport a bit over expansion joints. The steering has been blunted and softened too, to the point that it is incredibly light at low speeds. It's almost enough to make you forget this car's mammoth dimensions; almost.
So it's great at low speeds, but the contention arises when you're driving for enjoyment, and here's where some of the razor-sharp agility of previous X5s is missing. The steering does feel a little mushier, and even in Sport mode there is noticeably more body roll; you really do feel the X5's size in the corners. But perhaps I'm being a bit harsh because it still handles better than most 2.1-tonne SUVs, with perhaps only a Porsche Cayenne being able to break the laws of physics better. Those massive tyres also afford it prodigious grip, and, despite the AWD, it always has a distinctly rear-biased feel.
Grille closes when cooling isn't needed.
Whether you're barrelling up a mountain road or weaving through traffic, you'll love the straight-six diesel engine (there's a straight-six petrol too) and its 8-speed automatic gearbox. With 265hp and 620Nm of torque, it's got more than enough pulling power to compensate for the X5's size and weight. It's not just effortless, it's downright quick, with 0-100kph coming up in only 6.55sec. And with the quick-acting ZF gearbox (it seems to get better with every new car launched) doing its thing, kickdown acceleration is equally brisk. The good news is the characteristic (and quite thrilling) shove in the guts typical of BMW's diesel engines is still there. Take it out of Sport mode and – apart from a little bit of hesitation if you catch the gearbox off guard – it is smooth and refined, as is befitting this new, more luxurious X5.
Should I buy one?
Still not an all-out off-roader, but now you can raise it higher for the rough stuff.
The X5 starts at Rs 72.90 lakh (ex-showroom, India). This xLine variant, though, will set you back
Rs 82.40 lakh, putting it dangerously close to seven-seat luxury SUVs like the Audi Q7, Volvo XC90 and even the Mercedes-Benz GLS. It stings even more when you realise this isn't a full CBU import; it's assembled in India. However, you have to consider a few things, like how much more this car gets you. Not only is it more spacious, it's more comfortable, thanks to the air suspension, and far better appointed and better equipped now. Then there's BMW's updated SU – sorry, SAV – range. The X3 has grown, you also have an X4 now, there will soon be an X7 and below that a new X6; all the models have been moved up the ladder. Sure, it's not quite the ultimate driving machine that its forebears were, but it's still pretty damn good to drive – and that can be forgiven for how much better a luxury SUV it is. It's gotten more expensive, but it's also a lot more car for the money.
Click here for BMW X5 prices, reviews, videos, images and more
Click here for BMW India models, prices, reviews, videos, images and more
BMW X5 facelift image gallery
13163 Views|10 months ago
2019 BMW X5 image gallery
17376 Views|4 years ago