It may cost around 20 lakhs short of a crore and it may be relatively small, but there's absolutely nothing junior about BMW's M2 Competition.
The recipe's an old one. Take one compact car, shoe-horn an oversized engine under the hood, stiffen-up the chassis, beef-up the suspension, fit massive tyres... and hey presto, you have something that's seriously fast; and if you do a good job, seriously fun, too. AC Cobra, Mini Cooper, 911 turbo – the list is endless. And that's exactly what BMW has done with the M2 Competition – installed the engine from the M3 under its hood. A good recipe doesn't, however, a Masterchef make. No sir, no way. To achieve perfection or anything near it, you need to know how to balance things out, smooth out the rough edges, and get everything working in unison. And then to take it to the next level, you need to sprinkle a bit of magic dust over it. So just how good is it?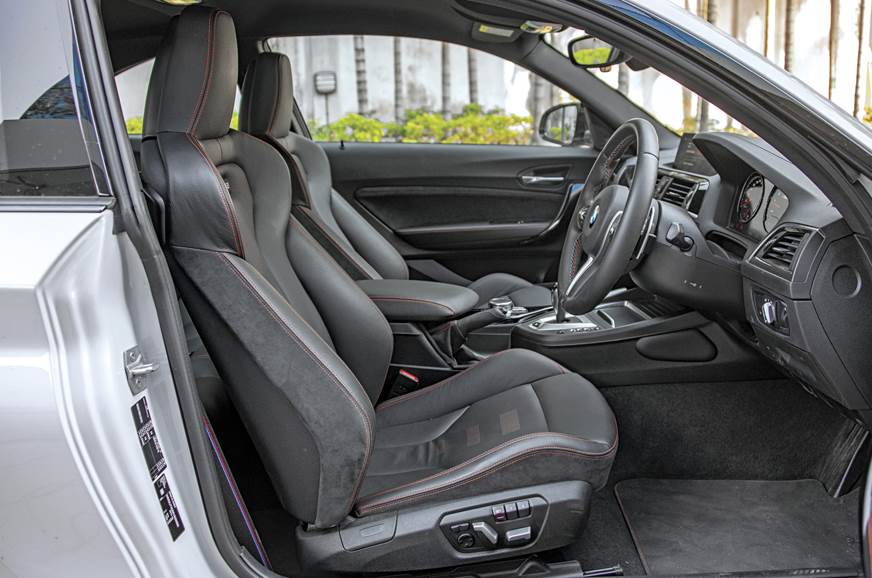 Driving position reminiscent of previous-gen M3.
COOKING UP A STORM
First up, let's take an in-depth look at exactly what we have here. The 'oversized' engine is a logical place to start. Pop open that muscled hood and you'll see the twin-turbo engine (not twin-scroll) from the M3 or M4. The straight-six (S55) bulges out as if to suggest it is a tight fit, and puts out a strong 410hp, giving the M2 Competition a power-to-weight ratio of almost 250hp per tonne; not too far removed from cars like the Mercedes C 63 S that are around 300hp per tonne and cost around Rs 60 lakh more. Power is sent to the rear wheels via a twin-clutch gearbox (M-DCT in BMW speak) and before it gets there it has to go through an Active M differential. To improve the grip up front you get a U-shaped carbon-fibre strut brace, and at the rear, there's a rose jointed suspension (meaning no rubber bushings) to help deliver better road feel.
Rear seats are useable, but only for short trips.
The M division sure has given it a suitably aggressive look too. It has the requisite girth, that's for sure, and what I particularly like is that the designers have slapped on loads and loads of muscle – just look at the fenders and those haunches. And then there's that angry grimace up front which, although a bit overdone, really does get the message home. The chin section, however, is all about airflow; check out that integrated front wing at the bottom, and the 'L'-shaped air blades further up. What I like best, however, is the rear. The wide hips, the road-roller-like 265-section rear wheels and the transversely located exhaust can.
Twin-turbo six pulls past 7,000rpm.
HONEY, I SHRUNK THE CITY
It's a cold morning when I head out of the city, and the ride immediately feels stiff. It's not bone-jarring or terribly uncomfortable, but there still is a bit of up and down movement on Mumbai's dimpled and pothole-marked roads. That said, once you put on a bit of speed, the ride becomes a lot more absorbent. What also impresses is that, unlike a lot of other stiffly sprung cars, the M2 Competition doesn't skip over bumps or feel like the wheels are not in contact with the road at all times.
Although I'm only using 4,500rpm or so to let the car warm up, the M2 just hurls me forward with ever-increasing energy and a deep mechanical snarl from under the hood. And the responses are so good that it always seems to be straining at the leash.
No adjustable dampers here.
The 16.8km-long elevated Eastern Freeway that leads out of Mumbai is devoid of traffic, and this means I don't really need to slow down for many of the tighter corners along its length. What's immediately apparent is that the steering is very responsive off the centre line and what stands out is that it feels super precise when I turn in.
Before I know it, I'm on the outskirts of the city, where speed breakers rule. I take all of them at an angle initially. But what I realise as the day wears on is that as long I'm slow and don't 'hop' the car over in a clumsy manner, I can easily make it over even the large ones.
Mirror design good for ghat roads.
RUNNING FREE
As the outskirts give way to the wide-open highway, I feel more and more of the explosive force that resides under my right foot. The thing with this engine is that it always seems to be 'on it'. There's loads and loads of torque from way down and that means it's always tugging at the leash, wanting to yank you forward. Because it's a straight-six and BMW has done a brilliant job with setting up the turbos – it just loves to rev. So put your foot down after around 2,500rpm, and it just yanks you forward instantly. And then because the revs are always rising and it keeps pulling harder and harder, that all-important feeling of constant acceleration is always there. It actually pulls hard all the way past 7,000rpm – that's high for a turbocharged car – and dispatches 0-100kph in just 4.38sec and 200 in 14.46sec, which is surprisingly quick, according to our Vbox timing gear.
What also puts a smile on my face is stability in a straight line. The last thing you expect of a car with a relatively short wheelbase is rock-solid stability. Still, on a highway, this feels as stable as something that has 3m between the wheels. What betters the experience are the brakes – they're sharp, have fantastic bite and, when cool, allow you to all but pick your braking point from way off.
As I turn off to drive some ofthe best mountain roads around, what I pay attention to next is the steering. Yes, there is a huge amount of accuracy here and the M2 turns in like it has a massive front wing, which I find a bit unsettling at first. Still, what Imiss despite all the accuracy is some real feel. That's because, normally, along with feel comes a whole lot of extra confidence.
That apart, the M2 really does put a smile on your face when you get to grips with the short wheelbase. On longer/faster corners you have a bit of understeer coming in; but get off the brakes and back on the gas, and it straightens up beautifully which allows you to use BMW's MDM or stage one mode of the ESP with quite a bit of confidence. You can almost feel that active diff locking up early and allowing you to add more and more power on the exit.
You carry either a spare or luggage.
Things get a bit more exciting on the tighter ghat roads. Now normally, steering with your shoulders is all very well, but here, because the M2 changes direction with the aggression of a velociraptor, you have to drive more with your wrists. What you also have to be ready to do is calm it down. Once you learn to do that, carving up the mountain roads, with the fat tyres struggling to put the power down at the rear, is a thrill a minute.
THE ACTIVE M DIFFERENTIAL
The Active M diff is an electronically controlled multi-plate limited-slip differential that works off data such as the car's steering angle, accelerator position, brake pressure, engine torque, wheel speed and yaw rate. So, how does it help? The wheels on the outside of a curve travel a greater distance than the wheels on the inside. To achieve this on a powered axle, a differential is fitted between the wheels. However, as in an off-road scenario, if you want to transfer more power to a wheel that has more grip you need a locking diff. On the Active M Diff degrees of lock can be varied from 0-100 percent; 100 percent being when both wheels are 'locked' and rotate at the same speed. So, with a diff lock, the driver of a powerful car drive off or accelerate out of a bend at a much higher speed than would be without one.
BMW Active M Differential
If the driver increases the acceleration even more, after a certain point, the increase in slip angle results in powered oversteer. This delicate transition from grip to power oversteer is strongly impacted by the triggering of the diff lock, and BMW says it put great effort into ensuring that the locking effect is soft, easy to sense, and has an easy-to-pick-up engagement point. This allows the driver to judge the traction at of the rear axle better, allowing him to measure the amount of acceleration needed better.
To ensure quick reactions, the full locking power of 2,500Nm is available within just 150 milliseconds.
Exhaust can placed sideways looks cool, especially the four stubby pipes.
WHY YOU SHOULD BUY ONE
The M2 even offers a degree of practicality. It's a plus two, so you can travel four up for short distances, there's a fair-sized boot (albeit with a massive tyre in it) and if it has to be your only car, you can even use it every day. You can't really be chauffeur-driven in it, not in the traditional sense at least, and it won't as comfortable over bumps as a 530d, but, if you have to have one car to do everything and want to get something more exciting than a boring SUV or a luxury sedan, this packet of dynamite could be it.