With the facelift, the big Rangie gets an even greater dose of tech and luxury, and the long-wheelbase version remains the one to pick.
What is it?
Though Range Rover is the name of Land Rover's luxury-focused sub-brand that includes the likes of the Evoque, Velar and Sport, Range Rover – no suffix – is also the name of the company's flagship SUV. Some have taken, incorrectly, to calling it the 'Vogue' to set it apart, but that's actually just the name of its base variant. The idea, one would assume, is that with the lesser models, you have to specify which one you're talking about. But when you say 'Range Rover' and nothing else, it can only be one car. But that's enough etymology for today.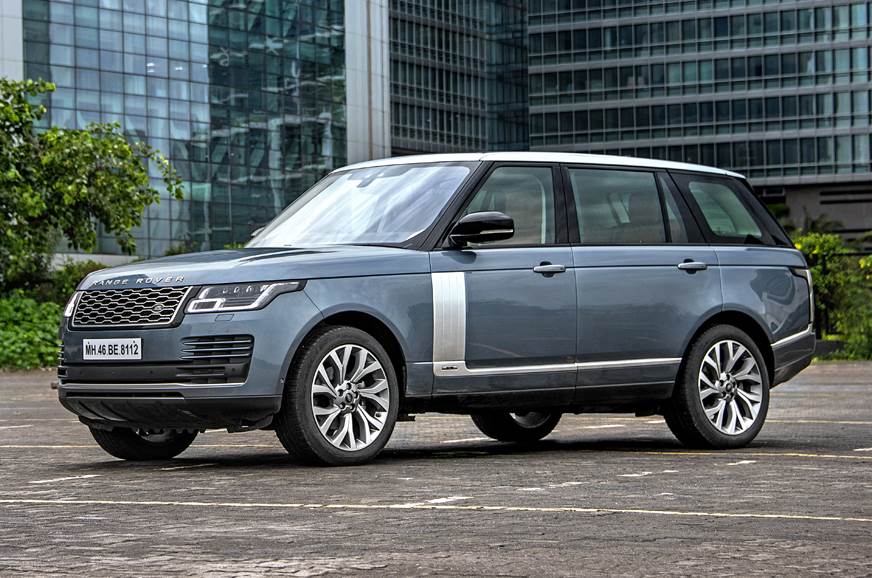 On the outside, you can tell it apart from its more plebeian stablemates by its vertically stacked tail-lamps, the more elegant grille and air dam treatment, and the tall, gill-like vents on the side that end in a horizontal character line that runs all the way to the tail. But what really makes this example stand out is its size, because it's the long-wheelbase version. At 5.2m long and 3.1m wide, it has a gargantuan footprint on the road, and a presence to match, and if you lift the air suspension to its maximum height, you'll leave most hatchbacks and sedans below window level; talk about the cream rising to the top! In fact, with this 2018 facelift, Land Rover India now only offers two variants in standard-wheelbase guise; the remaining seven are all stretched. So imposing is the size of the thing, most might miss the few changes that came with the facelift – slightly different bumpers, new wheel designs (21-inchers that, on this car, look like they could go a size up still), and sharper headlamp graphics with optional 'Pixel LED' laser beam elements.
What's it like inside?
Thankfully, they've kept things the way they should be in this no-suffix Range Rover, at least in the way this example is specced. Leave the carbon-fibre trim for the Range Rover Sport; this one is all about acres of wood veneer and large, flat, leather-wrapped surfaces. It's about being able to adjust your seat 20 different ways, have it cooled and heated, watching movies in the back seat with your personal set of headphones, about tuning the outside world out. It does all those things really well and has been embellished with small but neat touches – like the new brushed metal window switches and glossy plastic steering controls – that bring a bit of modernity without taking away from that classic luxury feel. That said, perhaps it's just this choice of trim, but the wood veneer on this car does look and feel a bit unconvincing.
What doesn't feel 'classic' at all is the new InControl Pro Duo infotainment with its two touchscreens that take up prime real estate on the dashboard. At first glance, you might think that's a bit like fitting an old cathedral with neon lights, but that's a small price to pay for technological advancement. And boy, does it feel advanced. The graphics are crisp and smooth, and it functions really well; there's even a set of context-sensitive physical dials on the lower screen so that you can use some functions without taking your eyes off the road. We only wish they took the opportunity to equip it with Apple CarPlay and Android Auto.
Although this is the long-wheelbase version, what you see here is far from the highest spec you can apply to the back seat. The top SVAutobiography version, for instance, gets two individual chairs with memory function, wrapped in quilted Poltrona Frau leather, have a full slide and recline function with a fold-out ottoman, are heated and cooled and will massage you, and are separated by a centre console with a built-in champagne fridge. Oh, and the doors can be power-closed by pressing a button. This Vogue SE model doesn't have those, but it's hardly what you'd call roughing it, either.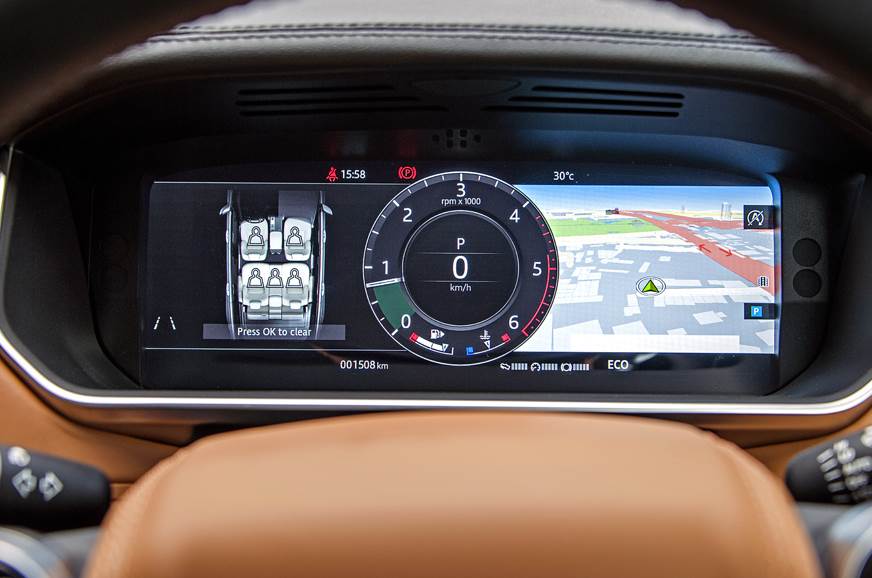 It's a bench seat with reclining backrest, and a huge central armrest that folds down and you still get rear entertainment screens. Legroom? Well, let's just say we usually describe the rear seats of big luxury sedans as being akin to Business Class airline seats. This is First Class-level space. And, if you're the type who's wondering why such a large SUV doesn't have a third row of seats, this is definitely not the car for you. Where those seats might have theoretically been fixed, you get a vast boot. The car can be lowered at the push of a boot-mounted button to 'Access Height', but even then the loading lip is very high off the ground. The Range Rover trademark split tailgate remains, with the power-folding lower lip doubling as a picnic bench. What's nice though is that you get a flat floor and beneath that sits a full-size spare wheel! A full-size spare is good, but best of luck to your chauffeur for changing a 21-inch SUV wheel.
What's it like to drive?
That chauffeur will also have to spend some time getting used to driving the long-wheelbase Range Rover because it's so huge, you have to recalibrate the way you drive. Initially, since the car is so tall, you'll find yourself checking your mirrors far more often to make sure nothing's too close to you, and when taking sharp turns, you're always conscious of the immense length that stretches behind you. In time, however, you get used to it, but you simply cannot drive it the same way you would drive any other car. Thankfully, the steering is light and easy and takes all the effort out of redirecting the behemoth.
Handling? Was there even a question of it? Unlike the sportier setup of the air suspension in the Range Rover Sport, this one feels proper luxury-car soft, and that leads to lots of body roll; but let's face it, you will probably never take a corner in anger in a Range Rover long wheelbase. What you get then is a pillow-soft ride and quite a bit of that floaty feeling. The good bit is, because it's an SUV, despite that long wheelbase, there's never the fear of grounding on large speed breakers, like you might get with some conventional limousines. And though there is a bit of gentle movement at low speeds, it stays impressively composed as the speeds rise.
Our test car is fitted with the 258hp/600Nm diesel V6 (a V8 diesel, and supercharged V6 and V8 petrols are also available), and frankly, it feels powerful enough for a car this big. Again, this is not a car you're going to want to drive hard or fast, and with that in mind, you won't be left wanting. If you simply must have more, however, perhaps choose one of the other engines. Once you get past a bit of hesitation and jerkiness from the gearbox at lower speeds, progress is really smooth, and though it remains really hushed for the most part, when you do hear this engine, it sounds surprisingly nice.
Should I buy one?
Earlier on I used the term 'conventional limousines' because truly, what the long-wheelbase Range Rover is, is an unconventional limousine, and that's really how you should view it. It's a Jaguar XJ L on stilts that sacrifices driving pleasure for a go-anywhere ability, and since you're being chauffeured anyway, isn't that more important? You may never have to ford a small river on the way to your farmhouse outside the city, but isn't it comforting to know that you could?
All Range Rovers are on the expensive side, and though this car doesn't have any direct rivals, it still feels a little steep for what it is. Its price ranges from a not-inexpensive Rs 1.87 crore (ex-showroom) for this LWB diesel V6, all the way to a Bentley Bentayga-rivalling Rs 3.88 crore for the LWB SVAutobiography with the supercharged petrol V8! It does, however, have more room in the back seat than the Bentley, and, arguably, better off-roading ability, should you ever need it. Let's face it, despite sharing its name with the rest of the model range, the Range Rover really sits above it, in a rarefied class of its own. And while it can get take you just about anywhere, with its price, size, space, and luxury, it's more about making sure you've arrived.
2022 Range Rover image Gallery
7678 Views|11 months ago
2021 Range Rover image gallery
6073 Views|2 years ago
Range Rover facelift, P400e image gallery
5933 Views|4 years ago