Come 2019, Hyundai's Kona EV will go on sale in India. Our colleagues at Autocar UK have just driven one to give us an early impression of what to expect.
WHAT IS IT?
While the Kona Electric is not Hyundai's first electric model in its international line-up, the SUV will be the Korean brand's first EV in India, when it arrives in mid-2019.
EVs abroad largely fall into two categories – those that are built from scratch as electric vehicles (read: Tesla) and those that have their standard internal combustion engines replaced with batteries and an electric motor.
The advantage of purpose-built EVs is that they make good use of the packaging benefits that come with a compact, relatively simple powertrain; and they also tend to have higher-capacity batteries. An adapted EV, meanwhile, suffers all the same packaging disadvantages as a conventional car and will typically have a smaller-capacity battery.
The Kona Electric car falls smack between these two types, as it isn't quite a dedicated electric vehicle. While there are petrol and diesel variants of the Kona that share this platform, an EV model was always part of Hyundai's plan. The most apparent manifestation of that is the location of the batteries. They're spread out across the floor beneath the passenger compartment, just as they are in Tesla cars. This is precisely where you want them, because the car's centre of gravity is kept close to the road and boot space is left well alone. Plus, with the batteries spread out like that, there's room for far more cells than could be squeezed into an adapted car.
Armed with the larger-capacity 64kWh battery, the Kona Electric can cover 483km on a single charge (the cheaper model – which is expected to arrive in India with a 39kWh battery – has a range of 312km). To put this into perspective, Tata claims that the Tigor EV that has been supplied to various organisations in India is capable of going 142km on a single charge (as certified by ARAI).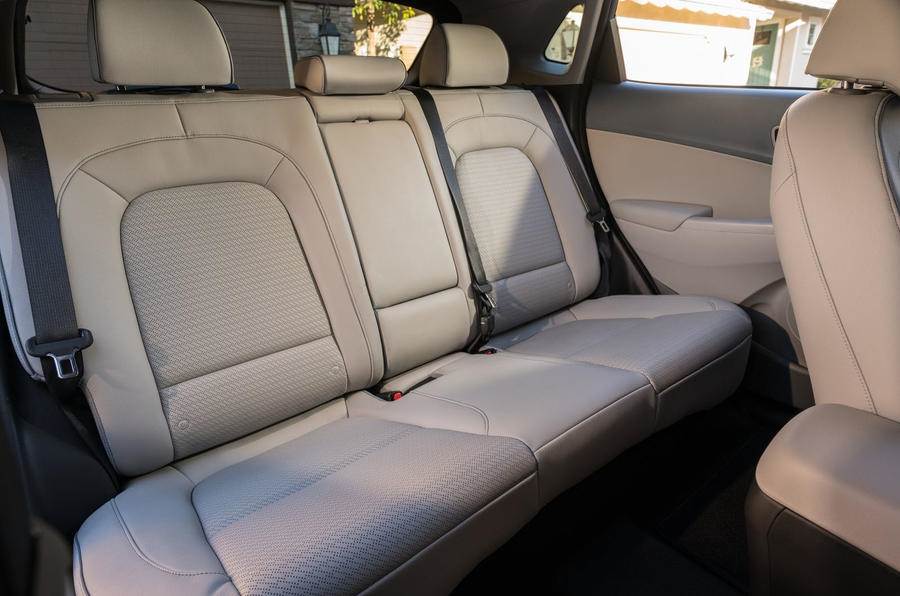 In look, the Kona EV defers to its internal combustion engine siblings in its details. The traditional mesh grille has been done away with, and the panel that takes its place houses an opening for the charging socket. It has more aero-friendly wheels too. Call it a small SUV or crossover; it's a smart looking vehicle. As for the interior: there are some hard and scratchy plastics inside, but feels very well built. Interior space is quite good, considering the car's compact dimensions – which make it quite nice around town.
WHAT'S IT LIKE TO DRIVE?
In some ways, the Kona Electric is a bit like a purpose-built EV; but in another ways, it's much more akin to an adapted electric car. For one, there is torque steer – flatten the accelerator pedal at low or medium speeds and the car drags itself left and right across the width of the road, recalling the sort of frantic on-boost behaviour that made certain performance cars of the 1980s and 1990s such a handful.
This handling trait is a very long way from being dangerous, but it can take you by surprise. It happens in every one of the Kona Electric's driving modes, too – even the most sedate Eco mode. Wheelspin away from the line is another problem – it's all torque-related. The Kona Electric's motor puts out 395Nm of torque; all to the front wheels, and it does so instantaneously. The solution, of course, is to drive with a lighter right foot, but working around a problem doesn't mean it isn't there.
The simple fact is the Kona's chassis doesn't feel up to the job of delivering that much electric torque to the road through a single axle. In that sense, it's a bit like an adapted EV.
Feisty torque steer and wheelspin aside, this is a likeable car. There certainly is an eagerness to the chassis – a keen balance, even – that you simply don't expect to see in small EVs. It's far less flat-footed than the Renault Zoe, for instance. It also feels lighter than its 1,685kg, whereas many electric cars feel conspicuously heavy. Below 96kph or so, the Kona Electric has a brisk turn of pace, which means you can zip past slower traffic quite happily.
There are four levels of regenerative braking, which you scroll through using steering-wheel-mounted paddles, from one-pedal driving to none at all. Regardless of which mode you have engaged, the brake pedal is strangely inconsistent. The steering, too, is afflicted by an unusual tug just around the straight-ahead, as though your passenger is gently pulling on the wheel.
SHOULD I BUY ONE?
When it arrives in India in 2019, the Kona EV will be the first vehicle of its kind and will sure have a lot of novelty value. What it won't be, though, is cheap. Hyundai does have plans to assemble the model in India, but even so, prices will be close to the Rs 25 lakh-mark; which is a lot of money for what is not a lot of SUV, going strictly by size. Then again – it's not intended to be a volume seller. Hyundai expects sales of around 50-60 units a month.
If you are enticed by the prospect of going electric, the Kona EV does make for a model to look out for; because if our first impression is anything to go by, the Kona Electric is that rarest of things – a small electric vehicle with character.
Also see:
Hyundai Kona Electric first look video
Hyundai Kona Electric India launch in 2019
Hyundai Kona Iron Man special edition announced
Six new Hyundai models by 2020