Always fancied a Lexus sedan? The likeable ES 300h could be the car you've been waiting for.
What's it like to drive?
The Lexus ES 300h uses a hybrid powertrain that comprises a 160hp, 2.5-litre petrol engine and a 105kw (140hp) electric motor. The combined max power of the hybrid system is a decent 205hp. The electric motor draws power from a 245V nickel hydride battery pack positioned behind the rear seats. While the setup and power output is same as the Toyota Camry Hybrid's, the Lexus runs a different ECU for its powertrain. 
The ES 300h can run in pure electric mode, provided there is adequate charge in the battery. This EV mode allows near-silent progress but the all-electric range is limited to a few kilometres and also requires feather-light throttle inputs. It's when the engine kicks in that you can tell where Lexus has spent its money. Noise levels remain admirably low at all times and, even when you drive in an enthusiastic manner, the engine note is never loud.
Lexus claims a 0-100kph time of 8.5sec for the ES 300h, which is respectable. Acceleration is brisk and the ES picks up pace from all speeds with ease. You can also fine-tune the driving experience with the three driving modes on offer – Eco, Normal and Sport. All three modes offer the desired level of performance but this is not a car that eggs you on to drive hard. Rather you'll find yourself naturally adopting a more relaxed driving style in the Lexus. It's a calming car to drive and its easy-going nature makes it likeable in its own way. Still, if and when you do drive it hard, you'll find the CVT gearbox makes the engine sound strained but is also quite ready and responsive to manual shifts at the gear lever.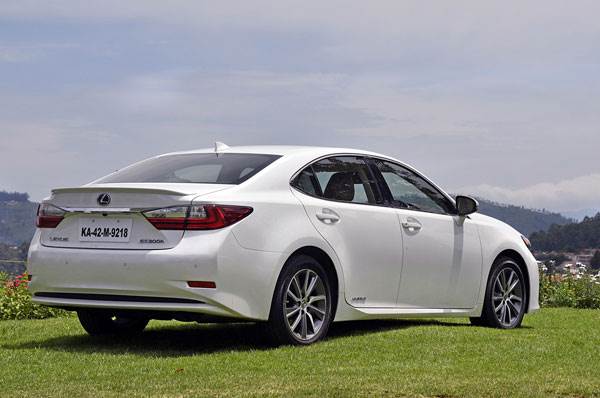 Also, on a quick run you'll find grip to be good and handling tidy. Again, the ES 300h is not the sort of car that you'd chuck into a corner but the average driver will have little reason to complain. For the record, the reworked steering has more weight and feels far more connected than the Camry's unit.
What will be of interest to all and sundry is the ES 300h's ride quality. The suspension is really absorbent and works really quietly too, further adding to the sense of calm in the cabin. There is little of that low-speed firmness, which we've come to accept from European cars, but neither does the ES feel soggy or floppy at high speeds. The overall experience is rather plush. 
Lexus ES 300h facelift video review
10161 Views|1 year ago
2017 Lexus ES300h video review
6524 Views|5 years ago