For the first time, Ferrari's mid-engine V8 is put to the ultimate test that is Indian roads. Can it still deliver the magic?
Ferrari may not sell in massive numbers in India, but there's no denying the appeal of a full-on road test of one of Maranello's most successful new cars, with a full set of numbers and performance figures. How well does it cope with our driving conditions? Can you drive it anywhere and everywhere? And just how much can you push its limits? These and other unique India-related issues are answered, along with our regular set of numbers and measurements. This after all is our 18th anniversary issue, and what better way to celebrate than to lift the bar on performance.
Ferrari may rename its new cars and have a completely unique design for each. But the origins of the 488 go way back, all the way back to a V6-powered mid-engine car known as the Dino. The car that followed, the 308, got a larger V8 and that kicked off Maranello's most successful car line. However,
it was the next car, the 348, that set the template. While the Dino and the 308 had transversely located engines, the 348 was the first one to get a longitudinally mounted engine.
The numeric names of the series have always indicated engine capacity. So, the 308 had a 3.0-litre V8, the 355 was a 3.5-litre engine (the last 5, though, stood for the number of valves per cylinder), and the 360 stood for the 3.6-litre engine.
Thus, the 488 should have been the 39 something, but for its new 3.9-litre (now turbocharged for the first time) car, Ferrari switched to a naming system once used on its older V12s, where the number indicates the volume of one cylinder.
2023 Ferrari Roma Spider image gallery
4494 Views|6 months ago
Ferrari Purosangue image gallery
6793 Views|1 year ago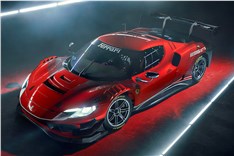 2023 Ferrari 296 GT3 image gallery
8905 Views|1 year ago