We get behind the wheel of VW India's hottest hatch ever and unleash its 192 horses.
Should I buy it?
After spending some time with it, you realise that the GTI is a driver's car, and one of the best ones at that. It is meant purely for the joy of driving.
While I could go on and on about how great a car the GTI is from behind the wheel, it is a bit much from behind the wallet. Yes, this is a CBU, so the build quality is European and the high price also ensures exclusivity (along with the 99-unit batch size), but do you get value for your money? It's difficult to say.
But that's the thing: the GTI is not about value propositions or rational economic decisions. The GTI is about emotions and feelings. It is a car you buy with your heart and not your head. It makes little sense to purchase as a primary car, but if you are is looking to buy a second car to enjoy driving and money is not a concern, there is little to rival the GTI. The Mini Cooper S matches its performance, but is priced at even more of a premium, and the Merc A-class and Volvo V40 are better for conspicuous consumption, but don't offer the same go. It is a car for those who want to enjoy it, not enjoy showing it. It also helps that it manages to strike such a great balance between performance and comfort.
Before you write the GTI off as just another rich man's toy, know that when everything is said and done, every minute spent behind the wheel of a GTI will be a minute of grinning from ear to ear.
Volkswagen ID Xtreme concept image gallery
2484 Views|2 months ago
2022 Volkswagen Virtus image gallery
24009 Views|8 months ago
2019 Volkswagen Virtus image gallery
48098 Views|3 years ago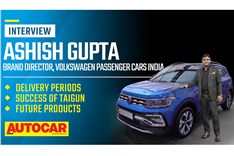 VW's Ashish Gupta on success of the Taigun, brand's futur...
2232 Views|1 month ago
VW Taigun, Skoda Kushaq crash test video
5502 Views|1 month ago
2022 Volkswagen Virtus 1.0 TSI MT video review
7743 Views|4 months ago