It may be a little late to the party, but the latest version of VW's retro hatchback has got the goods.
What's it like to drive?
It's powered by a 1.4-litre TSI turbo petrol motor, but it's not the 121bhp version used in the Jetta; it's the far more potent 148bhp one we've seen in the Skoda Octavia. But unlike the Octavia, which gets only a six-speed manual with this engine, the Beetle uses a seven-speed DSG dual-clutch automatic with paddle shifters. It's a superb powertrain, and thanks in part to the clever gearbox, it can be either smooth and relaxed or highly strung, depending on your mood. Out on the highway, it will sit in seventh at less than 2,000rpm, hopping down to sixth only for overtaking. At lower speeds, the gearbox shuffles through its ratios imperceptibly. Flat out, on paper, it's not that quick, taking 9.2 seconds to get from 0-100kph, but it certainly feels quick enough for most intents and purposes. Just prepare yourself for a somewhat ugly-sounding grumble from the motor when it's near the redline.
What casual and enthusiast owners alike will certainly appreciate are the dynamics. There's a solid, unflappable sensation at any speed, and the Beetle remains planted to the road out on the highway. And apart from a slight clunkiness through sharp-edged bumps, much like the Jetta, the ride quality is just superb over just about any kind of road. The handling is pretty good too. No, it's nowhere near as sharp and entertaining as a Mini Cooper's, and you'll feel a fair bit of roll through corners, but both the steering and suspension are very competent at their job. In fact, it's rather playful, even capable of a little lift-off oversteer if you've got the road for it. All things considered, the driving experience is a vast improvement on the dull and uninvolving previous-generation Beetle, and suits the car's character well.
Should I buy one?
At Rs 29.4 lakh (ex-showroom, Delhi), the new Volkswagen Beetle is priced on the higher side of the luxury hatchback segment that includes not just the Mini Cooper, but also the Mercedes-Benz A-class and B-class, BMW 1-series and Volvo V40. On one hand, you might feel the VW badge isn't strong enough to cut it in this company, but on the other, the Beetle is a style icon like few others. Whether or not it's shaken off its girly image is entirely up to your tastes, but what's clear is that it's grown up as a car in the process. Whatever you think of the looks, it's clear the latest Beetle is more spacious, practical and comfortable, better equipped and nicer to drive than its predecessor. Beetlemania is back and better than ever before.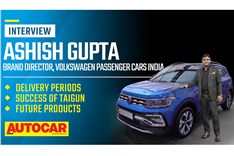 VW's Ashish Gupta on success of the Taigun, brand's futur...
3981 Views|3 months ago
VW Taigun, Skoda Kushaq crash test video
8272 Views|3 months ago