It may be a little late to the party, but the latest version of VW's retro hatchback has got the goods.
What is it?
One of the most recognisable shapes in the world. So deeply engrained in pop culture is the Volkswagen Beetle that anyone, young or old, could pick it out in traffic with merely a glance. And that's despite the fact that this new version has done its bit to move away from the cutesy, rounded look of its predecessor and, of course, the original. The roof is flatter, the tailgate is more upright, the tail-lamps aren't cute little blobs anymore, and at the front, a longer bonnet, wide, chiselled air dam and sharper bumper show its business side. Yes, the signature round headlamps remain, but even they are ringed with crescent-shaped LED running lamps for a little more menace.
You see, the last 'New Beetle' didn't find a lot of takers here in India, and it turns out the looks were one of the reasons why. They erred on the side of effeminate and that limited the car's appeal. This new look fixes that in a big way. Of course, it's far from anything remotely macho, but at least it's a bit more palatable, while keeping its iconic shape intact. Perhaps VW could have specced it with better looking wheels – 16-inchers were chosen in the interest of ride comfort, but their design is just too run-off-the-mill, and seem better suited to a Jetta.
And speaking of the Jetta, that's exactly what the new Beetle is under the skin, believe it or not. This means it doesn't use VW's newer MQB modular platform (seen on cars like the Audi A3 and Skoda Octavia), but instead, the old PQ35 platform; this Beetle has been around since 2011, after all. That, however, should be no bad thing, as we just love the Jetta's solid feel and robust mechanical setup, which should hopefully translate unchanged to the new Beetle.
What's it like on the inside?
There are some very obvious retro touches, particularly the upright dashboard finished in the same colour as the exterior. It houses a tiny novelty old-fashioned glovebox, but the real one sits below it. You'll also like the round, hooded instrument cluster and the rather unique looking door grab handles. Trouble is, that's about where the 'retro' stops, and the rest of the cabin borrows quite obviously from the VW family parts bin, unlike its rival the Mini Cooper, which has a largely bespoke cabin. One borrowed part we're not complaining about is the new touchscreen, which is VW's latest unit. It's crisp, smooth and uses a high-resolution screen, and though it doesn't have its own sat-nav, it does come with Apple CarPlay and Android Auto, which should let you mirror your phone's maps app.
The new shape has allowed this Beetle to be quite practical. Apart from a very large boot, you get loads of room in the front and a sufficient amount in the two rear bucket seats as well; only headroom is a bit tight. Visibility all round is very good too, and it needs to be, because the Beetle is deceptively wide. The car comes with a healthy amount of equipment. Missing in action are electric seats and a rear-view camera, but you do get front and rear parking sensors, leather upholstery, dual-zone climate control, push-button start and engine stop-start, among other things, on this sole variant.
Volkswagen ID Xtreme concept image gallery
2516 Views|2 months ago
2022 Volkswagen Virtus image gallery
24192 Views|9 months ago
2019 Volkswagen Virtus image gallery
48188 Views|3 years ago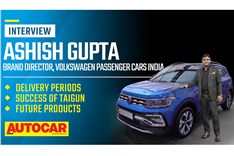 VW's Ashish Gupta on success of the Taigun, brand's futur...
2294 Views|1 month ago
VW Taigun, Skoda Kushaq crash test video
5574 Views|1 month ago
2022 Volkswagen Virtus 1.0 TSI MT video review
7901 Views|5 months ago