Upcoming Volkswagen T-Roc SUV new details surface
Published On Aug 23, 2017 12:12:00 PM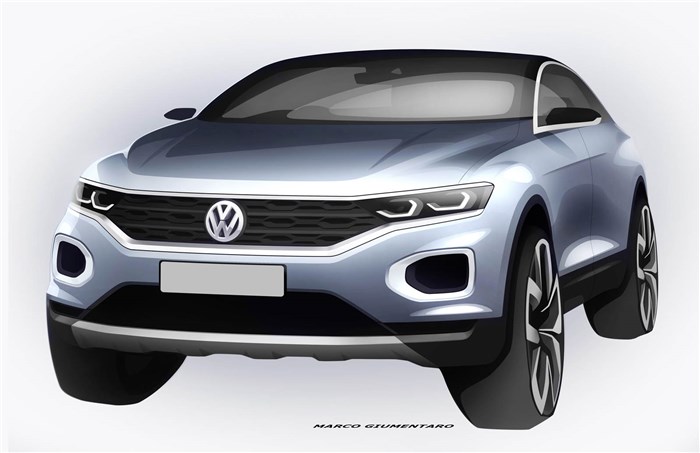 All-new SUV to sit below the Tiguan. Will be officially unveiled soon.
Volkswagen's new SUV, the T-Roc will sit below the Tiguan in its global line-up. Our sister magazine Autocar UK, recently got a chance to check out the prototype version of the new SUV at the VW proving grounds in Germany.
In its design, the T-Roc is more rakish than any other VW SUV, with a new-look front end, thick aluminium side panels to break up the visual bulk, and wheels up to 20in diameter.
The T-Roc is similar in length to the VW Golf, and very similar underneath to Audi's Q2, which is no surprise because it has been conceived on VW's modular MQB platform. The T-Roc has a shorter front and longer rear overhang than a Golf and it rides around 8cm higher, but from the centre of its front wheels to the cabin, it's essentially the same as a Golf underneath, just taller, owing to a raised axle line. There'll be six engine options globally at launch, three petrols and three diesels, one of each in 114bhp, 147bhp and 187bhp forms. Two and four-wheel drive will both be options, with manual and DSG dual-clutch automatic offered as well.
All T-Rocs get multi-link suspension so there's no torsion-beam derivative. "We have SUV genes in here, so we can do more than a Golf does. You sit higher. The wheels are bigger. Lots of things are different, so we put multi-link in here," said Frank Welsch, VW's head of R&D
Although Welsch said the recent Arteon brought a new expression to VW's exterior styling, the T-Roc "inside and out has more emotion than you would normally expect from a Volkswagen".
The new design flair doesn't necessarily equate to the way the T-Roc drives. "We have a clear idea of how a Volkswagen should be," said Welsch, "and this is what we've tried to reach here. We've also made this car quieter, from wind noise and road noise and so on. People like more and more comfort."
Because it's based on the MQB platform, the T-Roc will be available with VW's full gamut of infotainment and safety tech. "This is a 100% online car," said Welsch.
With the addition of a smaller SUV, based on the T-Cross Breeze concept, arriving to sit beneath the T-Roc, and with two versions of the Tiguan, and a new Touareg arriving late this year, VW's SUV range will soon encompass five models, of ever increasing popularity.
In India, Volkswagen recently launched the Tiguan SUV which rivals the Hyundai Tucson.
What do you think about this News