Pratap Bose – Vice-President, Global Design of Tata Motors – is among the top five finalists for the 2021 World Car Person of the Year award. The five names were announced today when 93 World Car Awards (WCA) jurors from 28 countries collectively voted for the finalists by secret ballot. KMPG tabulated the vote results.
Pratap Bose is among the five finalists that have been chosen by WCA jurors.
The Award requires significant contribution to the global auto sector over the past year.
To be eligible, award candidates must have made a significant contribution to the global automotive industry during the January 1 to December 31, 2020 period. That contribution could include a significant impact to their brand or company, for example, or a significant safety, engineering, design or technical advancement.
Pratap Bose (Tata Motors): background
Pratap Bose is Tata Motors' Vice-President, Global Design. In this role, the Royal College of Art graduate brings an international perspective to the Indian carmaker as he now leads three design centres around the world: in India, Italy, and the UK. His multinational experience and truly global perspective are raising Tata's design presence, both within and beyond India, and gaining recognition for its daring, forward-looking design strategy.
Speaking to Autocar India, Pratap Bose said, "This is a testament to the work of the Tata Motors Global Design team that I am fortunate to be a part of and represent. It shows that design from an Indian brand can be world-class in every respect. I hope I am able to, through this nomination inspire many more Indian designers to chase their dreams!"
In April 2018, Bose won the prestigious 'Top Chief Design Officer' award at the 2nd World Industrial Design Conference held in Hangzhou, China. The award recognised Bose for his role to use design as an enabler for volume and market share gain for Tata Motors, which is now very evident in the company's speedy rise in the passenger vehicle market.
Having been part of Tata Motors for some time now, Pratap Bose has had a big influence on almost all the Tata models on sale today, starting with the Tiago hatchback and going all the way to the recently launched Safari, which uses Tata's Impact 2.0 design language.
The other finalists
Among the other finalists is Luc Donckerwolke – Chief Creative Officer of Hyundai Motor Group, who has been the driving design force behind the Genesis luxury brand and its sophisticated style, particularly the G80 and GV80.
Also from Hyundai Motor Group, Euisin Chung – Chairman and son of the founder of Hyundai – has led the rise of Hyundai-Kia into the ranks of the global top five automakers.
The only female finalist this year, Tomiko Takeuchi, is Mazda's first-ever female chief engineer and program manager. She heads the production of the MX-30, which is Mazda's first-ever fully electric vehicle. She is also Mazda's first female development and evaluation test driver.
Lastly, Akio Toyoda, the President/CEO of Toyota Motor Corporation, has spent years successfully remaking his company. Toyota was the world's largest automaker by sales volume and still profitable in 2020, despite COVID-19, protecting jobs worldwide.
Previous World Car Person of the Year winners
Previous World Car Person of the Year recipients were Carlos Tavares, CEO of PSA Group (2020), the late Sergio Marchionne, CEO, FCA; Chairman, CNH Industrial; and Chairman and CEO, Ferrari (2019) and Håkan Samuelsson, President and CEO, Volvo Car Group (2018).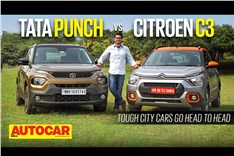 Citroen C3 vs Tata Punch video comparison
6429 Views|13 days ago
Shailesh Chandra on Tiago EV, Tata's future EV plans and ...
2016 Views|2 months ago