Tata Motors has announced a marginal price hike on all its models from January 19, 2022, on account of rising input costs. We take a closer look at how this price hike affects the price range of its sub-compact SUV, the Punch.
Prices hiked by Rs 11,000-16,000 across most variants
Prices of top variants have been lowered by Rs 10,000
Protects bookings on or before Jan 18 from price hike
Tata Punch prices revised for 2022
Just three months after its launch on October 18, 2021, Tata Motors has revised the prices of its Tata Punch sub-compact SUV. The popular base-spec 'Pure' and 'Pure Rhythm' variants of the Tata Punch sub-compact SUV, available only with a manual transmission, witness the steepest price hike of Rs 16,000, in the range. Prices of other variants are hiked by Rs 11,000. It must be pointed out that we had earlier reported that Pure and Adventure variants, being the more affordable variants in the range, were particularly high in demand with waiting periods ranging from five to nine months in certain places.
Commenting on this hike Tata Motors said, "While the company is absorbing a significant portion of the increased costs, the steep rise in overall input costs has compelled it to pass on some proportion through this minimal price hike".
There is however some relief for buyers who have booked the Tata Punch on or before January 18, 2022, the company has decided to protect these customers from the price hike.
Tata Punch top variants' prices reduced
Alongside this price hike, Tata Motors has also used this opportunity to correct prices of the top-spec 'Creative' and 'Creative Ira' variants in both manual and automated manual transmission guise, so these variants are now cheaper by Rs 10,000. This price reduction is "in response to feedback from customers", which also happens to be in tune with our verdict in our Tata Punch road test.
Tata Punch price hike
Variants
2022
2021
Price Difference
Pure MT
Rs 5.65 lakh
Rs 5.49 lakh
Rs 16,000
Pure Rhythm MT
Rs 6.00 lakh
Rs 5.84 lakh
Rs 16,000
Adventure MT
Rs 6.50 lakh
Rs 6.39 lakh
Rs 11,000
Adventure Rhythm MT
Rs 6.85 lakh
Rs 6.74 lakh
Rs 11,000
Accomplish MT
Rs 7.40 lakh
Rs 7.29 lakh
Rs 11,000
Accomplish Dazzle MT
Rs 7.85 lakh
Rs 7.74 lakh
Rs 11,000
Creative MT
Rs 8.39 lakh
Rs 8.49 lakh
- Rs 10,000
Creative Ira MT
Rs 8.69 lakh
Rs 8.79 lakh
- Rs 10,000
Adventure AMT
Rs 7.10 lakh
Rs 6.99 lakh
Rs 11,000
Adventure Rhythm AMT
Rs 7.45 lakh
Rs 7.34 lakh
Rs 11,000
Accomplish AMT
Rs 8.00 lakh
Rs 7.89 lakh
Rs 11,000
Accomplish Dazzle AMT
Rs 8.45 lakh
Rs 8.34 lakh
Rs 11,000
Creative AMT
Rs 8.99 lakh
Rs 9.09 lakh
- Rs 10,000
Creative Ira AMT
Rs 9.29 lakh
Rs 9.39 lakh
- Rs 10,000
Punch is the second most popular Tata model
Owing to the sheer popularity of the SUV body style and its relatively more affordable price point (compared to some other compact SUVs), the Punch has already become Tata's second best-seller, first being the Nexon, selling around 7,500 units on an average from October-December 2021. This sub-compact SUV's high demand and limited supply on account of the shortage of semiconductors has resulted in waiting periods soaring to months.
Powering the Tata Punch is an 86hp 1.2-liter 3-cylinder petrol engine, and it comes mated to a five-speed manual or an automated manual transmission. Going forward, Tata could introduce a turbo-petrol engine to the range as well as an all-electric version too. The company also hasn't ruled out a CNG version with the current 1.2-liter petrol engine, like the Tata Tiago and Tigor iCNG version launched recently.
Also read:
Tata Punch real world fuel efficiency
Tata Punch vs Nissan Magnite vs Renault Kiger
Hyundai Exter vs Tata Punch comparison video
31342 Views|1 month ago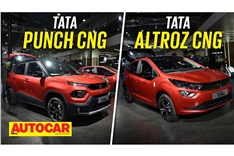 Auto Expo 2023: Tata Punch, Altroz iCNG walkaround video
10704 Views|8 months ago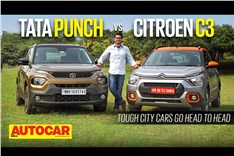 Citroen C3 vs Tata Punch video comparison
21768 Views|10 months ago