If simplicity is the ultimate form of sophistication, the Mercedes-Benz S-class is rather grotesque. Some manufacturers leverage technological prowess as a selling point, while others have gone to significant lengths to prove that less is more. Keeping a car simple is often a way to make it affordable to the widest audience possible. In the decades following World War 2, especially in the 21st century, simplicity has often been celebrated as an enthusiast car's best quality.
From the cheap to the exciting, join us for a look at some of the simplest cars ever created:
Citroën 2CV (1948)
Citroën devoted a considerable amount of energy to make the 2CV as cheap and basic as possible. Pierre-Jules Boulanger (1885-1950), a Michelin executive who became the carmaker's president in 1938, told engineers the car needed to be a bicycle with four seats. "It replaces the bicycle, the motorcycle and the horse-drawn carriage," he wrote. These guidelines shaped the TPV, which was cancelled shortly before its launch due to World War 2, but they permeated the regular-production 2CV.
Released in 1948, the original 2CV came with a 9hp flat-twin engine, a canvas top that stretched from the windscreen to the rear bumper and front windows that pivoted up. At the time, French law stated drivers needed to be able to put their arm out to signal and pivoting windows were cheaper than semaphores ('trafficators') or indicators. The 2CV eventually got indicators but it kept these windows until 1990. And yes, that hole in the grille really is where you put the starting-handle in, if need be.
Chevrolet Corvette (first generation, 1953)
Chevrolet's first-generation Corvette is rare, pretty and valuable, but one thing it's not is complicated. Its glassfibre body initially concealed an evolution of the Blue Flame straight-six engine that the company had used for years in a wide variety of models, including pickup trucks. It was bolted to a two-speed automatic transmission. Chevrolet added a V8 and a manual later in the production run.
Messerschmitt Kabinenroller (1953)
Its KR175 (pictured) and KR200 models offered drivers tandem seating for two, a Plexiglas roof, three wheels and little else. Power came from a two-stroke single-cylinder air-cooled engine. In some models, the driver even accelerated using a twist grip mounted on the steering bar. Production ended in 1964. Messerschmitt returned to aerospace, and would-be buyers turned to larger small cars.
BMW Isetta (1955)
Although the Isetta was developed by Italian firm Iso, BMW created the improved version of the car that's best known now. It kept the basic design, including the front-hinged door, but it was powered with a 12hp single-cylinder four-stroke engine borrowed from one of its motorcycles. It also made several visual modifications, including moving the lights further up on the front fascia.
Like all bubble cars, the Isetta blurred the line between a motorcycle and a car. Some of the variants built and sold in some countries were even fitted with three wheels to land in a cheaper tax bracket.
Fiat 500 (1957)
Fiat developed the rear-engined 500 to bridge the gap separating mopeds from family cars. Weight and cost were extremely important during the development process, and making the 500 front-wheel drive wasn't possible, so engineer Dante Giacosa (1905-1996) put the drivetrain behind the passenger compartment to make the car smaller (and consequently lighter) by eliminating parts like the driveshaft. He selected an air-cooled two-cylinder engine that produced 13hp in early cars, and his quest to reduce manufacturing costs to the bare minimum led him to install a pull-type starter. 500 production ended in 1975. Its replacement, the 126, was just as simple, and it stuck around until 2000 in Poland.
Austin Seven/Morris Mini-Minor (1959)
What hasn't been said about the original Mini? Created by Sir Alec Issigonis (1906-1988), it was an alternative to the bubble cars that were becoming increasingly common abroad. Issigonis knew a big part of their appeal was their compact footprint so he made the Mini as small as possible by dropping the four-cylinder engine directly over the four-speed manual transmission, rather than mounting them side by side. He further simplified the layout by making them share the same oil.
Ensuring the Mini was simple to build was hugely important, too, which explains why it received a speedometer mounted in the middle of the dashboard. It eliminated the need to manufacture different dashboards for right- and left-hand drive models. Mini production ended in 2000.
Renault 4 (1961)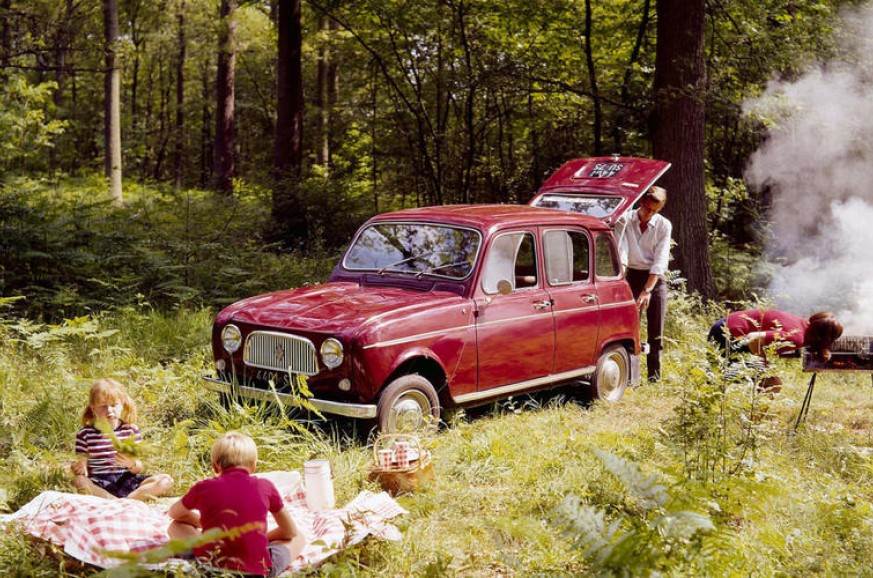 Although the 4 is often referred to as Renault's answer to the Citroën 2CV, the two cars were shaped by completely different guidelines. As we've mentioned, the 2CV was primarily created as an alternative to more rudimentary forms of transportation, while Renault boss Pierre Dreyfus (1907-1994) imagined the 4 as the automotive equivalent of a pair of jeans. It had to be cheap, versatile and, above all, durable.
Introduced in 1961, the 4 offered users a tall hatch and folding rear seats before the vast majority of its competitors. It was also front-wheel drive, though some four-wheel drive models were built by Sinpar. Windows that slid horizontally (if they opened at all) and a shift linkage that travelled through the firewall, over the engine and down into the transmission kept design and production costs in check. Production ended in 1994 but its spirit arguably lives on in the modern-day Kangoo van.
Trabant 601 (1964)
Designed to replace the 600, the Trabant 601 was the simplest and cheapest form of transportation in a long list of Eastern European countries. It was the industry's lowest common denominator so it didn't need anything fancy – like, say, a four-stroke engine. For nearly 30 years, motorists settled for a two-stroke, two-cylinder engine and body panels made with Duroplast. The only major change came in 1990, when the Trabant received a 1.1-litre four-stroke four-cylinder engine from the Volkswagen Polo.
Germany reunited the same year, and East Germans were able to exchange their make-believe currency into West German marks at a generous rate. They went out and bought VW Golfs. Trabant sales collapsed, and production ended in 1991.
Porsche 914 (1969)
Nearly every car powered by Volkswagen's air-cooled flat-four is characterised by a degree of simplicity which approaches the surreal, but the Porsche 914 stands out because it was developed for enthusiasts. It offered motorists extremely balanced handling, respectable performance figures, and a head-turning design without the complexity often associated with sports cars. While some 914s received a flat-six, the vast majority of the production run carried a flat-four that could be repaired with a stick and gaffer tape.
AMC Gremlin (1970)
There are very few American cars sold during the 1970s that we can accurately describe as basic, but the AMC Gremlin comes very close. It was developed as an alternative to economy cars imported from Europe and Asia so cost was extremely important. AMC needed to be able to advertise a low price.
Introduced on April 1, 1970, the Hornet-derived Gremlin came standard with only two seats. Motorists who needed to carry three passengers needed to pay extra for a folding rear bench. Sales of the two-door model were dismal as only 872 were sold in 1970, and AMC dropped it after the 1971 model year.
Lada Niva (1977)
In the early 1970s, after a Jeep-like off-roader with a soft top was ruled out, Russian officials reportedly asked Lada to make the Niva a Renault 5 on a Land Rover chassis. Look at it from the side, and you'll notice that's exactly what the firm created. It was essentially a city-friendly hatchback made tougher and taller to handle Siberian roads. It was also a Lada, so complexity was weeded out of the project early on.
Launched in 1977, the Niva received a Fiat-derived four-cylinder engine and a robust four-wheel drive system. It's still in production as of 2020 and it's one of the simplest cars sold anywhere in the world.
Fiat Panda (1980)
Most of the economy cars released in the early 1980s were inherently simple, especially when we look at them through 21st-century lenses, but the first-generation Fiat Panda took straightforwardness to a new level with a functional yet attractive exterior design and a back-to-the-basics interior. Here again, simplicity proved timeless, and the Panda soldiered on with only minor visual changes until 2003.
Ford Festiva (1986)
One of the simplest cars sold new in the United States during the 1980s came from across the Pacific. The pocket-sized hatchback buyers knew as the Ford Festiva was developed and manufactured by Mazda starting in 1986, though Kia later built the model as well. It was cheap, cheerful and by most accounts incredibly slow due in no small part to a 1.1-litre four-cylinder engine tuned to 49hp.
Land Rover Defender (1990)
Folks who insist the Land Rover Defender was released in 1948 are bending history to their will. It was launched in 1990 as an evolution of the 90/110 introduced in 1983. When new, it was basic but not unusually so; there were plenty of other bare-bones off-roaders on the market at the time. While they gradually retired, the Defender stuck around and it doggedly refused to evolve. It stood proud as one of the most unrefined new cars sold in Europe during the 2010s and it was all the more charming for it.
Lotus Elise (1996)
Lotus turned simplicity into one of its hallmarks and it hasn't strayed far from it, even as its rivals made their cars heavier, and even at the expense of its global sales. As the Porsche Boxster moved upmarket, Lotus kept the Elise as light and as basic as possible by sticking to its tried-and-true formula of adding lightness. The roadster's list of standard equipment is fabulously short because what matters most to its target audience is handling, and that can't be quantified or broken down on a specification sheet.
Daewoo Matiz (first generation, 1998)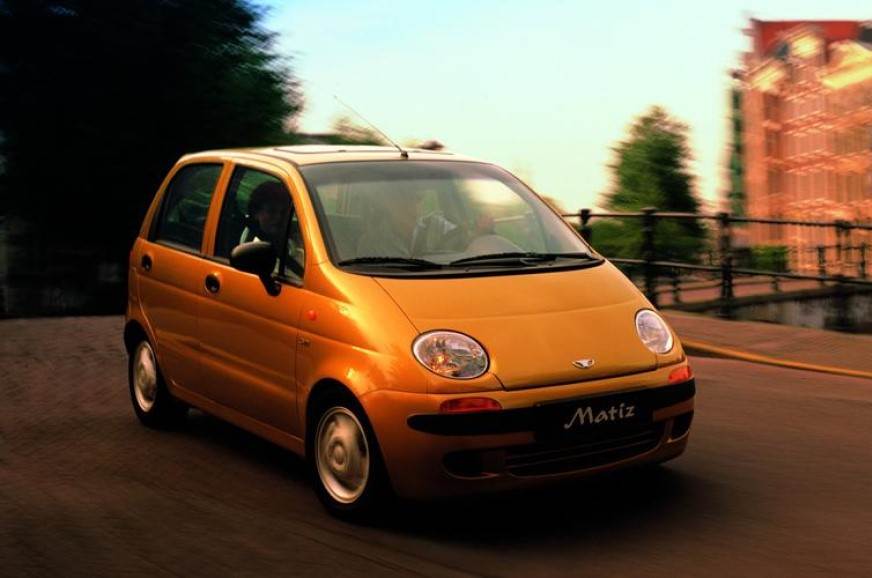 Daewoo had to make the first-generation Matiz simple because it planned to sell the model (either directly or through joint-ventures) in dozens of countries, ranging from Belgium to Uzbekistan. It was on sale in India from 1998 to 2002 too. It was initially powered by a 0.8-litre engine and even its design was recycled; it started life as the Lucciola concept created by Italdesign in 1993 and rejected by Fiat.
Dacia Logan (2004)
Renault had three goals in mind for the first-generation Dacia Logan: modernity, reliability and affordability. Everything else (like design) was secondary. In its home country of Romania, the Logan needed to replace variants of the Dacia 12, which had been in production since 1969. In nations like France, it needed to give motorists who normally bought a used car the option of getting a new one. Ticking all of these boxes while keeping production costs in check spawned one of the simplest cars of the 2000s.
Electronics were limited to the bare minimum, numerous parts were borrowed from Renault, and the Logan's rather basic design made it cheap to build. Dacia followed this strategy as it overhauled its entire line-up and its bet paid off. It's one of the most successful brands in the Renault-Nissan alliance, and over 4 million Logans have been sold.
These include the Renault Logan that was on sale in India from 2007-2011. The Logan was then sold as the Verito sedan. Interestingly, the Mahindra Verito is still on sale in India in all-electric form, for now.
Nissan Frontier (2004)
If it were human, the Nissan Frontier would be old enough to obtain a driver's license in the United States. While motorists in Europe got a new Navara in 2014, the Japanese carmaker is still selling the previous-generation model across America. It's the oldest truck in its segment, and one of the oldest cars sold new regardless of body style. Old doesn't always mean basic, but at 16 and counting the Frontier has fewer electronics (so, arguably, fewer things to go wrong) than its competitors.
It's one of the last vestiges of a bygone era, but Nissan isn't aiming for Lada Niva-like longevity. It announced a new Frontier will make its debut with the latest tech features in 2021.
Jeep Wrangler (JL generation, 2017)
Sure, the fourth-generation Jeep Wrangler is available with a touchscreen-based infotainment system and an array of electronic driving aids, but it's as simple as a modern car sold in the United States can be. Its doors and its top can be taken off and its windscreen can fold flat on the bonnet. It remains a true off-roader with body-on-frame construction and solid axles, which makes it a bit of a misfit in 2020.
Caterham Super Seven 1600 (2020)
If you value simplicity above all, look no further than the Caterham Super Seven 1600. It's a modern interpretation of some of the company's earliest cars so it largely steers clear of equipment that risks diluting the driving experience by adding weight or distractions. Built around a tubular steel chassis, and available as a complete car or as a kit, it places drivers behind a wood-rimmed three-spoke steering wheel with no power assist and a set of analogue gauges, and it puts them in command of a 1.6-litre four-cylinder engine sourced from the Ford parts bin.
It doesn't feature ABS, traction control, or any of the electronic driving aids motorists take for granted in 2020. And yet, after driving it, our sister publication Autocar UK concluded it rewards diehard driving enthusiasts like few other cars can.
Also see:
Best of 2020: Most viewed car comparison videos
India's most fuel-efficient BS6 diesel cars
Most affordable 7 seat cars, SUVs in India