The automotive industry has been one of the most-impacted sectors in India due to the economic backlash of the two-month-old lock-down which has hugely weakened buyer sentiment. However, not all is lost because there are clear indications of a lot of pent-up demand in the market as well.
This resonated in the recent Autocar India PremonAsia survey, where as many as 82 percent of the respondents preferred owning a personal vehicle to fulfil their commuting needs in the ongoing difficult times of social distancing. As a result, sale and purchase of new and used cars could witness an upswing in the coming future, enabling beleaguered carmakers to ride the wave of demand by assuring customers of a safe car-buying experience.
Going contactless in a time of social distancing
There's also a brand-new retail dynamic underway in the car market: contactless sales and aftersales. This involves digitally connecting with potential car buyers by introducing them to a new way of exploring, experiencing and finally owning a car without having to step into an authorised showroom. No longer brick and mortar. Instead, it's click and order.
In the new virtual world of a digital showroom, a buyer can check out a vehicle manufacturer's entire range of products, personalise it if need be and have all queries regarding product, service packages and finance options addressed in real time by a dealer.
Digital first clearly is the new mantra and a number of carmakers have already logged into the new market dynamic with their own dedicated sales websites. Also, there is considerable technology and effort involved to get the entire operation work seamlessly. Orbitsys, a Gurgaon-based technology provider, which has been at the backend of creating a digital footprint for companies in the automotive industry in India since early 1996, seems to have all the answers.
Through implementation of its cloud-based software solution that works in an integrated end-to-end manner right from a manufacturer's assembly line through to its dealer partners to help monitor on-ground vehicle sales, the company envisions that going forward digital sales will be the sole driver of growth in the passenger vehicle industry.
From software to hard deals
A software suite, which is normally referred to as a dealer management system (DMS), forms the backbone of organising crucial aspects of vehicle retail and aftersales including the final vehicle inspection before it leaves the factory to a dealer, its pre-delivery inspection (PDI) before customer handover, service scheduling, part availability at the workshop and customer relationship management (CRM) among the very least.
While we came across a slew of digital or contactless buying initiatives being launched through manufacturer websites, a simple click is enough to reveal just how good (or bad) they are. Most companies, including some premium brands, have basically patched their car configuration tools to a payment gateway, to merely initiate a booking, which would eventually end up in a salesperson following up with telephone calls and WhatsApp messages, marring the whole digital-first experience.
Orbitsys, on the other hand, believes that a pure digital experience would only be possible when there is real-time flow of information between the customer, company and dealer which can be enhanced by leveraging integrated technology to offer a much superior experience which has traceability at every instance. And it has a five-pronged digital journey for the customer.
Approach: A prospective customer would see his/her digital car-buying journey beginning by showing interest in a company's product through its website, mobile application or by using any of the popular aggregator portals wherein a 'lead' would be generated.
Online Demo: With an integrated DMS in place, the lead from the website's online engine is directly routed to a geographically suitable dealership based on its proximity with the customer, without any manual intervention. Most web aggregators, however, cannot get access to a DMS and pass on the leads manually, or through emails. In an immediate response, the customer gets the contact details of the showroom representative as an automated system-generated communication and gets allowed to schedule a 'virtual' product demo too.
Orbitsys, which is primarily working with Skoda Auto India and is in a way driving its 'Skoda Buy Online' programme, is working on letting its software enable the customer and the relationship manager (RM) to enter a secured video chat room with the RM able to toggle between the cameras on his or her handheld device to give a detailed tour of the vehicle and explain all features remotely.
When implemented, this will be significantly different from an unstructured person-to-person WhatsApp or FaceTime video call, which would otherwise have no record and would subsequently not be possible to trace by the company. In this particular case, Skoda will be able to monitor how many calls are being done at any given moment, across the country.
Test drive scheduling: If the first impression is a favourable one, the customer would want to experience the product hands-on. With an integrated demo-car management system, Orbitsys envisions the customer to be able to remotely check the time slots available for getting a test drive at their home or office and schedule it as per their convenience.
While a dealer will have to ensure strict vehicle sanitisation checkpoints, these could also be monitored digitally, since the system needs a sanitisation confirmation before issuing a gate pass from the showroom premises.
At the customer's end, a thorough test drive could be offered by again using the company application to capture the driver's credentials such as driving license details for legal compliance before embarking on the journey. On completion, the feedback could be taken online through a digital link supplied to the customer.
Negotiation, booking and ETA: A successful test drive might just have sealed the decision in the buyer's mind, but a sweet deal is always the desired option for the customer. The buyer and the showroom's relationship manager (RM) can now sit face-to-face at a virtual negotiation table, with all the proformas and invoices being shared through the carmaker's mobile application as APIs (application programming interface). There are no back-and-forth emails and no reluctance from the dealer in remotely disclosing his last margin either.
Once the customer agrees to a price, he could e-sign on the final 'deal', thereby immediately disbursing a booking amount using an OTP-secured online payment gateway. Against this, the buyer receives a standard-format communication directly from the carmaker, confirming the amount, RM details and the booking ID.
With a smart DMS, the RM would be able to now access the dealership's inventory at all of its locations in a city and accordingly an estimated time of arrival (ETA) of the new car would be communicated to the customer. Readily available stock would take lesser time than one which needs to be ordered fresh from the factory.
Contactless delivery: Now, as the customer opts for arranging finance on his/her own or let the dealer get the loan processed through banks or a carmaker's separate financial arm, the car is getting ready to go to its new home. The vehicle identification number (VIN) is allotted to the customer directly from the DMS and all documents are sent as APIs through the mobile application in a secured way.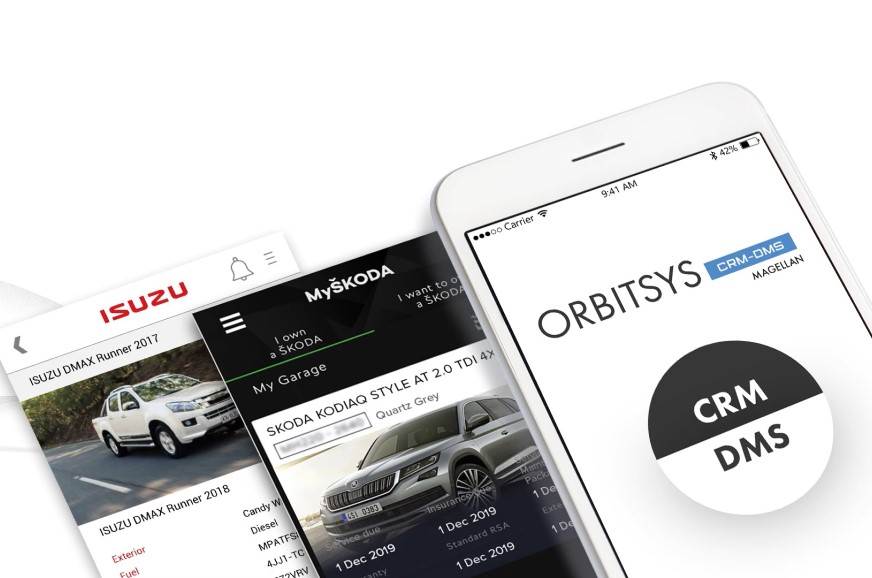 In an ideal scenario, the customer would verify and digitally sign the documents and after a final pre-delivery inspection (PDI), the fully-sanitised car is kept ready to be taken away in a separate cordoned-off area within the showroom.
On a pre-scheduled delivery date, the customer can go with his or her family members to drive home in their newly purchased car, all in a digital-first fashion and while maintaining strict social distancing norms.
The short-term memory span of the human mind could see us forgetting all the current and new societal norms even six months down the line. As and when a vaccine arrives for providing immunity against the novel coronavirus; today, digital technology has given a new lease of life to retail sales. And Orbitsys is only too eager to put the vehicle retail ecosystem on to a whole new trajectory.
Also see:
COVID-19 impact: Research online, buy offline to gain momentum finds Autocar India PremonAsia survey
Nissan India introduces virtual showroom experience
MG India introduces new sales and service app
Mahindra predicts shift from car ownership to subscriptions post COVID-19