Mercedes-Benz has hit the 5,00,000-unit production milestone of the G-Class SUV, and to commemorate this milestone, the carmaker gave the 5,00,000th G-Class some unique, retro-looking touches such as a new paint job and new fabric upholstery. Along with the E-Class and S-Class, the G-Class has been one of the longest-produced models in Mercedes-Benz's history.
Mercedes-Benz G-Class has been in production since 1979
Production milestone special is based on a Mercedes G 500
Mercedes-Benz G-Class anniversary special exterior, interior
In production since 1979, the G-Class has been one of the most iconic luxury SUVs globally. The special edition gets the Agave Green paint, which has been available on the SUV since around the time of its inception. Other cosmetic enhancements include a blacked-out front fascia and grille over the headlights. While the current G-Class features clear turn signals, this production milestone version features amber turn signals on the bonnet, harking back to the original G-Class from the 1970s.
The special edition G-Class also gets a set of retro-looking, 5-spoke, slotted alloy wheels along with a spare wheel cover and a Mercedes-Benz badge at the back. It also features a roof rack that can be accessed from the ladder mounted to the right of the tail gate.
Inside, Mercedes-Benz has given this special edition G-Class a chequered fabric upholstery and the passenger-side grab handle has "No. 500,000" inscribed in Agave Green.
Also see: 40 years of the G-class: Life begins at 40
Mercedes-Benz G-Class anniversary special powertrain
Based on the G 500 sold abroad, this special edition is powered by a 4.0-litre, twin-turbocharged V8 engine that produces 422hp and 610Nm of torque. It delivers power to all four wheels via a 9-speed automatic gearbox. It is capable of achieving a 0-100kph time of 5.9 seconds (claimed) and has a claimed top speed of 210kph.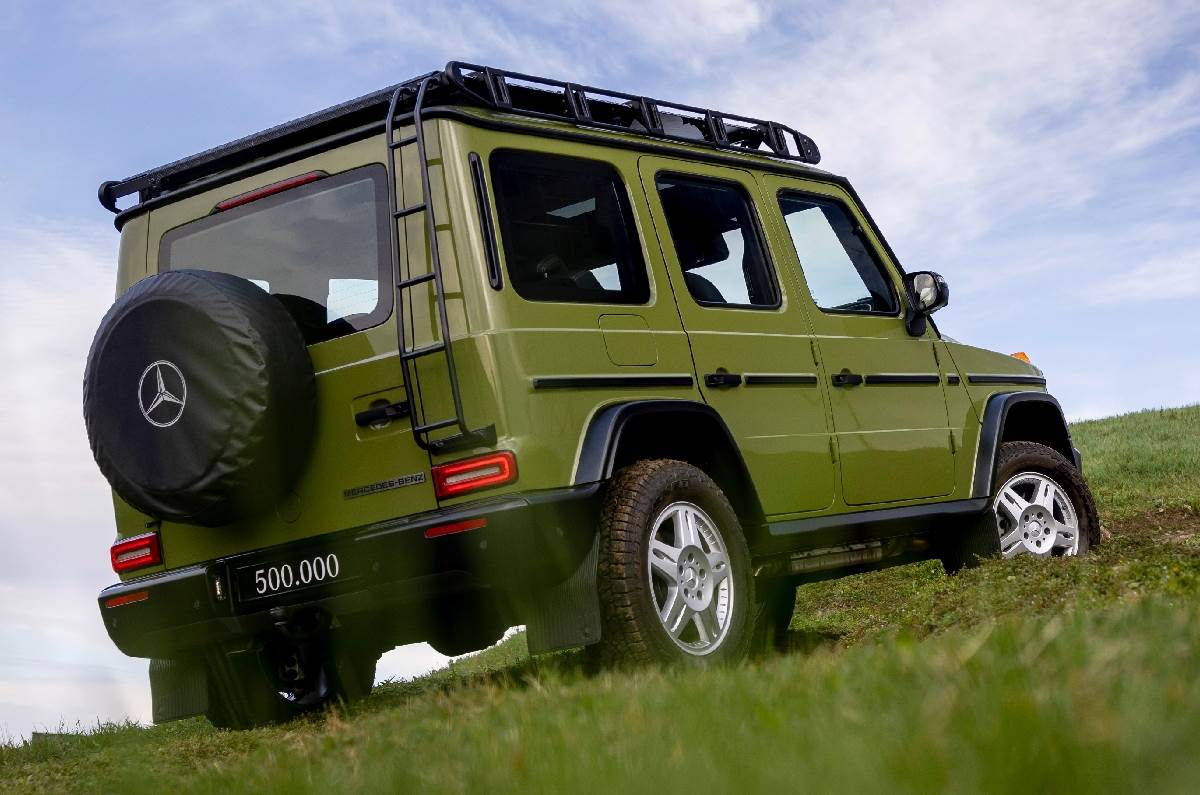 Mercedes-Benz G-Class in India
In India, the G-Class is available in two variants – the G 350d and the AMG G 63. The former gets a 286hp, 600Nm, 3.0-litre diesel engine, while the latter gets a 585hp, 850Nm, 4.4-litre V8 petrol engine. Earlier this year, Mercedes-Benz announced that it will launch 10 new cars and SUVs in India, among which it hinted at a G-Class update.
Mercedes-Benz G-Class future plans
Mercedes-Benz is working on an electric version of the G-Class, dubbed the EQG, which is expected to arrive around late 2024. Furthermore, Mercedes-Benz also mentioned that it is working on an updated version of the current G-Class, which is also expected to arrive soon.
What do you think about this special edition of the Mercedes-Benz G-Class? Let us know in the comments.
Also see:
Over half of Mercedes-Benz's 2023 launches to cost over Rs 1 crore
Next-gen Mercedes-Benz E-Class global debut on April 25
Brabus 800 Adventure XLP image gallery
6739 Views|3 years ago
Mercedes-Benz G 350d image gallery
9775 Views|3 years ago
Mercedes-Benz G 350d video review
27561 Views|3 years ago
2019 Mercedes-Benz G 350d off-road video review
13161 Views|3 years ago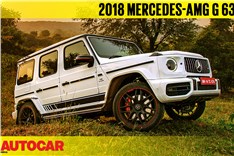 2018 Mercedes-AMG G 63 video review
12522 Views|4 years ago