SUVs are making news and how. From the soon-to-be-launched Kia Seltos to the recently launched MG Hector, new utility vehicle players are expected to take the market by storm. While that could spell good news for an industry beleaguered by poor market and consumer sentiment – with sales growth continuing their downward trend for the ninth month in a row, it remains to be seen if a large percentage of the bookings will be converted into purchases.
The only positive for June 2019, is that the utility vehicles segment seems to be holding its ground despite the downturn in the passenger vehicle market. In June 2019, car sales plunged 24.07 percent to 1,39,628 units; van sales too fell 18.70 percent to 13,187 units. SUVs and MPVs, on the other hand, were down by a marginal 0.99 percent.
The scenario is somewhat similar for the first quarter of FY2020: in April-June 2019, car sales were down 23.32 percent to 4,47,453 units, van sales fell 25.66 percent to 40,943 units and UV numbers dipped 4.53 percent to 2,24,224 units.
In May 2019, the Hyundai Creta had outsold the market leader – Maruti Suzuki's Vitara Brezza – for the second time in a year but the Maruti has bounced back in June to regain the crown with 8,871 units. However, with increasing competition and no petrol engine option yet in a market that's seeing a strong shift from diesel to petrol, the Brezza's dipping month-on-month numbers might just allow a new challenger to claim the top spot.
Buyers check-in to new Venue
There's a new No. 2 in the utility vehicles bestsellers chart – the Hyundai Venue. The compact SUV debuted in the top 5 UV sales charts in the month of its launch; it reached fourth place with 7,049 units in May 2019. In June, it has jumped two ranks with 8,763 units sold, narrowly missing the top spot by just 108 units.
Considering the Korean carmaker had 33,000 bookings within a month of the SUV's launch and more would been received since then (the company says over 2,00,000 potential buyers have shown interest in the Venue), it would not be wrong to say that it won't be long before Venue sales cross the slowing Brezza's (which is 21 percent down in Q1 FY2020 YoY). Especially considering Hyundai ensures its dealers across the country are well stocked.
What is helping the Venue is its sound pricing strategy – it retails from Rs 6.50 lakh to Rs 10.84 lakh (ex-showroom, Delhi), comes in six variants – E, S, SX, SX+, SX dual-tone and SX(O), and four engine-gearbox combinations – an 83hp, 1.2-litre petrol-MT; a 120hp, 1.0-litre petrol-MT and AT; and a 90hp, 1.4-litre diesel-MT. The diesel to petrol sales ratio for the Venue is 45:55 percent, for now.
Don't discount Kia, the other Korean brand from the Hyundai Group. The Seltos just might spring a surprise in August and beyond. As is known, the bestselling chart comprises wholesale numbers and not retail and manufacturers will be doing their best to stock dealerships with the latest models to draw consumers, who have proved to be rather elusive in the past 9-odd months.
Creta under pressure from sibling and rivals
Is the Venue's sibling and the longstanding No. 2, the Hyundai Creta feeling the pressure? Now at No. 3 in June, 8,334 units of the Creta were dispatched in June: its lowest yet in CY2019 (January: 10,314; February: 10,206; March: 11,448; April: 10,487 and May: 9,054). Interestingly, of the 27,875 Cretas sold in Q1 FY2020, the diesel to petrol split is 65:35 percent.
The Creta has been a runaway hit since its launch in 2015. In fact, such has been the appeal over the years that there hasn't been a major dip in sales despite several price increments. It has long been the midsize SUV to beat and the arrival of new rivals hasn't managed to dent the Creta's popularity either. But the Kia Seltos, to be launched on August 22, could be a strong challenger. Kia and Hyundai are sister brands under Hyundai Motor Company but operate as independent entities and are fierce rivals in the markets they operate in.
Ertiga drops to fourth place from No. 2 in May
The Maruti Ertiga MPV is fourth in the list of Top 5 bestsellers in June. With 7,567 units to its credit, it has dropped from No. 2 in May with 8,864 units. With a modern design, ample space, thoughtful features and a value-for-money package, the new Ertiga ticks most of the right boxes for family and fleet buyers. Of the total 24,518 Ertigas delivered in Q1 FY2020, 49 percent are diesel while the rest are petrol.
Bolero braves it out
Wrapping up the Top 5 chart, is Mahindra's old workhorse, the Bolero. The SUV sold 5,118 units in June, comprising of 4,210 units of the Bolero and 908 units of the Bolero Plus. The dip in rural demand has meant that in Q1 FY2020, its cumulative total of 16,375 units is 28.43 percent down on Q1 FY2019 sales of 22,882 units.
Growth outlook
SIAM and all automakers were hopeful of the industry getting some relief in the form of a GST reduction along with the possibility of a vehicle scrappage policy from the Union Budget 2019. However, their hopes were dashed, with the focus remaining firmly plugged into electric mobility. EV makers and the EV ecosystem are the only ones to benefit from the fiscal exercise.
What, however, lends hope to OEMs and the industry is the strong market response to recently launched or unveiled products like the MG Hector, Hyundai Venue, Kia Seltos and even the all-electric Hyundai Kona.
With the monsoon playing hide and seek across India, rural markets are unlikely to see a revival soon. According to automobile dealer body FADA the passenger vehicle industry is better off than the commercial vehicle and two-wheeler segments.
The retail body says that car manufacturers continued to reduce wholesale billing to dealers as well as regulated production in June, which has helped dealers to address their high inventory levels. With the trend continuing for a couple of more weeks, inventory will, for the first time since the downturn began, come down to healthy levels of around four weeks across many markets and will be at the FADA-recommended level of 21 days or three weeks, which will help dealers to manage their viability and profitability better.
Overall, it looks like OEMs will be looking to ride out the monsoon season as well as Q2 FY2020 (July-September 2019), by doing their best to improve sales and reduce inventory levels. They will, of course, be banking upon the festive season of Diwali in October to light up India Auto Inc's sales and maybe even provide a few firecrackers.
Maruti Suzuki Grand Vitara vs Hyundai Creta vs Kia Selto...
22439 Views|3 months ago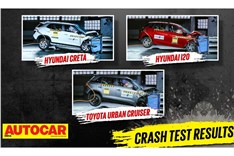 Hyundai Creta, i20 & Toyota Urban Cruiser Global NCAP cra...
9864 Views|9 months ago