Ferrari boss Sergio Marchionne has confirmed that the carmaker's first production series hybrid will launch in 18 months' time. Marchione also said that Ferrari already has hybrid test mules running, which feature a V8 hybrid powertrain.
It will need to be a "traditional hybrid to fulfil its role", in comparison to the LaFerrari's kinetic energy recovery set-up, which was used as "an add-on" – essentially, it needs to give performance benefits rather than efficiency gains.
It's not yet been made clear which model will be outfitted with the hybrid powertrain. The timing, though, would suggest it could very well be Ferrari's much-hyped forthcoming SUV, which is rumoured to be due next year.
Marchionne said that Ferrari's hybrid offering will ensure it can adhere to the upcoming European Union CO2 emissions targets for 2021. "We're going to embrace electrification and make it a mainstay," he said. The Ferrari boss also noted that the automaker was currently exempt from CO2 targets because it makes fewer than 10,000 cars but, "Once we have more than that, it will be an issue," he said. "But I think with the hybrids, we will be fine."
The car is most likely to adopt a plug-in hybrid system to limit the amount of pure electric driving and lower CO2 emissions to achieve those targets. Such a model will directly rival Lamborghini's Urus plug-in hybrid, which will arrive before the turn of the decade.
There were no further details on power or efficiency, but when asked if a hybrid powertrain meant loss of character versus a V12, Marchionne said, "Have you driven a Ferrari hybrid? When you do, I'm sure you won't miss a V12."
Marchionne also confirmed there will still be internal combustion-engined cars in future that sit alongside a growing number of hybrid models.
Ferrari Cars
Ferrari 296 GTB
₹ 6.23 crore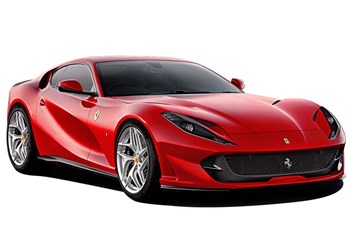 Ferrari 812 Superfast
₹ 6.93 crore
Ferrari Portofino
₹ 4.66 crore
Ferrari 296 GTB India video review
11430 Views|2 months ago
Ferrari Purosangue SUV first look video
3923 Views|2 months ago
Ferrari Portofino M video review
5636 Views|1 year ago