Since he first appeared on the pages of Ian Fleming's Casino Royale over 60 years ago, Commander James Bond has taken his choice of company car almost as seriously as his choice of hand gun, champagne and, er, companion. Despite his cars having been modified with missile launchers, ejector seats and amphibious capability, he's made some questionable and some great choices for cars.
Let's take a closer look at the motors behind the myths to see which, if any, really are worthy of the attentions of the world's least secret agent and some of those his nemesis's used too…
Bentley 4.5 supercharged (Casino Royale, the book, 1953)
Although Aston Martins have become signature Bond cars, Ian Fleming's first choice of wheels for the secret agent was the blown behemoth known as the Bentley 4.5 supercharged. However, the 'blower' Bentley wasn't a great car even when it was new in 1929, let alone 24 years later when Bond got his hands on it. Even WO Bentley hated it, saying to supercharge one of his cars was "to pervert its design and corrupt its performance".
The Bentley didn't win a single important race either, largely because it broke down much too often. Due to the large Amherst Villiers supercharger slung out in front, it was slow and cumbersome too.
Aston Martin DB5 (Goldfinger, 1964)
Some believe that the DB5 is not quite as good as its legend would have you believe and if it wasn't for its starring role in Goldfinger, the car would now be considered merely one of Aston's better efforts. While the DB5 does have those landmark looks, a classic interior and a pleasantly characterful engine, it doesn't have a particularly fun driving experience. It was made when Aston Martin had progressed away from thoroughbred, race-proven sports cars and was designed in the 1950s, as a gentler, softer, more touring-oriented model. Wonderful to park outside the Gstaad Palace Hotel, less of a joy to drive over the mountains to get there.
Toyota 2000GT Convertible (You Only Live Twice, 1967)
An almost perfect Bond car, the Toyota 2000GT is gorgeous and fascinating to look at. Its importance as Japan's first truly credible sports car can't be underestimated either. The 2.0 six-cylinder engine was decently powerful for the time thanks to a Yamaha twin cam head and triple carburetors. It even handled, rode and steered beautifully for the era. And then they discovered Sean Connery was too tall to squeeze comfortably into its cosy cabin, a problem they solved by simply sawing the roof off to turn it into a terminally cool convertible. Sadly, this is likely also to have had a catastrophic effect on its rigidity and turned a taut, finely-honed sports car into a wobbling mess with all the structural integrity of a sandcastle.
Lotus Esprit S1 (The Spy Who Loved Me, 1977)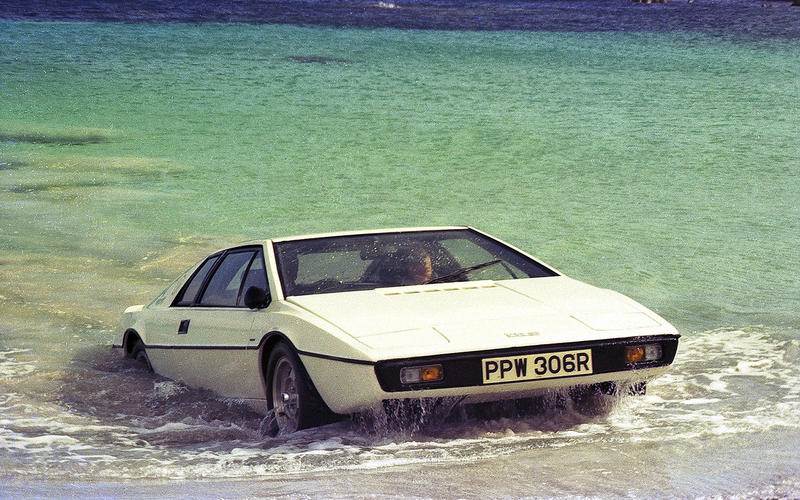 The early Esprit was sleek, sexy and handled like a dream. In reality, however, it was also plagued with teething issues and was inexact in its construction standards. Brilliant at dodging trucks and exploding sidecars, but if one really had dived into the sea, it would have needed not only fins in its wheel wells but aqualungs in its glove box too. Remember that scene where Bond drops a fish out of the window as he drives up the beach? How did it get in to begin with? It probably came in through the panel gaps.
Citroen 2CV6 (For Your Eyes Only, 1981)
Lovers of the 2CV will see no fault in this flawless, thrilling icon of style and driving pleasure. Others would look at it as a yellow shed full of bullet holes (at least in this particular case), but for fans of inverse snobbery, the 2CV was actually a very clever and quite cool choice. Some would feel lukewarm about 2CVs and, thanks to handling that looked appalling but was actually closer to inspired, the car made an entirely credible anti-hero. Less credible was its ability to outrun a pack of bad guys in Peugeot 504s.
BMW Z3 (Goldeneye, 1995)
Had this been a Z3M coupé instead of the convertible, it would have been an excellent addition to Bond canon. Filmed before the car went on sale, the Goldeneye Z3 had a 1.9-litre four-cylinder engine and, while it was only on screen for a matter of seconds, that was long enough to show that those who chose Bond's car at the time were far more interested in which company paid the most rather than which car would best suit Britain's intrepid civil servant.
Aston Martin Vanquish (Die Another Day, 2002)
While this movie is considered by Bond fans to be one of the weakest of the lot, the car chosen by the secret agent was perfect Bond fodder. Take away the preposterous invisible cloaking and the Vanquish was different from other Aston Martins in Bond movies. It was fast, loud and beautifully balanced and a touch intimidating too. The fact that it's truly flawed – the robotised gearshift is so bad that Aston will retrofit a manual gearbox – seems to suit the character of the main protagonist.
Aston Martin DB10 (Spectre, 2015)
Bond's greatest automotive coup till now – not just because it was his first company car to be truly bespoke rather than a highly accessorised model, but because it wasn't even meant for him. In the movie, the car was meant to be used by 009. Its exit in the movie is also true to form. It ends up in the Tiber, in quite a cool reinterpretation of a very old trick, ejecting himself to (relative) safety through its roof. In actuality, the car on the screen was a reclad V8 Vantage – well, 10 reclad V8 Vantages once you'd taken hero cars, stunt cars and promo cars into consideration – styled in house by Marek Reichman's team at Aston Martin and was probably Bond's best transport yet. Aston's new Vantage which launched in India in September 2018, has more than a nod to the look of this car.
Jaguar CX-75 (Spectre, 2015)
Along with his skills with girls and guns, Bond is known to outpace his villains despite driving slower cars. While the CX-75 used by Mr Hinx in the film didn't have the hybrid powertrain and super-cool little jet turbine range extenders seen on the concept, it still looked like it would swallow the DB10 whole if only Bond villains had quite the same talent as our hero. Although the project was canned, at least we got to see Jaguar's most ambitious car on the move.
Aston Martin DB2/4 MkIII (Goldfinger, 1964)
If there's one thing everyone knows, it's that Bond drives a DB5 in Goldfinger. Except that he didn't; at least not at first. In the Goldfinger book, the seventh from Ian Fleming, he picks the DB2/4 MkIII over Jaguar 3.4 and, like the film car, it was the first to feature additional 'refinements'. These included reinforced bumpers for ramming purposes, a radio locator and a long-barrelled Colt 45 in a hidden compartment under the driver's seat. Another fact known to few: as a driving machine, the MkIII was far more incisive and involving than the DB5.
Alfa Romeo GTV6 (Octopussy, 1983)
It seems like Italian cars take a bit of a back-seat when it comes to the Bond movies. While the F355 featured in Goldeneye (though it couldn't keep up with an Aston Martin DB5 30 years its senior), Bond drove an Alfa Romeo GTV6 in Octopussy. James 'borrows' the car from some poor woman in a telephone box, and spends the rest of his time with the car on screen doing extravagant skids and sounding wonderful. They must have liked the GTV6: it doesn't even get written off in its final scene.
Aston Martin DBS (On Her Majesty's Secret Service, 1969)
An understated Aston Martin by Bond standards, mostly as it didn't have any gimmickry fitted. It appeared in surprisingly few scenes but is remembered as being the conveyance in which Mrs Tracy Bond breathed her last, courtesy of a bullet from the fabulously entitled Irma Bunt. The DBS had a troubled start and was originally intended to be equipped with a V8, but the motor was late, forcing 007 to slum it with the straight-six from the DB6. The DBS V8 did make production, but not in time for the movie.
Mercedes-Benz 600 (On Her Majesty's Secret Service, 1969)
A variety of Bond villains, from Irma Blunt and Simon Blofeld to Kamal Khan, have used this big Benz limo. It isn't all that surprising considering it's big, austere and menacing. They probably enjoyed deploying its potent 300hp, 6.3-litre V8 motor too, making it more than a match for some of the cars Bond had to drive from time to time.
Rolls-Royce Phantom III (Goldfinger, 1964)
What better car for the plutocratic and apparently Anglophile Auric Goldfinger than the only Rolls-Royce to be powered by a V12 engine until the introduction of the Silver Seraph in 1998? So massive, what little performance it could derive from even a 7.3-litre V12 was probably not that blunted by so many of its components being made from gold. When our sister publication, Autocar UK tested it, the car recorded a 0-96kph time of 16.8sec. That's about the same time that Maruti Suzuki's Wagon R takes to reach 100kph, though the Rolls weighs in at about 3,500kg, while the Maruti hatchback tips the scales at just 890kg.
Ford Mustang Mach 1 (Diamonds Are Forever, 1971)
One of the last proper American muscle cars before emissions legislations throttled even Detroit's most massive V8s. With a 7.0-litre Super Cobra Jet big block engine breathing through a four-barrel Holley carb, the Mach 1 made 380hp and, far more importantly, a monstrous 610Nm of torque. The chase scene in the film is short and famous for the 'Stang's two-wheeled escape through the width restriction, neatly forgetting the fact the diff would have needed to be welded up to maintain any speed.
ANDREW FRANKEL