Every now and then the supercar or hypercar world sees a massive jump in performance. The first to seriously push the barriers back were the Ferrari F40 and the Porsche 959 in the late 80's. The mantle was then passed on to the insane Bugatti Veyron in 2005, and more recently the 1,500hp Chiron. Now that mantle may pass on to the Formula 1-inspired Aston Martin Valkyrie. Engineered in collaboration F1 team Red Bull, the Valkyrie however doesn't have a crazy power output figure. Its engine makes 'only' 1,145hp, not really a headline number for a hypercar. On-track performance will be so hot, Aston boss Andy Palmer says it will "lap the Silverstone Formula 1 circuit as fast as an F1 car". And that is just insane. But how does it hope to manage that with a 'mere' 1,145hp? Well, to begin with it has an extremely light kerb weight, cutting edge aerodynamics (courtesy Formula 1 designer Adrian Newey) and a chassis built to rival a Le Mans racer. Even the engine is made by Formula 1 engine-maker Cosworth.
Displacing 6.7 litres and revving to 11,600rpm, the V12 also uses an F1 style KERS (hybrid) energy recovery system to give it an additional power boost. The KERS system is supplied by Croatian electric carmaker Rimac, the company that also supplies the e-motor for the Mahindra-owned electric supercar, the Pininfarina PF0. And Rimac will also supply the batteries needed to store the electric charge. The carbon-fibre tub is so light, the Valk only weighs around a ton, and this helps give it a power-to-weight ratio in excess of 1:1.
Upper surfaces are smoothened over beautifully.
The Valkyrie is likely to use a 7-speed automatic gearbox that's designed and built by Ricardo. The British firm has experience that spans from motorsport to building engines for McLaren road cars.
Much of the car's basic shape is dictated by aerodynamics. The passengers sit in a sort of pod at the centre and they are then surrounded by what appear to be individually 'cloaked' wheels. Air flows from under the chin of the car and is split by two large, full-length venturi tunnels. Air is also fed to the large rear diffuser and if you go around the rear, you can see what look like individual catamaran-like hulls. These tunnels are key to the car's aero-performance. But while most of the design has been frozen, non-structural areas are still subject to evolution as aerodynamicist Adrian continues to find improvements. Aero performance is important; it could be so strong that the Valkyrie is said to generate up to around 1,800kg of downforce at top speed; almost twice its weight.
What helps is the F1-type active suspension. With its springs placed horizontally, the single-seater-style pushrod-type suspension gets long arms and, uniquely, an active setup; something that's been banned by Formula 1 for decades. As a result, ground clearance can be as high as 120-130mm in normal mode, but on the track, the car has the ability to drop down to 20 or even 10mm (definitely not the mode to use in old Delhi) and this is also what helps the Valkyrie exploit another banned Formula 1 trick; ground effects.
Red Bull's Adrian Newey brings the best of F1 tech .
The obvious challenge with race-style wishbones and suspension arms at both the front and rear is to create a system can also provide acceptable low-speed road-car-like comfort. Adrian Newey says he "wants this car to be simple and light," and that ride comfort is also very important. The car must both ride well at low speed and absorb bumps without movement at higher speeds; a tough task.
As you can expect, comfort isn't one of the factors that has been a priority area. However, there is enough headroom for passengers who are over six feet tall, although you are sat so close to each other 'you need to be good friends'. Shoulder room is a bit tight.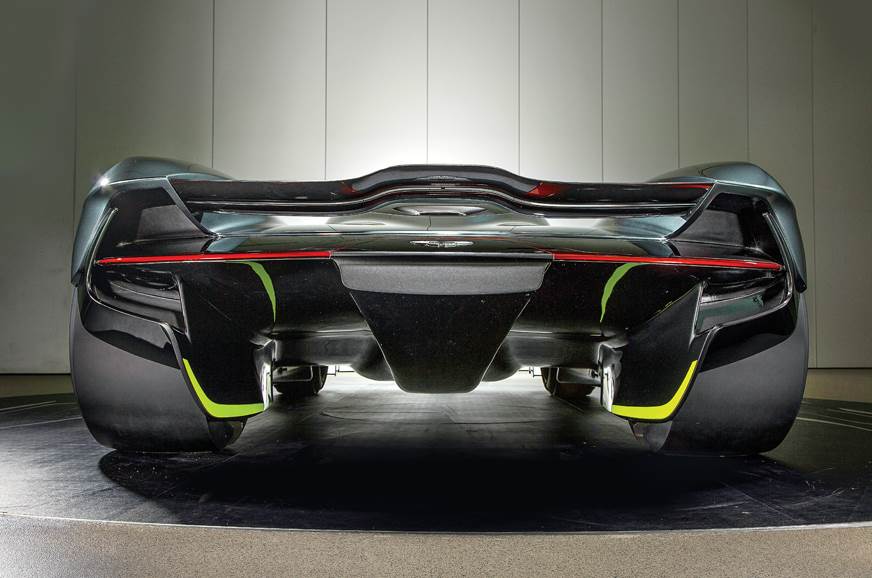 It looks like a twin-hulled catamaran from the rear.
What car nuts may like is the fact that the driving position is F1-car-like. The back rest is heavily reclined, you drive with your feet up, and owners who are interested will also be able to have tailored seats made or moulded directly to the car's carbon-fibre tub. Of course, for a car of this pace, a four-point harness comes standard.
Aston Martin chief Andy Palmer says the Valkyrie is likely to be a landmark car, one that's likely to deliver the poster-on-the-wall effect. "Kids will fall in love with it. Dads will talk about it. It's a symbolic car." At an estimated Rs 23 crore (excluding duties), it better be.
Aston Martin Cars
Aston Martin DB11
₹ 4.85 crore
Aston Martin DBX
₹ 4.79 - 5.34 crore
Aston Martin Vantage
₹ 3.40 crore