Fiscal year 2019 ended on a sombre note for automakers in India, as sales of passenger vehicles (PVs) — cars, utility vehicles (UVs) and vans - grew at their slowest pace in five years. A potential increase in ownership costs due to high fuel prices, stiff interest rates and increased insurance costs impacted demand for cars and SUVs.
According to industry body Society of Indian Automobile Manufacturers (SIAM), total PV sales rose 2.70 percent to 33,77,436 units in the year ended March 2019. It was the most sluggish performance since FY2014 when sales had seen a decline of 6 percent. What added to the slowdown was tepid festive season sales. In fact, the weak demand forced SIAM to revise its PV growth outlook downwards to 9 percent from up to 11 percent, but the actual growth was even lower than that.
While India Auto Inc drove past the 25-million-vehicle mark for the first time, selling 26,267,783 units across all vehicle types, it registered one of the worst performances in the past decade with a growth of 5.15 percent year-on-year (YoY).
FY2019 had got off to a good start as PV volumes rose 20 percent in the first three months, but sales soon started to taper off. "FY2019 numbers slumped due to low consumer sentiment and a dip in rural market demand. It was a tale of two halves with the first half being very good and the second not so much despite many new vehicle launches during the year," said Rajan Wadhera, president of SIAM.

From growth of 6.9 percent in the first half (April-September 2018), volumes dipped 1 percent in the second half (October 2018-March 2019).
Demand for UVs, including SUVs, faltered after two consecutive years of upbeat growth – 941,461 units, up a mere 2.08 percent, which pales in comparison to the 21 percent growth in FY2018 and 30 percent in FY2017. This could create a challenging environment for automakers, who are readying a plethora of SUVs for launch in the short term. Most of the action will unfold in the midsize SUV market, which will see over 12 models coming in three years. What's more, carmakers such as Kia, MG and Citroën have chosen an SUV to be their first product for India. More recently, Mahindra and Ford announced plans to jointly develop a midsize SUV, but more on that later.
Passenger cars, meanwhile, posted growth of 2.05 percent to 22,18,549 units. Vans grew at a surprisingly faster clip to 2,17,426 units, up 13.10 percent, albeit on a lower year-ago base.
Maruti Suzuki
Despite a challenging environment, market leader Maruti Suzuki registered growth of 5.3 percent YoY to 17,29,826 units. Although growth was lower than the near-14 percent rise in FY2018, its market share further expanded from 50 percent in FY2018 to 51.22 percent. However, the impact of the slowdown was evident in March when sales declined 1.5 percent to 1,45,031 units.
FY2019 saw two big-ticket launches from Maruti – the new WagonR and the new Ertiga – apart from other model updates. The WagonR now offers more space, is better equipped and gets a more powerful engine. The Ertiga is not only bigger and well equipped but it also has a feel-good factor to it. In fact, it even drove home with the 'Car of the Year' accolade at the Autocar Awards 2019.
Maruti's volumes were led by its compact segment cars such as the Ignis, Celerio, Swift, Baleno, Dzire and the new WagonR that together sold 8,71,864 units, up 16.5 percent YoY. However, demand for the Ignis (36,144 units, down 24 percent) was subdued. It was Maruti's only hatchback that didn't cross six-digit figures in sales.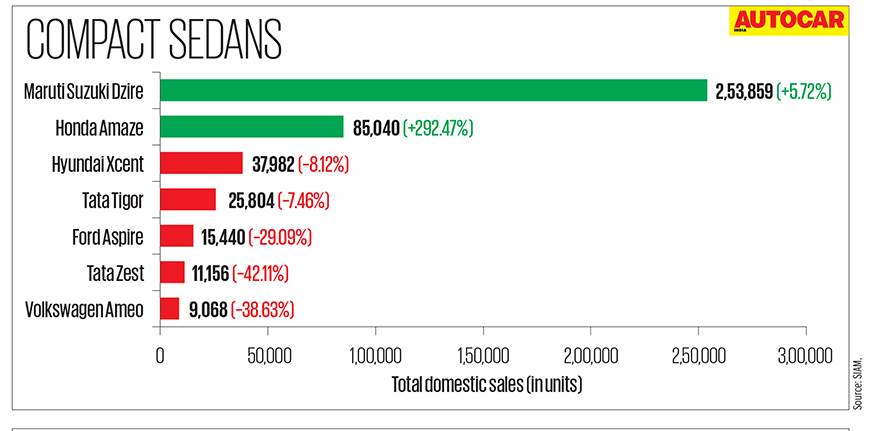 On the UV front, the quartet of the Ertiga, Vitara Brezza, S-cross and the Gypsy sold 264,197 units, up 4.1 percent with the Brezza (157,880 units, up 6.34 percent) driving the numbers.
With 46,169 units, the Ciaz remained the bestselling midsize sedan for a third year straight with a market share of 30 percent, even though sales were down 22 percent from FY2018.
The year saw Japanese carmakers Suzuki and Toyota expand the scope of their cooperation. Maruti Suzuki firmed up plans to supply the Ciaz midsize sedan and Ertiga MPV to Toyota while the latter confirmed that its version of the Brezza will go into production at the Toyota plant in Karnataka from 2022.
Hyundai
For India's second largest carmaker by volume, sales were only marginally higher and it very nearly managed to hold on to its market share of 16 percent. In FY2019, Hyundai sold 5,45,243 units, up 1.7 percent and the Korean carmaker's highest-ever sales in a fiscal.
Hyundai launched its second-gen hatchback, the Santro, in October 2018. With a bold design, spacious interiors and plenty of equipment, the Santro brought the 'wow' factor back to the entry-level hatchback segment. The Eon was phased out after the launch of the new Santro, which is now the entry-level model in the range.
The Creta was the best performing model as sales grew 16 percent to 1,24,300 units. The introduction of the facelift towards the start of the fiscal boosted its popularity significantly. A majority of Hyundai's volumes came from the i20, which sold 1,40,225 units, up 3 percent. The Verna too remained a strong performer. However, the Grand i10 (-17 percent), Xcent (-8 percent), Eon (-56 percent), Elantra (-43 percent) and Tucson (-13 percent) saw sales slide.
FY2020 looks promising for the Korean carmaker as it has just broken into the fast-growing compact SUV segment in India. The recently revealed all-new Venue will take the challenge to the Brezza, Nexon, Ecosport and the Mahindra XUV300. Hyundai has also lined up the Kona EV and the new-gen Grand i10 for launch this year.
Mahindra
UV major Mahindra & Mahindra's sales rose by 2.21 percent to 2,54,351 units, but the grim market situation impacted growth (FY2018: + 5.4 percent). With the exception of the XUV500 and the Verito, all other Mahindra's models saw a dip in sales.
In FY2019, M&M launched three new products – Marazzo, Alturas G4 and the XUV300 – but its market share remained unchanged at 7.5 percent. The company has a lot riding on the XUV300 and it will be banking on the Brezza-fighter to give its sales a fillip in FY2020. While it is still early, initial market response indicates M&M could have a potential game-changer on its hands, as the XUV300 garnered over 13,000 bookings in just a month since its launch in mid-February 2019.
Tata Motors
Tata Motors notched the highest sales growth among all PV makers as volumes jumped 10.14 percent to 231,512 units in FY2019. While Tata was unable to drive ahead of M&M for the third spot, it did reduce the gap.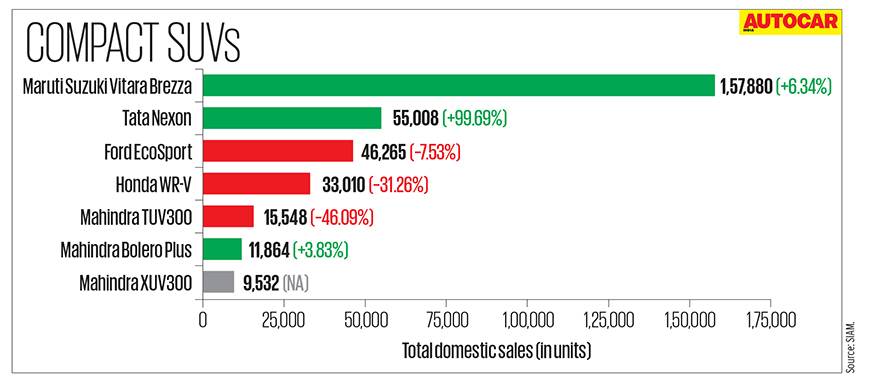 The Tiago was Tata's bestseller with sales of 92,369 units, up 17 percent YoY, followed by the Nexon SUV (55,008 units, up 100 percent). The Tiago added another feather to its cap by crossing the 2,00,000 unit sales mark in February 2019.
In December 2018, in a testament to its much-improved new-generation models, the Nexon secured a five-star rating in Global NCAP crash tests, becoming the first made-in-India, sold-in-India model to achieve full five stars. Tata's UV sales grew by a handsome 52 percent, albeit on a low base, to 78,756 units on the back of upbeat demand for the Nexon. In fact, Tata Motors drove past Ford and Honda to secure the fifth spot among India's Top UV makers.
Now Tata has lined up the all-new Altroz, which will challenge segment bestsellers, the Baleno and the i20, when it goes on sale in the second half of 2019. The Altroz is the first in a series of new models to be built on Tata's all-new ALFA platform. Its launch will be followed by the seven-seat Harrier, which will take on the XUV500.
Honda
Along with Maruti, Toyota and Tata, Honda was the only other automaker which managed to gain market share in FY2019. With sales of 1,83,787 units, up 8.10 percent YoY, the Japanese carmaker posted a second consecutive year of growth and market share improved to 5.44 percent from 5.17 percent.
The growth driver was the new Amaze which sold 85,040 units, accounting for 46 percent of overall sales. The new Amaze is a huge step up over the first-gen model, not just in terms of size but also comfort and premiumness. While the petrol engine is smooth, the diesel truly impressed us.
Honda also launched the new fifth-gen CR-V and the all-new Civic. The former gives Honda an opportunity to appeal to a larger section of buyers as it is the first CR-V to feature a third row of seats and also the first to get a diesel in India. It will be interesting to see how the 10th-gen Civic performs against key rival Skoda Octavia (2,720 units, down 2 percent) this year.
But it wasn't all smooth sailing. Its key volume driver, the City saw volumes decline 27 percent to 41,072 units, and WR-V sales fell 31 percent to 33,010 units. The Jazz witnessed the steepest drop of 45 percent to 15,091 units.
Toyota
Toyota posted growth of 7 percent to 1,50,525 units in FY2019. Growth came on the back of continued demand for the Innova Crysta (77,924 units, up 5.11 percent) and the Etios Liva (15,063 units, up 8.70 percent). The carmaker's market share improved slightly to 4.46 percent from 4.28 percent.
Toyota launched the all-new Yaris sedan, which squarely rivals the Honda City, but the model hasn't performed as per the carmaker's expectations. It sold 11,831 units since its launch in May 2018, at a monthly average of 1,075 units.
Sales of the Fortuner (21,141 units, down 13.23 percent) and the Etios (21,216 units, down 7 percent) were impacted by tepid demand. The Fortuner, however, continued to enjoy a significant lead over key rival Ford Endeavour (5,829 units, down 19 percent).
Ford
Ford India recovered from FY2018's decline in volumes as it ended FY2019 on a positive note with sales of 92,937 units, up by a modest 2.51 percent. It kicked off the year with the launch of the Freestyle cross-hatch which went home to 22,875 buyers at a monthly average of 1,900 units.
The launch of the Freestyle was followed by a host of model facelifts such as the Aspire facelift in October, Endeavour facelift in February 2019 and Figo facelift in March 2019.
It even reintroduced the popular 1.0-litre, three-cylinder EcoBoost turbo-petrol in the EcoSport to increase its popularity.However, sales of the compact SUV ended the year in red with volumes totaling 46,265 units, down 7.53 percent amid stiff competition from the Brezza and the Nexon.
The carmaker has just announced that it will co-develop its upcoming C-segment SUV with Mahindra, for which the latter will provide the platform (same as the next-gen XUV500) and powertrain (all-new 2.0-litre diesel).
Renault
Renault India had yet another harsh year as volumes declined further to 79,654 units in FY2019 from 102,219 units sold in FY2018. Sales of its volume grosser, the Kwid fell 21.90 percent to 64,913 units. The carmaker has, however, updated the Kwid in an effort to revive customer interest by adding features such as Apple CarPlay, Android Auto, a reverse camera and fast charging function with the USB charger.
Meanwhile, Duster sales declined 27 percent to 10,319 units and the Captur remained a slow seller.
With a new CEO and MD, Venkatram Mamillapalle, at the helm, Renault aims to expand its model range in an effort to take volumes to 2,00,000 units by 2022 and grow market share. The newly christened seven-seater Triber is expected to be launched around July 2019, an will be followed by a compact sedan and a compact SUV.
OUTLOOK
The slowing demand for cars and SUVs is not expected to reverse completely this year. SIAM has maintained a cautious growth outlook for FY2020 and estimates PV sales to grow by just
3-5 percent. The apex industry body says the tepid forecast is a result of observing factors such as
the tendency of PV sales to be subdued in election years (growth was muted in FY2010 and FY2014), the increasing consumer shift to shared mobility and a high base effect.
For automakers, the fight to gain market share is expected to intensify with new entrants in the PV arena. The shift to cleaner BS-VI norms from April 2020 is expected to make PVs dearer, especially diesel models which, SIAM says, could lead to 'pre-buying' that will drive sales. But, to what extent and will that affect sales in the next fiscal? Clearly, expect FY2020 to keep India Auto Inc on its toes.