800hp track-focused McLaren Senna hypercar revealed
Published On Dec 12, 2017 07:00:00 AM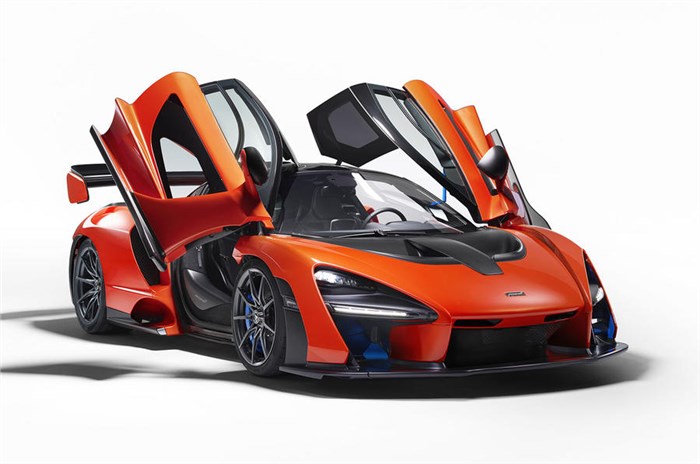 New Ultimate Series model weighs just 1,198kg dry; power-to-weight ratio is a whopping 669hp per tonne.
Five years on from its rule-breaking P1 hypercar, McLaren has unveiled a second member of its range-topping Ultimate Series in London last week. Named after the grand prix team's greatest champion, Ayrton Senna, the new 800hp hypercar has been dubbed an "ultimate road-legal track car". McLaren Senna is the first model from Woking to have styling described by its creators as "brutal" and "unforgiving".
Revealed at an exclusive launch, the Senna's unique looks result largely from the extreme active aerodynamics that sprout from its basic teardrop shape. The car has a huge rear wing and front splitter (both with active elements) plus straight flanks, exotically shaped wheel arches, air-gulping scoops and inlets, and more subtle air dams and strakes.
According to the Ultimate Series' vehicle line boss Andy Palmer, the Senna's engineering and design team spent two years adapting McLaren's now familiar-recipe of a carbonfibre chassis and panels, compact, mid-mounted twin-turbo V8, race-bred interconnected suspension and electrohydraulic power in an effort to create the most extreme McLaren since the company's modern era began, in 2010.
The result is a car with the unprecedentedly low dry weight of 1,198kg (undercutting the already light 720S by 220kg). Throw in a 9 percent power hike for the 4.0-litre engine and the Senna has an eye-watering power-to-weight ratio of 669hp per tonne. It is not surprising that the factory claims it'll turn in the quickest lap times of any production McLaren, yet.
McLaren won't be declaring the Senna's official performance figures until January; but it is already clear that the car will have P1-level straight-line performance, with probable 0-96kph acceleration in 2.5sec and a top speed well beyond 322kph.
Unlike other McLarens, which claim a breadth of capability, the Senna focuses squarely on lap times, offering "the purest connection yet between driver and car of any road-legal McLaren". Besides, while the P1 was a hybrid (as half of McLaren's production cars will be, by 2022), the Senna is a solely fossil-fuelled car whose lack of electrification is one reason for its amazingly low weight.
Also see: McLaren Senna hypercar image gallery
What do you think about this News